Social Media
Get the lowdown on Gary Numan and follow us, join the Gary Numan community on social media. Join in the fun and have you say.
Amazon
Search for New and Used Gary Numan CDs, Vinyl, DVDs.
Tour Dates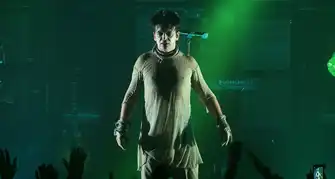 Check out the latest Gary Numan tour dates, events. See one of the founding fathers of synth pop.
Facebook
This group has been put together for fans of Gary Numan and visitors of the Numanme site, to discuses all things Numan sell/trade share stories and images from all aspects of Numan's career.
Weather Forecast
Podcast
Numanme Radio Podcast will be playing you some of the best Classic Alternative, New Wave, Dark Wave, Synth-Pop, and Punk. Also, a staple diet of Gary Numan/Tubeway Army without question. Shows will be updated here when they become available.
Photo Gallery
These galleries contain Gary Numan related photographs. ranging form the Tubeway Army days to present day. Feel free to browse and if you would like to add any of your own images please get in touch.
Poll
Vote for your favorite Gary Numan album or song.
Numan Quotes +
Statistics

Visitor Statistics

3 Online

130 Today

125 Yesterday

381 Week

4750 Month

23651 Year

223317507 Total
Record: 517 (13.11.2023)
White Boys And Heroes 12"
Title:

White Boys And Heroes

Suggested Video

Artist:

Gary Numan

Tracklist:

A1. White Boys And Heroes (Edit) 3:30 
B1. War Games 3:58 
B2. Glitter And Ash 4:49

How old:

This 12" is old!

Release Date:

August 1st 1982

Format:

12"

Record Label:

Beggars Banquet

Catalogue No:

BEG 81T

Price Guide:

£10.00

Country:

United Kingdom

Additional info:

Deleted

Highest Chart Position:

20

Credits:

Gary Numan (Vocals, Keyboards, Guitar)
Roger Mason (Keyboards)
Pino Palladino (Fretless Bass)
Chris Slade (Drums, Percussion)
John Webb (Percussion)

Produced by Gary Numan

Engineered by Nick Smith
Assisted by Sean Lynch

Recorded at Rock City Studios, Shepperton

Buy:
Additional Information
A brilliant slab of white boy funk Numan's love of old B-movie imagery litters the track. The programmed rhythm track is the star of the show & rides high over Numan's vocals! Palladino performs one helluva bass line throwing in all kinds of syncopations & hammer on/off techniques.

Chris Nelson saw the potential of the interplay between bass & percussion & mixed them to the fore on the U.S remix 12".

At this stage, Numan's lyrics held up the good guy image of 30s/40s film noir. He would later revisit the theme from an alternate angle on Strange Charm's "The Need". White Boys And Heroes made it to No 20 in the UK charts.
White Boys And Heroes Lyrics

White Boys And heroes
(Single from 'I, Assassin' album, 1982)

We're in the movies
We're heroes
We sparkle at night

Love among puppets
And one day
I'll pull all the strings

White boys and heroes
White boys and heroes
See boys say I'm mayhem

Was my wife the doctor
The patient or something obscene?

A history of nothing
Like a see-through song in disguise

Heroes are tough
And have no time
For women and boys

I won't cry till this thing is over
And someone agrees

White boys and heroes
White boys and heroes
See boys say I'm mayhem

White boys and heroes
We have no time for celebration
We have no time left at all
White boys and heroes

---
War Games
(B-side, 'White Boys and Heroes' single, 1982)

Stone shapes and me
I'll stay now
Nothing's forever
This time there's no goodbye

Female son
But I won't change again
One of these days
I lose it all in sleep
You are slow poison young friend
Just give me time to reply

What am I saying
There's nothing left to steal
One of these days
---
Glitter and Ash
(Bonus track on 'White Boys and Heroes' 12" single, 1982)

*Instrumental*