Social Media
Get the lowdown on Gary Numan and follow us, join the Gary Numan community on social media. Join in the fun and have you say.
Amazon
Search for New and Used Gary Numan CDs, Vinyl, DVDs.
Tour Dates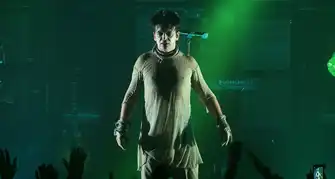 Check out the latest Gary Numan tour dates, events. See one of the founding fathers of synth pop.
Facebook
This group has been put together for fans of Gary Numan and visitors of the Numanme site, to discuses all things Numan sell/trade share stories and images from all aspects of Numan's career.
Weather Forecast
Podcast
Numanme Radio Podcast will be playing you some of the best Classic Alternative, New Wave, Dark Wave, Synth-Pop, and Punk. Also, a staple diet of Gary Numan/Tubeway Army without question. Shows will be updated here when they become available.
Photo Gallery
These galleries contain Gary Numan related photographs. ranging form the Tubeway Army days to present day. Feel free to browse and if you would like to add any of your own images please get in touch.
Poll
Vote for your favorite Gary Numan album or song.
Numan Quotes +
Statistics

Visitor Statistics

1 Online

16 Today

108 Yesterday

255 Week

709 Month

24473 Year

223318329 Total
Record: 517 (13.11.2023)
Tubeway Army LP
Title:

Tubeway Army

Suggested Video

Artist:

Tubeway Army

Tracklist:

A1. Listen To The Sirens
A2. My Shadow In Vain
A3. The Life Machine
A4. Friends
A5. Something's In The House
A6. Everyday I Die
B1. Steel And You
B2. My Love Is A Liquid
B3 .Are You Real ?
B4.The Dream Police
B5. Jo The Waiter
B6. Zero Bars (Mr. Smith)

How old:

This LP" is old!

Release Date:

November 10th 1978

Format:

LP" Blue vinyl

Record Label:

Beggars Banquet

Catalogue No:

BEGA 4

Price Guide:

£40.00

Country:

United Kingdom

Additional info:

Deleted Recorded at Spaceward, Blue vinyl, 5000 issued

Highest Chart Position:

N/A

Credits:

Gary Numan (Vocals, Guitars, Keyboards)
Paul Gardiner (Backing Vocals, Bass)
Jess Lidyard (Drums)

Produced by Gary Numan
Engineered & Mixed by Mike Kemp
Recorded at Spaceward
Photography by Mike Stone

Buy:

b Official Store Ebay Amazon Discogs 4 Apple 5 Spotify 2 Bandcamp ± Archive Beggars
Additional Information
Tubeway Army was Gary Numans first album, albeit as part of the band Tubeway Army. Originally released in 1978 Tubeway Army was recorded in just a few days at Spaceward, a demo studio in Cambridge, England. Full of Numans early explorations into electronic music Tubeway Army has now been digitally remastered. This new version also includes tracks from the famous Tubeway Army bootleg 'Live At The Roxy' when Tubeway Army was still a punk band.

Tubeway Army is the debut album by Gary Numan and his band Tubeway Army, released in 1978. Its initial limited-edition run of 5000 (known unofficially as the Blue Album due to its coloured vinyl and cover) sold out but did not chart. When reissued in mid-1979, following the success of the follow-up Replicas, the more commonly-known cover art featuring a stylised portrait of Numan was introduced. This release made number 14 in the UK album charts.

Although only the band's debut, Tubeway Army has been seen as a transitional record, linking the punk flavour of early singles "That's Too Bad" and "Bombers" with the electronic music and science fiction imagery of Replicas. The lead-in track, "Listen to the Sirens", borrows its opening line from the Philip K. Dick novel Flow My Tears, The Policeman Said, whilst "Steel and You" contains references to androids ("Just my steel friend and me / I stand brave by his side"). These and a number of other tracks feature primitive synthesizer effects, the legacy of Numan chancing upon a Minimoog in the recording studio one day.

Elsewhere the album's lyrics generally inhabit a seedy world that has been compared to William Burroughs, an author whose influence Numan has acknowledged. "Friends" concerns male prostitution. "Every Day I Die" is about teenage masturbation. "Jo the Waiter" references drug addiction. "The Life Machine" is told from the perspective of a comatose man on life support who can only "watch from somewhere as the loved ones come and go".

Sonically the album ranges from hard rock with heavy metal overtones, such as "My Shadow in Vain", "Friends" and "Are You Real?", through the post-punk "Listen to the Sirens" and "The Dream Police", to the predominantly acoustic "Every Day I Die" and "Jo the Waiter". Influences cited for the album have included David Bowie (both 'Ziggy' and 'Berlin' eras), early Roxy Music and Brian Eno, Lou Reed and The Velvet Underground, and early Ultravox. No singles were released from the album.

A recent CD reissue of Tubeway Army includes a live concert, originally a bootleg called Live at the Roxy and now retitled Living Ornaments '78 - a retrospective reference to Numan's official live albums Living Ornamants '79, '80 and '81. It includes early versions of "My Shadow In Vain" and "Friends" ("Do Your Best") as well as a cover of The Velvets' "White Light/White Heat".

Gary Numan has regularly performed tracks from this album since early on in his career, including "My Shadow in Vain", "Something's in the House", "Every Day I Die" and "The Dream Police". Others that have made their way into his live repertoire in recent years include "Listen to the Sirens", "Friends" and "Jo the Waiter". On the Random Numan tribute album in 1997, Pop Will Eat Itself covered "Friends", The Orb "Jo the Waiter" and Dubstar "Every Day I Die". Terre Thaemlitz recorded a piano version of "Friends" on the Replicas Rubato Numan tribute album in 1999.