Social Media
Get the lowdown on Gary Numan and follow us, join the Gary Numan community on social media. Join in the fun and have you say.
Amazon
Search for New and Used Gary Numan CDs, Vinyl, DVDs.
Tour Dates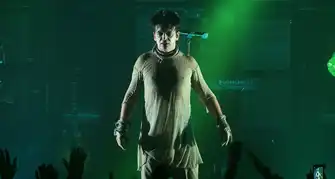 Check out the latest Gary Numan tour dates, events. See one of the founding fathers of synth pop.
Facebook
This group has been put together for fans of Gary Numan and visitors of the Numanme site, to discuses all things Numan sell/trade share stories and images from all aspects of Numan's career.
Weather Forecast
Podcast
Numanme Radio Podcast will be playing you some of the best Classic Alternative, New Wave, Dark Wave, Synth-Pop, and Punk. Also, a staple diet of Gary Numan/Tubeway Army without question. Shows will be updated here when they become available.
Photo Gallery
These galleries contain Gary Numan related photographs. ranging form the Tubeway Army days to present day. Feel free to browse and if you would like to add any of your own images please get in touch.
Poll
Vote for your favorite Gary Numan album or song.
Numan Quotes +
Statistics

Visitor Statistics

2 Online

21 Today

108 Yesterday

260 Week

714 Month

24478 Year

223318334 Total
Record: 517 (13.11.2023)
Top Of The Pops Volume 74 LP
Title:

Top Of The Pops Volume 77

Suggested Video

Artist:

Various Artists

Tracklist:

A1. Are Friends Electric
A2. The Boss
A3. Girls Talk
A4. Bad Girls
A5. Cmon Everybody
A6. Night Owl
A7. Moonraker
A8. Go West
B1. Breakfast In America
B2. Silly Games
B3. Up The Junction
B4. Good Times
B5. Born To Be Alive
B6. Death Disco
B7. Light My Fire
B8. Voulez-Vous

How old:

This LP is old!

Release Date:

December 1st 1979

Format:

LP

Record Label:

Hallmark

Catalogue No:

SHM3011

Price Guide:

£5.00

Country:

United Kingdom

Additional info:

Deleted

Highest Chart Position:

Unknown

Credits:

Unknown

Buy:
Additional Information
On the cover: Not for the first time, Top of the Pops are up in the clouds for their latest edition, brought to you by a frizz-permed lady in shocking pink cat suit. She's trying hard to spruce things up with an off-the-shoulder strategy and a dangly wrap around, but there's something about this cover which looks a bit dull. In fact ever since the '16 Tracks' logo had been introduced the covers had relied a little too much on the impact of these body-clinging garments, forgetting that balance and harmony are all important in good cover design. As for the drawing on the back, a pair of short, fat, hairy legs is hardly the stuff Top of the Pops is made of.

Sleeve notes

GAME, SET AND MATCH TO TOP OF THE POPS!

Yet again, with one magnificent set, Pickwick Top of the Poppers prove themselves to be worthy champions.

Their unbeatable strategy of lobbing 16 smash hit sounds straight from the charts and into the record shops leaves no room for doubt that they will be the title holders for many years to come.