Social Media
Get the lowdown on Gary Numan and follow us, join the Gary Numan community on social media. Join in the fun and have you say.
Amazon
Search for New and Used Gary Numan CDs, Vinyl, DVDs.
Tour Dates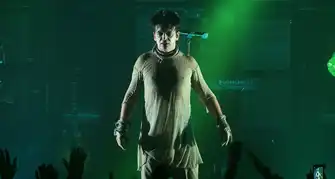 Check out the latest Gary Numan tour dates, events. See one of the founding fathers of synth pop.
Facebook
This group has been put together for fans of Gary Numan and visitors of the Numanme site, to discuses all things Numan sell/trade share stories and images from all aspects of Numan's career.
Weather Forecast
Podcast
Numanme Radio Podcast will be playing you some of the best Classic Alternative, New Wave, Dark Wave, Synth-Pop, and Punk. Also, a staple diet of Gary Numan/Tubeway Army without question. Shows will be updated here when they become available.
Photo Gallery
These galleries contain Gary Numan related photographs. ranging form the Tubeway Army days to present day. Feel free to browse and if you would like to add any of your own images please get in touch.
Poll
Vote for your favorite Gary Numan album or song.
Numan Quotes +
Statistics

Visitor Statistics

3 Online

115 Today

125 Yesterday

366 Week

4735 Month

23636 Year

223317492 Total
Record: 517 (13.11.2023)
Time Square LP
Title:

Time Square

Suggested Video

Artist:

Various Artists

Tracklist:

A1. Suzi Quatro – Rock Hard 3:18
A2. The Pretenders – Talk Of The Town 3:16
A3. Roxy Music – Same Old Scene 3:54
A4. Gary Numan – Down In The Park 4:20
A5. Marcy Levy & Robin Gibb – Help Me! 3:37
B1. Talking Heads – Life During Wartime 3:40
B2. Joe Jackson – Pretty Boys 3:21
B3. XTC – Take This Town 4:07
B4. The Ramones – I Wanna Be Sedated 2:29
B5. Robin Johnson – Damn Dog 2:40
C1. Robin Johnson & Trini Alvarado – Your Daughter Is One 2:10
C2. The Ruts – Babylon's Burning 2:34
C3. D.L. Byron – You Can't Hurry Love 3:04
C4. Lou Reed – Walk On The Wild Side 4:12
C5. Desmond Child & Rouge – The Night Was Not 3:08
D1. Garland Jeffreys – Innocent, Not Guilty 2:13
D2. The Cure – Grinding Halt 2:49
D3. Patti Smith Group – Pissing In The River 4:41
D4. David Johansen & Robin Johnson– Flowers In The City 3:58
D5. Robin Johnson – Damn Dog (Reprise - The Cleo Club) 2:40

How old:

This LP is old!

Release Date:

October 17th 1980

Format:

2xLP

Record Label:

RSO Records

Catalogue No:

RS02658145

Price Guide:

£20.00

Country:

United Kingdom

Additional info:

Deleted Featured Down In The Park

Highest Chart Position:

0

Credits:

Unknown Artist

Buy:
Additional Information
The soundtrack to Allan Moyle's 1980 teen runaway adventure Times Square is a rather solid mix of new wave and punk. In fact, it's a rare example of Hollywood getting things right when it comes to representing a subculture of sorts. Since we're talking about 1980, movie soundtracks had yet to become vehicles for newly signed acts in dire need of attention and promotion to sell their yet-to-be-released debuts. As the movie was produced by RSO bigwig Robert Stigwood, his record label was able to churn out this double-LP bonanza that wrangles some big names along the way. Spread across these two LPs is new wave from the likes of XTC ("Take This Town"), Gary Numan ("Down in the Park"), the Pretenders ("Talk of the Town") ,and Talking Heads ("Life During Wartime"); punkier efforts from the Ramones ("I Wanna Be Sedated") and the Ruts ("Babylon's Burning"); and some material from some of the era's innovators, including Lou Reed ("Walk on the Wild Side"), Patti Smith ("Pissing in the River"), and Roxy Music ("Same Old Scene"). And, yes, for those of you who saw the movie, character Nicky Marotta's (Robin Johnson) punk number "Damn Dog" is included, as is her duet with David Johansen, "Flowers of the City." Given the undying popularity for '80s compilations, it's mildly surprising that the soundtrack wasn't issued on CD when the movie was issued on DVD in late 2000. It might not be as stocked with the hits as the average compilation, but a reissue would have instant appeal to fans of this cult film, not to mention some interest from those who haven't seen it at all -- the material itself would be reason enough to buy, regardless of the tie-in to the movie.