Social Media
Get the lowdown on Gary Numan and follow us, join the Gary Numan community on social media. Join in the fun and have you say.
Amazon
Search for New and Used Gary Numan CDs, Vinyl, DVDs.
Tour Dates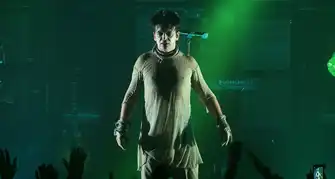 Check out the latest Gary Numan tour dates, events. See one of the founding fathers of synth pop.
Facebook
This group has been put together for fans of Gary Numan and visitors of the Numanme site, to discuses all things Numan sell/trade share stories and images from all aspects of Numan's career.
Weather Forecast
Podcast
Numanme Radio Podcast will be playing you some of the best Classic Alternative, New Wave, Dark Wave, Synth-Pop, and Punk. Also, a staple diet of Gary Numan/Tubeway Army without question. Shows will be updated here when they become available.
Photo Gallery
These galleries contain Gary Numan related photographs. ranging form the Tubeway Army days to present day. Feel free to browse and if you would like to add any of your own images please get in touch.
Poll
Vote for your favorite Gary Numan album or song.
Numan Quotes +
Statistics

Visitor Statistics

2 Online

29 Today

108 Yesterday

268 Week

722 Month

24486 Year

223318342 Total
Record: 517 (13.11.2023)
This Wreckage 7"
Title:

This Wreckage

Suggested Video

Artist:

Gary Numan

Tracklist:

A1. This Wreckage 5:22
B2. Photograph 2:23

How old:

This 7" is old!

Release Date:

December 20th 1980

Format:

7"

Record Label:

Atlantic

Catalogue No:

P-1515A

Price Guide:

£5.00

Country:

Japan

Additional info:

Deleted

Highest Chart Position:

20

Credits:

Gary Numan (Vocals, Minimoog, Polymoog, A.R.P. Pro-Soloist, JP4, Piano, Prophet 5)
Paul Gardiner (Bass)
Cedric Sharpley (Drums)
John Webb (Handclaps)
James Freud (Handclaps)

Recorded at Rock City and Matrix
Engineered by Nick Smith, Steve Smith, Graeme Myhre,
Jess Sutcliff

Buy:
Additional Information
After an American tour Gary decided to release "This Wreckage" as a single, which turned out to be a poor choice of single, consequently it did nowhere as good as previous singles "This Wreckage" was left crawling in at No 20 in the UK charts. The song had a hopelessly catchy opening keyboard figure, while the song's lyrics quickly reveal Numan's chronic scepticism and manic- depression. (And what if God's dead/ we must have done something wrong/ this dark facade ends/ we're independent from someone."). This Wreckage was Gary's way of making a statement of goodbye; shortly he announced he was retiring from live shows hence the Wembley Arena shows on 26, 27 and 28 April.

This Wreakage Lyrics
This Wreakage
('Telekon' album, 1980)

And what if God's dead
We must have done something wrong
This dark facade ends
We're independent from someone

This wreckage I call me
Would like to frame your voice
This wreckage I call me
Would like to meet you, meet you
Soon

We write suggestions
Suggesting fading to silence
And that must please you
My mirrors tarnished with 'no help'

This wreckage I call me
Would like to frame your voice
This wreckage I call me
Would like to meet you meet you
Soon

(Japanese)
I leave you

Turn out these eyes
Wipe off my face
Erase me
Replay 'The end'
It's all just show
Erase you
I need to I need to I need to



---
Photograph
(B-Side to 'This Wreakage', 1980)

*Instrumental*