Social Media
Get the lowdown on Gary Numan and follow us, join the Gary Numan community on social media. Join in the fun and have you say.
Amazon
Search for New and Used Gary Numan CDs, Vinyl, DVDs.
Tour Dates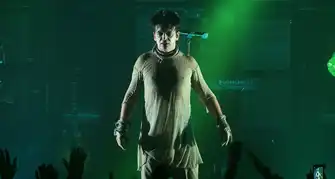 Check out the latest Gary Numan tour dates, events. See one of the founding fathers of synth pop.
Facebook
This group has been put together for fans of Gary Numan and visitors of the Numanme site, to discuses all things Numan sell/trade share stories and images from all aspects of Numan's career.
Weather Forecast
Podcast
Numanme Radio Podcast will be playing you some of the best Classic Alternative, New Wave, Dark Wave, Synth-Pop, and Punk. Also, a staple diet of Gary Numan/Tubeway Army without question. Shows will be updated here when they become available.
Photo Gallery
These galleries contain Gary Numan related photographs. ranging form the Tubeway Army days to present day. Feel free to browse and if you would like to add any of your own images please get in touch.
Poll
Vote for your favorite Gary Numan album or song.
Numan Quotes +
Statistics

Visitor Statistics

3 Online

121 Today

125 Yesterday

372 Week

4741 Month

23642 Year

223317498 Total
Record: 517 (13.11.2023)
The Pleasure Principle Live CD
Title:

The Pleasure Principle Live

Suggested Video

Artist:

Gary Numan

Tracklist:

Disc1
01. Random
02. Airlane
03. Metal
04. Films
05. M.E.
06. Tracks
07. Observer
08. Conversation
09. Complex
10. Cars
11. Engineers
12. Asylum

Disc2
01. The Fall
02. Pure
03. Down In The Park
04. Haunted
05. Halo
06. Jagged
07. Are Friends Electric?
08. We Are So Fragile
09. A Prayer For The Unborn

How old:

This CD is old!

Release Date:

October 1st 2018

Format:

Format: 2xCD

Record Label:

Mortal Records

Catalogue No:

MORTALIVECD008

Price Guide:

£10.99

Country:

United Kingdom

Additional info:

Townsend Records Exclusive

Highest Chart Position:

N/A

Credits:

Gary Numan - vocals, guitar, keyboards
Richard Beasley - drums
Dave Brookes - keyboards
Ade Fenton - keyboards
Chris McCormack - guitar
Tim Muddiman - bass

Buy:
Additional Information
Gary Numan's The Pleasure Principle was No 5 in Mojo's Best Synth Pop albums Top 10 this month (November 2010 issue). Describing it as an 'unstoppable sequence of classic pop songs', the magazine concluded, 'of all the albums from the classic period of early synth pop, none is more admired than this.' To celebrate the 30th anniversary of The Pleasure Principle's release, for the first time in his career Numan performed all of the tracks from this classic album on a UK tour in 2009. On DVD & CD.....