Social Media
Get the lowdown on Gary Numan and follow us, join the Gary Numan community on social media. Join in the fun and have you say.
Amazon
Search for New and Used Gary Numan CDs, Vinyl, DVDs.
Tour Dates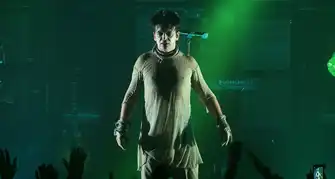 Check out the latest Gary Numan tour dates, events. See one of the founding fathers of synth pop.
Facebook
This group has been put together for fans of Gary Numan and visitors of the Numanme site, to discuses all things Numan sell/trade share stories and images from all aspects of Numan's career.
Weather Forecast
Podcast
Numanme Radio Podcast will be playing you some of the best Classic Alternative, New Wave, Dark Wave, Synth-Pop, and Punk. Also, a staple diet of Gary Numan/Tubeway Army without question. Shows will be updated here when they become available.
Photo Gallery
These galleries contain Gary Numan related photographs. ranging form the Tubeway Army days to present day. Feel free to browse and if you would like to add any of your own images please get in touch.
Poll
Vote for your favorite Gary Numan album or song.
Numan Quotes +
Statistics

Visitor Statistics

1 Online

30 Today

108 Yesterday

269 Week

723 Month

24487 Year

223318343 Total
Record: 517 (13.11.2023)
The Pleasure Principle 30th Anniversary Edition 2xCD
Title:

The Pleasure Principle 30th Anniversary Edition

Suggested Video

Artist:

Gary Numan

Tracklist:

Disc 1

01. Airlane 3:18
02. Metal 3:32
03. Complex 3:12
04. Films 4:09
05. M.E. 5:38
06. Tracks 2:51
07. Observer 2:53
08. Conversation 7:37
09. Cars 3:57
10. Engineers 3:59

Disc 2

01. Airlane (Demo Version) 3:18
02. Metal (Demo Version) 3:36
03. Complex (Demo Version) 3:17
04. Films (Demo Version) 2:42
05. M.E. (Demo Version) 4:30
06. Tracks (Out Take Mix) 2:51
07. Observer (Demo Version) 3:03
08. Conversation (Demo Version 2) 6:49
09. Cars (Demo Version) 3:14
10. Engineers (Demo Version) 3:50
11. Random (2009 Re-Master) 3:48
12. Oceans (2009 Re-Master) 3:00
13. Asylum (2009 Re-Master) 2:30
14. Photograph (2009 Re-Master) 2:27
15. Gymnopedie No. 1 (Demo Version) 2:26
16. Conversation (Demo Version 1) 3:56
17. M.E. (Out Take Mix) 5:15

How old:

This CD is old!

Release Date:

September 10th 2009

Format:

CDX2

Record Label:

Beggars Banquet

Catalogue No:

BBQCD 2063

Price Guide:

£10.00

Country:

United Kingdom

Additional info:

Deleted Remastered

Highest Chart Position:

N/A

Credits:

Gary Numan (Vocals, Keyboards, Synthetic Percussion)
Paul Gardiner (Bass)
Christopher Payne (Keyboards, Viola)
Cedric Sharpley (Drums, Percussion)
Billy Currie (Fadeout Violin on "Tracks")
Garry Robson (Backing Vocal on "Conversation")

Produced by Gary Numan

Engineered and Mixed by Rikki Sylvan and Harvey Webb

Recorded at Marcus Music AB, London.

Artwork By [Additional Design] - Steve Webbon , Steve Webbon
Artwork By [Caligraphy] - Su Wathan
Artwork By [Illustrated] - Tony Escott
Artwork By [Original Album Art Directed] - Malti Kidia
Engineer, Mixed By - Harvey Webb , Rikki Sylvan
Other [Liner Notes] - Steve Malins
Other [Make-up] - Patti Burris
Other [Project Co-ordination] - Steve Malins , Steve Webbon
Photography [Original Album Photography] - Geoff Howes
Recorded By [Demos Recorded By] - Steve Forward
Remastered By - John Dent
Written-By - Gary Numan (tracks: 1-1 to 2-14, 2-16, 2-17)

Buy:
Additional Information
Gary's Replicas had already hit UK #1, but this 1980 LP made him a star in the U.S. as well. His icy synth-pop has been enduringly influential, and this is the album that all the hip-hop, techno and industrial artists revere: his definitive smash Cars plus Metal; M.E.; Films; Observer; Conversation, and more. Disc two has demos of all of the above and more plus studio outtakes! CD 3 only available through the Numan Website when bought with 30th anniversary TPP CD..