Social Media
Get the lowdown on Gary Numan and follow us, join the Gary Numan community on social media. Join in the fun and have you say.
Amazon
Search for New and Used Gary Numan CDs, Vinyl, DVDs.
Tour Dates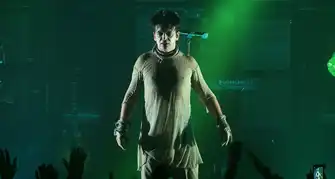 Check out the latest Gary Numan tour dates, events. See one of the founding fathers of synth pop.
Facebook
This group has been put together for fans of Gary Numan and visitors of the Numanme site, to discuses all things Numan sell/trade share stories and images from all aspects of Numan's career.
Weather Forecast
Podcast
Numanme Radio Podcast will be playing you some of the best Classic Alternative, New Wave, Dark Wave, Synth-Pop, and Punk. Also, a staple diet of Gary Numan/Tubeway Army without question. Shows will be updated here when they become available.
Photo Gallery
These galleries contain Gary Numan related photographs. ranging form the Tubeway Army days to present day. Feel free to browse and if you would like to add any of your own images please get in touch.
Poll
Vote for your favorite Gary Numan album or song.
Numan Quotes +
Statistics

Visitor Statistics

3 Online

115 Today

125 Yesterday

366 Week

4735 Month

23636 Year

223317492 Total
Record: 517 (13.11.2023)
The Pleasure Principle LP
Title:

The Pleasure Principle

Suggested Video

Artist:

Gary Numan

Tracklist:

A1. Airlane
A2. Metal
A3. Complex
A4. Films
A5. M.E.
B1. Tracks
B2. Observer
B3. Conversation
B4. Cars
B5. Engineers

How old:

This LP is old!

Release Date:

September 7th 1979

Format:

LP

Record Label:

Beggars Banquet

Catalogue No:

BEGA 10

Price Guide:

£10.00

Country:

United Kingdom

Additional info:

---

Highest Chart Position:

Deleted

Credits:

Gary Numan (Vocals, Keyboards, Synthetic Percussion)
Paul Gardiner (Bass)
Christopher Payne (Keyboards, Viola)
Cedric Sharpley (Drums, Percussion)
Billy Currie (Fadeout Violin on "Tracks")
Garry Robson (Backing Vocal on "Conversation")

Produced by Gary Numan

Engineered and Mixed by Rikki Sylvan and Harvey Webb

Recorded at Marcus Music AB, London.

Buy:
Additional Information
The Pleasure Principle is a 1979 New Wave / electronic album by Gary Numan. Released the same year as Replicas (under the name Tubeway Army), The Pleasure Principle also went to number 1 in the UK and paved the way to chart success for a spate of synthpop acts such as Ultravox, The Human League, Depeche Mode and Orchestral Manoeuvres in the Dark.

For the first and only time on an album, Numan completely abandoned guitars and this change, coupled with frequent use of synthetic percussion, produced the most purely electronic and robotic sound of his career. In addition to the Minimoog synthesizer employed on his previous album, Numan now made liberal use of the Polymoog keyboard, particularly its distinctive "Vox Humana" preset. Other striking production tricks included copious amounts of flanging, phasing and reverb, plus the unusual move of including solo viola and violin parts in the arrangements.

Notable tracks included "Airlane", the lead-off instrumental; "Metal", sung from the perspective of an android longing to be human and covered by Nine Inch Nails on Things Falling Apart and Afrika Bambaataa on Dark Matter Moving at the Speed of Light; "Films", acknowledged by Bambaataa as an important influence on the U.S. hip hop scene; "M.E.", told by the last machine on Earth and later used as backing for Basement Jaxx's "Where's Your Head At?"; "Complex", a UK number 6 single touted by its author as the first electronic ballad; and "Cars", a worldwide synthpop hit recently covered by Fear Factory and sampled for Armand Van Helden's "Koochy". "Cars" reached number 9 in the U.S., helping make The Pleasure Principle Numan's strongest Stateside showing, but lack of a strong commercial follow-up meant he was tagged a one-hit wonder there.

The Pleasure Principle's title and cover art were inspired by the René Magritte painting Le Principe Du Plaisir. Numan toured throughout the world in support of the album with a huge stage set including banks of neon lights and twin pyramids which danced across the stage via radio control. The live show was captured on record as Living Ornaments '79 and on video as The Touring Principle. The support act on the UK leg of the tour was Orchestral Manoeuvres in the Dark.

Of the bonus tracks currently available on CD, "Random" and "Oceans" were instrumental outtakes from The Pleasure Principle sessions, originally issued on vinyl with other previously-unreleased tracks in 1985; "Asylum" was the instrumental flip of the "Cars" vinyl single; the live versions of "Me! I Disconnect From You" and "Bombers" made up the B-side of "Complex", having been recorded on tour and lately made available in their original context on the expanded Living Ornaments '79 CD, along with "Remember I Was Vapour" and "On Broadway". The latter two tracks first saw the light of day as a promotional single shipped with early pressings of the album Telekon in 1980; Numan's unlikely version of the classic "On Broadway" was dominated by a characteristic synthesizer solo by then-former (and soon-to-be-again) Ultravox band member Billy Currie.