Social Media
Get the lowdown on Gary Numan and follow us, join the Gary Numan community on social media. Join in the fun and have you say.
Amazon
Search for New and Used Gary Numan CDs, Vinyl, DVDs.
Tour Dates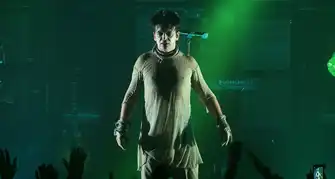 Check out the latest Gary Numan tour dates, events. See one of the founding fathers of synth pop.
Facebook
This group has been put together for fans of Gary Numan and visitors of the Numanme site, to discuses all things Numan sell/trade share stories and images from all aspects of Numan's career.
Weather Forecast
Podcast
Numanme Radio Podcast will be playing you some of the best Classic Alternative, New Wave, Dark Wave, Synth-Pop, and Punk. Also, a staple diet of Gary Numan/Tubeway Army without question. Shows will be updated here when they become available.
Photo Gallery
These galleries contain Gary Numan related photographs. ranging form the Tubeway Army days to present day. Feel free to browse and if you would like to add any of your own images please get in touch.
Poll
Vote for your favorite Gary Numan album or song.
Numan Quotes +
Statistics

Visitor Statistics

2 Online

134 Today

125 Yesterday

385 Week

4754 Month

23655 Year

223317511 Total
Record: 517 (13.11.2023)
That's Too Bad 7"
Title:

That's Too Bad

Suggested Video

Artist:

Tubeway Army

Tracklist:

A1. That's Too Bad 3:20
B2. Oh! Didn't I Say 2:15

How old:

This 7" is old!

Release Date:

February 10th 1978

Format:

7"

Record Label:

Beggars Banquet

Catalogue No:

BEG 5

Price Guide:

£10.00

Country:

United Kingdom

Additional info:

Deleted (4000 issued)

Highest Chart Position:

N/A

Credits:

Valerian (Gary Numan) - Vocals, Guitar
Scarlett (Paul Gardiner) - Bass
Rael (Bob Simmonds) - Drums | Jess Lidyard actually played the drums on this single.

Produced By - Gary Numan
Recording Studio - Spaceward
Photography By -Mike Stone

Buy:

b Official Store Ebay Amazon Discogs 4 Apple 5 Spotify 2 Bandcamp ± Archive Beggars
Additional Information
Gary's parents paid for the band to do three demo songs, one of which was That's Too Bad recorded at the cheapest studio Gary could find, Spaceward in Cambridge, on 16th October 1977. But Gary mistakenly thought a record contract would materialise, after being turned down by numerous record labels Paul Gardiner wandered into a record shop in Ealing Beggars Banquet to trade in some old albums he mentioned the fact he was in a band and was having problems getting a record contract, the man behind the counter was Steve Webbon told Paul that the owners had just started their own small record label and Paul should give them a tape. After many weeks of Paul badgering them the owners Martin Mills and Nick Austin finally listened to the tape. Martin Mills liked That's Too Bad but he still wanted to see them play live. A gig was setup at the Vortex. After seeing them play Beggars offered them a contract. After a couple lineup shuffles, Tubeway Army -- Gary Numan (aka Valeriun), Paul Gardiner (aka Scarlet), and Numan's uncle Jess Lidyard (aka Rael) -- debuted in February of 1978 with "That's Too Bad" on Beggars Banquet, a furious fusion of punk and pop. During a studio session a few months later, Numan began fiddling with a minimoog synthesizer that remained from another band's recording stint. Instantly falling in love with the instrument's capabilities, he decided that he would use synths to achieve the sounds he heard in his imagination. Though he fought the temptation to associate synths with prog rock, he felt they would help distance the band from the limitations of punk. Numan and his mates were influenced by Bowie and T. Rex as much as JG Ballard and William Burroughs (as well as being inspired later on by contemporaries Ultravox and the Human League), so the band's extraction from punk wasn't surprising at all.
That's Too Bad Lyrics
That's Too Bad
(Gary's first ever single, 1978)

I look up and the camera eye is
Searching my room
The TV screen is calling me
But for what or whom?
Please, mister, do be careful
I'm so frgile
Maybe they'll let me down to
Speedy's place for a while

Oh, well that's too bad

I talk a lot, a sign of fear
I thought you should know
I can see pictures of me
Well they're so-so
I'll come on to the leader
Like I'm some hero
He'll laugh and raise his dying eyes
And then tell me to go

Oh, well that's too bad

1920 flashbacks
For an hour or more
Of crazy actors hiding
In the doorways top floor
Machines scream in anger
From a thousand dead ends
I turn my face, I crawl away
I look for a friend

Oh, well that's too bad

Oh! Didn't I Say
(B-side, 'That's Too Bad' single, 1978)

Hollow
Faces staring through my window
Sometimes
I can play a boy you might know
Station
Standing cold and old I'm insane
Gender
Is uncertain just like my name

The lemon kid is my friend
But even he don't know me well
That's too bad
Oh well the waiter is an old man
Who looks at me so sly and strange
What's on his mind?

Oh didn't I say I'm not one of you
Oh didn't I say I'm not one of you

Queenie
From a doorway says 'You got time?'
Panic
'Not tonight if you don't mind'
Oh no
My fear of streets I cower
Today
My room is home for hours

You can stay if you know your lines
But please take care I'll suck your mind
Dry
You'll never guess
And you can never know me
I'll change if I begin to feel
'What's your name?'
Zero hero says I'm no-one
He could be right but who's to know?
Uh, man from the sky...
Oh well I'm growing tired of this place
I think it's time to change my face
You can't even try

Oh didn't I say I'm not one of you
Oh didn't I say I'm not one of you
Oh didn't I say I'm not one of you
Oh didn't I say I'm not one of you