Social Media
Get the lowdown on Gary Numan and follow us, join the Gary Numan community on social media. Join in the fun and have you say.
Amazon
Search for New and Used Gary Numan CDs, Vinyl, DVDs.
Tour Dates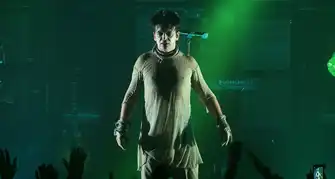 Check out the latest Gary Numan tour dates, events. See one of the founding fathers of synth pop.
Facebook
This group has been put together for fans of Gary Numan and visitors of the Numanme site, to discuses all things Numan sell/trade share stories and images from all aspects of Numan's career.
Weather Forecast
Podcast
Numanme Radio Podcast will be playing you some of the best Classic Alternative, New Wave, Dark Wave, Synth-Pop, and Punk. Also, a staple diet of Gary Numan/Tubeway Army without question. Shows will be updated here when they become available.
Photo Gallery
These galleries contain Gary Numan related photographs. ranging form the Tubeway Army days to present day. Feel free to browse and if you would like to add any of your own images please get in touch.
Poll
Vote for your favorite Gary Numan album or song.
Numan Quotes +
Statistics

Visitor Statistics

1 Online

19 Today

108 Yesterday

258 Week

712 Month

24476 Year

223318332 Total
Record: 517 (13.11.2023)
Telekon LP
Title:

Telekon

Suggested Video

Artist:

Gary Numan

Tracklist:

A1. This Wreckage 5.27
A2. The Aircrash Bureau 5.41
A3. Telekon 4.27
A4. Remind Me To Smile 4.05
A5. Sleep By Windows 5.00
B1. I'm An Agent 4.26
B2. I Dream Of Wires 5.11
B3. Remember I Was Vapour 5.12
B4. Please Push No More 5.40
B5. The Joy Circuit 5.14

Free 7"
A.1. Remember I Was Vapour 4.50
B.1. On Broadway 4.40

How old:

This LP is old!

Release Date:

September 5th 1980

Format:

LP

Record Label:

Beggars Banquet

Catalogue No:

BEGA 19 / 7" SAM 126

Price Guide:

£8.00

Country:

United Kingdom

Additional info:

Deleted Included a free 7" single and a merchandise sheet.

Highest Chart Position:

1

Credits:

Gary Numan (Vocals, Minimoog, Polymoog, A.R.P. Pro-Soloist,JP4, Piano,
Prophet 5, CP30, Compurhythm, Synare,Guitar)
Paul Gardiner (Bass, Backing Vocal)
Cedric Sharpley (Drums, Backing Vocals, percussion)
John Webb (Handclaps)
James Freud (Handclaps)
Chris Payne (Viola, solo piano, Minimoog, Backing Vocals)
RRussell Bell (Claves, Rhythm Guitar, Backing Vocals, Lead Guitar on 'The Joy Circuit')
Denis Haines (Prophet 5, Piano, CP30, Minimoog, Polymoog,Backing Vocal, Whistle)
Simple Minds ET AL (Handclaps)

Recorded at Rock City and Matrix
Engineered by Nick Smith, Steve Smith, Graeme Myhre,
Jess Sutcliffe

Buy:
Additional Information
Telekon was originally released in 1980 on the Beggars Banquet label. The digitally remastered version includes many extra tracks including the singles We Are Glass and I Die:You Die which were not on the original.

Telekon is a 1980 New Wave / electronic album by Gary Numan. It was the final installment of what Numan retrospectively termed his "machine" trilogy, following 1979's Replicas and The Pleasure Principle. His third (and to date, last) number 1 album, it debuted at the top of the UK charts in September 1980. In contrast to The Pleasure Principle, with its lack of guitars and its harsh robotic sound, Telekon featured heavy use of guitars and strings along with richer synthesizer textures, Numan broadening his previous synth palette with additional machines such as the Sequential Circuits Prophet-5, ARP Pro Soloist and Roland Jupiter-4.

Lyrically, whilst continuing Numan's exploration of a dystopian future in pieces like the title track and "I Dream of Wires", Telekon also took stock of the artist's sudden celebrity and the apparently overwhelming adulation of his fans in songs like "Remind Me to Smile" ("Reconsider 'fame' / I need new reasons / This is detention / It's not fun at all ... Keep your revivals / Keep your conventions / Keep all your fantasies / That's all we are") and "Please Push No More". The album's musical style ranged from upbeat synth rock such as "I'm an Agent" and "The Joy Circuit" to mood pieces like "Sleep by Windows" and "Remember I Was Vapour".

Telekon was preceded by two hit singles, "We Are Glass" and "I Die: You Die", though neither of these was included on the album in its initial UK vinyl release (overseas releases such as the US and Australia added "I Die: You Die" in place of "Sleep by Windows"). Early UK pressings came with a limited edition live 45, "Remember I Was Vapour" b/w "On Broadway", and all of these tracks, along with B-sides and the outtake "A Game Called 'Echo'", were subsequently included on various CD reissues. Numan had premiered "Remember I Was Vapour" during the UK leg of 'The Touring Principle' in late 1979, preceding its appearance on Telekon by a year. He also premiered "We Are Glass", "I Die: You Die" and "Remind Me to Smile" during the April 1980 leg.

The only single taken from the album was the somewhat menacing opening number "This Wreckage"; though it failed to chart higher than number 20 and the composer admitted that regardless of its merits as a song it was a "bloody stupid single".[1] Surprisingly - and to his later regret - Numan declined to issue the anthemic "Remind Me to Smile" as a single (though it was released as a promo single in the US only).

From late 1980 to early 1981 Numan toured the UK, Europe and America in support of Telekon with guest Nash the Slash and a lavish stage set; Numan's stage costume - a black leather boiler-suit with interlocking red belts - would be an enduring image. An early performance of the so-called 'Teletour' was captured on the album Living Ornaments '80 and in a rendition of "Down in the Park" for the movie Urgh! A Music War (both 1981). The 2005 CD re-issue of Living Ornaments '80 included the original 10-track album and a recently re-discovered soundboard recording of the entire concert. The Teletour concluded in April 1981 with three sold-out nights at Wembley Arena where Numan brought down the curtain on this phase of his career in extravagant style, as recorded in the accompanying video Micromusic (soundtrack later released as Living Ornaments '81). Although these were billed as Numan's farewell concerts, he would play a series of US club dates the following year and returned to large-scale touring in 1983.

Like all of Numan's commercially popular early records, Telekon received a largely hostile reception from contemporary music critics; nevertheless it proved to be an influential work. Trent Reznor claimed to have listened to it every day during the making of Pretty Hate Machine and Stephin Merritt from The Magnetic Fields also became a Numan fan through the album.[2] Merritt recorded "I Die: You Die" as his contribution to the Random tribute album in 1997, which also included covers of "I'm an Agent", "Remember I Was Vapour" and "We Are Glass". However the earliest cover of a song from this album was in the very year of its release when Robert Palmer collaborated with Numan on a version of "I Dream of Wires" for the Clues LP.

In July 2006, Numan announced on his official website that he will hold a Telekon mini-tour in December 2006 - four concerts in the UK in which he will "only play songs from the Telekon album and its associated singles and B-Sides."