Social Media
Get the lowdown on Gary Numan and follow us, join the Gary Numan community on social media. Join in the fun and have you say.
Amazon
Search for New and Used Gary Numan CDs, Vinyl, DVDs.
Tour Dates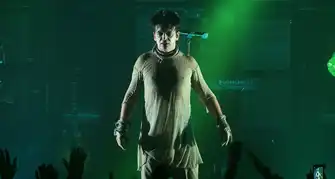 Check out the latest Gary Numan tour dates, events. See one of the founding fathers of synth pop.
Facebook
This group has been put together for fans of Gary Numan and visitors of the Numanme site, to discuses all things Numan sell/trade share stories and images from all aspects of Numan's career.
Weather Forecast
Podcast
Numanme Radio Podcast will be playing you some of the best Classic Alternative, New Wave, Dark Wave, Synth-Pop, and Punk. Also, a staple diet of Gary Numan/Tubeway Army without question. Shows will be updated here when they become available.
Photo Gallery
These galleries contain Gary Numan related photographs. ranging form the Tubeway Army days to present day. Feel free to browse and if you would like to add any of your own images please get in touch.
Poll
Vote for your favorite Gary Numan album or song.
Numan Quotes +
Statistics

Visitor Statistics

1 Online

31 Today

108 Yesterday

270 Week

724 Month

24488 Year

223318344 Total
Record: 517 (13.11.2023)
Street Level LP
Title:

Street Level

Suggested Video

Artist:

Various

Tracklist:

A1. Sex Pistols, The* - Pretty Vacant
A2. Stranglers, The - No More Heroes
A3. Pretenders - Brass In Pocket
A4. Ian Dury - Reasons To Be Cheerful Part III
A5. Skids, The - Circus Games
A6. Buzzcocks, The* - Have You Ever Fallen In Love
A7. Magazine - Sweetheart Contract
A8. Plasmatics, The* - Butcher Baby
A9. Public Image Ltd.* - Public Image
A10. Blondie - Denis Denis
B1. Boomtown Rats* - Someone's Looking At You
B2. Tom Robinson Band - 2, 4, 6, 8, Motorway
B3. Gary Numan - We Are Glass
B4. John Foxx - Underpass
B5. Nick Straker Band - A Walk In The Park
B6. XTC - Making Plans For Nigel
B7. Generation X (4) - Valley Of The Dolls
B8. Members, The - The Sound Of The Suburbs
B9. Dickies, The - Banana Splits
B10. Jona Lewie - You'll Always Find Me In The Kitchen At Parties

How old:

This LP is old!

Release Date:

November 1st 1980

Format:

LP

Record Label:

Ronco

Catalogue No:

RTL 2048

Price Guide:

£9.00

Country:

United Kingdom

Additional info:

Deleted.

Highest Chart Position:

0

Credits:

Unknown Artist

Buy:
Additional Information
Ronco's Street Level was marketed under the "20 New Wave Hits" tagline. I remember the television advert sometime during the 80s. Overall not a bad album but at the time the selling point for me was the fact it contained Gary Numan and John Foxx. .