Social Media
Get the lowdown on Gary Numan and follow us, join the Gary Numan community on social media. Join in the fun and have you say.
Amazon
Search for New and Used Gary Numan CDs, Vinyl, DVDs.
Tour Dates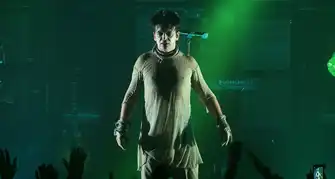 Check out the latest Gary Numan tour dates, events. See one of the founding fathers of synth pop.
Facebook
This group has been put together for fans of Gary Numan and visitors of the Numanme site, to discuses all things Numan sell/trade share stories and images from all aspects of Numan's career.
Weather Forecast
Podcast
Numanme Radio Podcast will be playing you some of the best Classic Alternative, New Wave, Dark Wave, Synth-Pop, and Punk. Also, a staple diet of Gary Numan/Tubeway Army without question. Shows will be updated here when they become available.
Photo Gallery
These galleries contain Gary Numan related photographs. ranging form the Tubeway Army days to present day. Feel free to browse and if you would like to add any of your own images please get in touch.
Poll
Vote for your favorite Gary Numan album or song.
Numan Quotes +
Statistics

Visitor Statistics

1 Online

19 Today

108 Yesterday

258 Week

712 Month

24476 Year

223318332 Total
Record: 517 (13.11.2023)
Stormtrooper In Drag 7"
Title:

Stormtrooper In Drag

Suggested Video

Artist:

Paul Gardiner with Gary Numan

Tracklist:

A1. Stormtrooper In Drag 4:53  
B2. Night Talk 4:30

How old:

This 7" is old!

Release Date:

July 1st 1981

Format:

7"

Record Label:

Beggars Banquet

Catalogue No:

BEG 61

Price Guide:

£8.00

Country:

United Kingdom

Additional info:

Deleted

Highest Chart Position:

49

Credits:

Gary Numan (Vocals, Guitar, Bass, Keyboards)
Paul Gardiner (Backing Vocals, Guitar , Keyboards)
John Webb (Drums)

Buy:
Additional Information
Stormtrooper in Drag and Night Talk was co-written by Gary and the late Paul Gardiner but credited to Paul. Paul Gardiner was a very creative musician and had come up with some inspired bass lines at times, but on this track, Gary played the bass and Paul the guitar. This was a one off for Gary and Paul but sadly dew to Paul's drug problems Gary and Paul never co-wrote another song. Paul became yet another drug casualty Paul died of a heroin overdose in 1984. It was a very tragic event that naturally upset Gary and eventually prompted him to write "A Child with The Ghost." The Stormtrooper in Drag single was briefly available as a 12" whit label promo..

Stormtrooper In Drag Lyrics
Stormtrooper In Drag
(Single with the late, great Paul Gardiner, 1981)

So here am I
Quite by chance near the phone
I could call and make you crawl into bed

Questions always questions
I'll just speak in slow motion
About obsessions with boys on the floor

Take that smile off your face
Wipe that tear from your eye
Don't say sorry for me
Take that smile off your face
Wipe that tear from your eye
Don't say sorry for me

Now look at me
Like a stormtrooper in drag
I'll bet you feel exactly like I do
It's so disgusting
I'm so tired of
Rhythm and needles in arms
I don't want your point of view

Nothing to do
Nothing to steal
And there's nothing to say
Nothing to do
Nothing to steal
And there's nothing to say

Oh, don't cry
Love it, love it
I need to

Stop it

(Written by Gardiner / Numan)

---
Night Talk
(B-side, 'Stormtrooper In Drag' single, 1981)

Boys watch from windows tonight
I'm not surprised to see you waiting here
You keep them in business just supplying you
Get in the car I've something to say

Stay in bed
Why waste my time
Open your eyes but
Only if you can
Office in a sidestreet is no place for you
Night talk and romance
Like beat the clock

Boys like me aren't supposd to cry
But it's so easy to do
Boys like me aren't supposed to cry
But just look at you
Night talk

Take things slow you can crack
Like your face I don't understand
How you smile and pretend it's fun
Do you laugh when the rats come round to play?

Boys like me aren't supposd to cry
But it's so easy to do
Boys like me aren't supposed to cry
But just look at you
Night talk

(Written by Paul Gardiner / Gary Numan)