Social Media
Get the lowdown on Gary Numan and follow us, join the Gary Numan community on social media. Join in the fun and have you say.
Amazon
Search for New and Used Gary Numan CDs, Vinyl, DVDs.
Tour Dates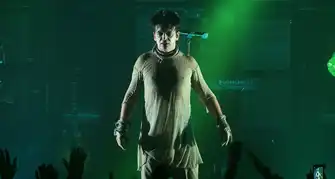 Check out the latest Gary Numan tour dates, events. See one of the founding fathers of synth pop.
Facebook
This group has been put together for fans of Gary Numan and visitors of the Numanme site, to discuses all things Numan sell/trade share stories and images from all aspects of Numan's career.
Weather Forecast
Podcast
Numanme Radio Podcast will be playing you some of the best Classic Alternative, New Wave, Dark Wave, Synth-Pop, and Punk. Also, a staple diet of Gary Numan/Tubeway Army without question. Shows will be updated here when they become available.
Photo Gallery
These galleries contain Gary Numan related photographs. ranging form the Tubeway Army days to present day. Feel free to browse and if you would like to add any of your own images please get in touch.
Poll
Vote for your favorite Gary Numan album or song.
Numan Quotes +
Statistics

Visitor Statistics

3 Online

23 Today

108 Yesterday

262 Week

716 Month

24480 Year

223318336 Total
Record: 517 (13.11.2023)
Riding High LP
Title:

Riding High

Suggested Video

Artist:

Various Artists

Tracklist:

A1. Police - Walking On The Moon
A2. Pretenders - Brass In Pocket
A3. Boomtown Rats - Keep It Up
A4. Squeeze - Pulling Muscles (sic)
A5. Madness - One Step Beyond
A6. Dire Straits - Solid Rock
A7. Police - Deathwish
A8. Lene Lovich - Details
A9. Gimmix - Give It To Me
A10. Sky - Toccata
B1. Cliff Richard - Dreaming
B2. Chic - Good Times
B3. N.R.G. - Get It Right
B4. Tunes - Night Steppin'
B5. Joe Jackson - I'm The Man
B6. Cliff Richard & The Shadows - Willie And The Hand Jive
B7. Zoot Money - Your Feet's Too Big
B8. Eddie Kidd - Heavy Metal
B9. Re-Flex - Wiz Kid
B10. Gary Numan - Remember I Was Vapour

How old:

This LP is old!

Release Date:

January 5th 1980

Format:

LP

Record Label:

Jambo Records London

Catalogue No:

No: Jam 2

Price Guide:

£20.00

Country:

United Kingdom

Additional info:

Deleted. Remember I Was Vapour (Alt. Mix - Riding High)

Highest Chart Position:

0

Credits:

Unknown Artist

Buy:
Additional Information
A big fan of Eddie Kidd's stunt riding, I waited over 25 years to see this film and finally I have.

Well? Its awful, frankly, which is a shame. Too obviously made as a vehicle for Eddie Kidd to get into acting. A bit of a none starter as he clearly couldn't (Sorry Ed, but nice try!). Not even the great Irene Handl can save it, and as for the other British character actors, I can't work out if they were playing below par to make Eddie look good.

Its not even a porn film for bike and car nuts since any hot vehicle action is limited to a few custom cars at the beginning of the film.

The finale motorcycle jump over the Blackwater estuary in Essex was done for real, but the lacklustre filming does not do it justice. It actually does not look that scary. The reality of the jump is quite different, shame they only had a couple of cameras to capture it.

Any plus points. Yeah, there are a few in that it was filmed near my home when I was a kid back in 1978/9 and I can remember the excitement it caused; Its probably the only time Leysdown and the local chalet parks will ever hit the big screen! I also remember they used local Teddy Boys as extra's and there is a quite well put together sequence showing them jiving. Cool on a stick.

Also, the slightly surreal opening titles showed some promise by marrying music to the bike whizzing around countless grey chalets on an overcast day.

The soundtrack is actually quite eclectic with some British bands that were only starting to happen at the time.

If you can find a copy of the tie in paperback, get that as it is a surprisingly well written, amusing novel that fleshes out the characters in the way they should have been in the film. It does describe what living out on the Thames estuary marshes was like in the days before the internet and cheap travel.

My copy of the paperback was published as 'Heavy Metal' but the title of the film changed due to the cartoon of the same name coming out in the same year.

I've given it 5 out of 10 as a GOOD idea VERY BADLY done.

Author: (nifoc2005) from United Kingdom .