Social Media
Get the lowdown on Gary Numan and follow us, join the Gary Numan community on social media. Join in the fun and have you say.
Amazon
Search for New and Used Gary Numan CDs, Vinyl, DVDs.
Tour Dates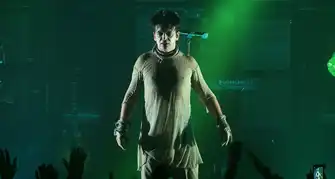 Check out the latest Gary Numan tour dates, events. See one of the founding fathers of synth pop.
Facebook
This group has been put together for fans of Gary Numan and visitors of the Numanme site, to discuses all things Numan sell/trade share stories and images from all aspects of Numan's career.
Weather Forecast
Podcast
Numanme Radio Podcast will be playing you some of the best Classic Alternative, New Wave, Dark Wave, Synth-Pop, and Punk. Also, a staple diet of Gary Numan/Tubeway Army without question. Shows will be updated here when they become available.
Photo Gallery
These galleries contain Gary Numan related photographs. ranging form the Tubeway Army days to present day. Feel free to browse and if you would like to add any of your own images please get in touch.
Poll
Vote for your favorite Gary Numan album or song.
Numan Quotes +
Statistics

Visitor Statistics

1 Online

16 Today

108 Yesterday

255 Week

709 Month

24473 Year

223318329 Total
Record: 517 (13.11.2023)
Replicas LP
Title:

Replicas – The First Recordings

Suggested Video

Artist:

Gary Numan

Tracklist:

A1. Me! I Disconnect From You
A2. Are 'Friends' Electric ?
A3. The Machman
A4. Praying To The Aliens
A5. Down In The Park
B1. You Are In My Vision
B2. Replicas
B3. It Must Have Been Years
B4. When The Machines Rock
B5. I Nearly Married A Human

How old:

This LP is old!

Release Date:

April 4th 1979

Format:

LP

Record Label:

Beggars Banquet

Catalogue No:

BEGA 7

Price Guide:

£7.00

Country:

United Kingdom

Additional info:

Replicas – Deleted Vinyl

Highest Chart Position:

1

Credits:

Gary Numan Vocals, Keyboards, Guitar
Paul Gardiner - Bass
Jess Lidyard - Drums

Produced By - Gary Numan
Recording Studio - Gooseberry, London
Engineered By - John Caffrey assisted by Harvey Ishiki
Mixed By - Rikki Sylvan, John Caffrey & Gary Numan
Mixed At - Marcus Music AB, London
Photography By - Geoff Howes
Make-up By - Mary Vango
Illustrated By - Tony Escott
Art Directed By - Malti Kidia

Buy:
Additional Information
Tubeway Army released their second album, Replicas, Gary Numan was on the way to fame with he's unmistakable focal and the use of the synthesizer, this album led the way of things to come. The album still had a punk feel to it in parts but Numan had embraced the new technology of the synthesizer and developed a dark electro-punk sound. Down In The Park was the first of two single released from the album but unfortunately Down In The Park failed to chart, but on the upside the single sold three times the amount of copies compared to the bands last two singles That's Too Bad and Bombers. Tubeway Army by this time had started attracting a small fan base and the album received some very positive reviews this was to become Gary's breakthrough album. The new direction proved to be massively successful with the help of the Moog the album and the single Are 'Friends' Electric? topped the U.K. charts the single charted for four weeks. Other highlights for the album are Me! I Disconnect From You, You Are in My Vision, and the self titled track Replicas. The cover had Numan looking at he's best probably the best image from Numan. This album has become a classic in its own right.

by Numanme

Replicas is a New Wave / electronic album by Gary Numan and Tubeway Army, released in 1979. It was the second and final Tubeway Army LP, following a self-titled debut the previous year. It was also the first album of what Numan later termed the "machine" phase of his career[1], preceding The Pleasure Principle and Telekon, a collection linked by common themes of a dystopian science fiction future and transmutation of man/machine, coupled with an androgynous image and ground-breaking synthetic rock sound. Fuelled by a surprise number 1 hit single, "Are 'Friends' Electric?", Replicas also claimed the top spot in the UK charts.

Something of a concept album, Replicas was based on a book Numan hoped to complete someday[2], set in a not-too-distant future metropolis where Machmen (androids with cloned human skin) and other machines keep the general public cowed on orders from the Grey Men (shadowy officials). Whilst the album's setting and lyrics were directly inspired by the science fiction of Philip K. Dick, particularly his seminal work Do Androids Dream of Electric Sheep?, the title was, surprisingly, not. Though similar to 'Replicants', the term used for androids in Ridley Scott's Blade Runner, based on Dick's book, Scott's film came out three years after Tubeway Army's album and Dick never used the word 'Replicant' in his original 1968 novel.

Musically Numan's chief influences were the as-yet commercially-unsuccessful Ultravox who pioneered the integration of synthesizers with conventional rock instruments; David Bowie's Low, especially tracks like "Speed of Life" and "Breaking Glass", and general air of disaffection; and Kraftwerk's The Man Machine, in particular the long and wistful "Neon Lights".

The recording was a development of the sound of its predecessor, the Tubeway Army debut. Whilst tracks like "You Are in My Vision" and "It Must Have Been Years" recalled the earlier album's guitar-orientated rock, the rest were built solidly around an analog synthesizer, the Minimoog. Along with "Are 'Friends' Electric?", this included the early synth rock number "Me! I Disconnect from You", the atmospheric "Down in the Park" (released as a single prior to the album and acquiring cult status if not, at the time, commercial success), the multi-layered title track and the closing instrumentals "When the Machines Rock" and "I Nearly Married a Human", the latter featuring Numan's first use of a primitive drum machine; it made an appearance the following year in Carl Sagan's TV series Cosmos: A Personal Voyage.

Replicas' fat synthesizer sound and occasionally nihilistic lyrics had a major impact on the goth rock and industrial acts that came to prominence in the mid-nineties such as Marilyn Manson and Nine Inch Nails, each of whom have appeared on stage with Numan and covered his songs on record. Both Manson and Foo Fighters released versions of "Down in the Park" whilst "Are 'Friends' Electric?" has been covered by a number of artists and was most recently the backing for Sugababes' "Freak Like Me". Numan has always played tracks from this album on stage with "Me! I Disconnect from You", "Are 'Friends' Electric?" and "Down in the Park" being mainstays, whilst "Praying to the Aliens" and "Replicas" have also lately become part of his live repertoire.

Of the bonus tracks released on CD, "Do You Need the Service?" and "We Are So Fragile" were B-sides on the vinyl singles "Down In The Park" and "Are 'Friends' Electric?", respectively; "I Nearly Married a Human (2)" was an additional B-side on the "Down in the Park" 12-inch; and "The Crazies", "Only a Downstat" and "We Have a Technical" were outtakes from the Replicas sessions first released on vinyl in 1985.