Social Media
Get the lowdown on Gary Numan and follow us, join the Gary Numan community on social media. Join in the fun and have you say.
Amazon
Search for New and Used Gary Numan CDs, Vinyl, DVDs.
Tour Dates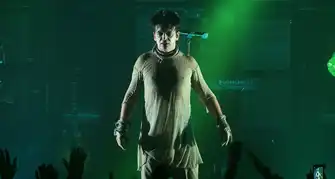 Check out the latest Gary Numan tour dates, events. See one of the founding fathers of synth pop.
Facebook
This group has been put together for fans of Gary Numan and visitors of the Numanme site, to discuses all things Numan sell/trade share stories and images from all aspects of Numan's career.
Weather Forecast
Podcast
Numanme Radio Podcast will be playing you some of the best Classic Alternative, New Wave, Dark Wave, Synth-Pop, and Punk. Also, a staple diet of Gary Numan/Tubeway Army without question. Shows will be updated here when they become available.
Photo Gallery
These galleries contain Gary Numan related photographs. ranging form the Tubeway Army days to present day. Feel free to browse and if you would like to add any of your own images please get in touch.
Poll
Vote for your favorite Gary Numan album or song.
Numan Quotes +
Statistics

Visitor Statistics

1 Online

19 Today

108 Yesterday

258 Week

712 Month

24476 Year

223318332 Total
Record: 517 (13.11.2023)
Radio Active LP
Title:

Radio Active 20 Electric Hits

Suggested Video

Artist:

Various

Tracklist:

A1. Ottowan - D.I.S.C.O.
A2. Black Slate - Amigo
A3. Robert Palmer - Johnny & Mary
A4. Gillan - Trouble
A5. Gary Numan - I Die You Die
A6. Genesis - Misunderstanding
A7. Korgis - If It's Alright With You
A8. Selector - The Whisper
A9. Surface Noise - Dancin' On A Wire
A10. Gibson Brothers - Metropolis
B1. Kelly Marie - Feels Like I'm In Love
B2. Linx - You're Lying
B3. Odyssey - Use It Up And Wear It Out
B4. Orchestral Manoevres In The Dark - Enola Gay
B5. Manfred Man* - Lies (Through The 80's)
B6. XTC - Generals And Majors
B7. Black Sabbath - Paranoid
B8. Locksmith - Unlock The Funk
B9. Sue Wilkinson - You Gotta Be A Hustler
B10. UB 40 - I Think It's Gonna Rain


How old:

This LP is old!

Release Date:

November 15th 1980

Format:

LP

Record Label:

Ronco

Catalogue No:

RTL 2049

Price Guide:

£9.00

Country:

United Kingdom

Additional info:

Deleted.

Highest Chart Position:

13

Credits:

Unknown Artist

Buy:
Additional Information
On November 15, 1980, Ronco's Radio Active (RTL 2049) entered the UK Albums Chart at #34. The following week it peaked at #13 and remained on the chart for nine weeks.

20 ELECTRIC HITS

Includes 3 No 1 Hit Singles By Kelly Marie, Ottawan & Odyssey

The label on the cover claimed "D.I.S.C.O." by Ottawan had gone to #1. Only in the Netherlands and Norway! In the UK, the song only made #2 and they could only manage #7 in their native France.

All tracks in this collection were hits in 1980, except the tracks from Gibson Brothers and Manfred Mann's Earth Band (listed as Manfred Man on the cover, and Manfred Mann on the label), which did not chart in the UK
"D.I.S.C.O." by Ottawan, "I Die: You Die" by Gary Numan, and "Enola Gay" by Orchestral Manoeuvres in the Dark also appear on K-Tel's Chart Explosion, which charted the very same day as Radio Active.

Genesis had a bigger hit in 1980: "Turn It On Again" [UK #8]
Korgis had a bigger hit in 1980: "Everybody's Got To Learn Sometime" [UK #5]
Selecter had bigger hits in 1980: "Three Minute Hero" [UK #16] and "Missing Words" [UK #23]
Surface Noise had a bigger hit in 1980: "The Scratch" [UK #26]. Neither track is on Spotify. Listen to "Dancin' on a Wire" on YouTube Music.
"Paranoid" by Black Sabbath went to #4 when it first charted in 1970. The 1980 re-release got to #14. Their debut album Paranoid had been re-released as part of a double cassette with the 1980 album Heaven and Hell, which featured Ronnie James Dio after Ozzy Osbourne was fired.
Locksmith and Sue Wilkinson were a one-hit wonders and the latter does not appear on Spotify. Listen to "You Gotta Be a Hustler If You Wanna Get On" on YouTube Music.
UB40's "I Think It's Going To Rain Today" is listed as "I Think It's Going To Rain" on the sleeve and label. It was a double-A side with "My Way of Thinking". Their debut hit, the double-A side "King"/"Food for Thought" had done slightly better in 1980 [UK #4].
.