Social Media
Get the lowdown on Gary Numan and follow us, join the Gary Numan community on social media. Join in the fun and have you say.
Amazon
Search for New and Used Gary Numan CDs, Vinyl, DVDs.
Tour Dates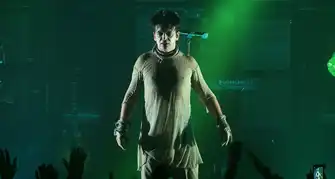 Check out the latest Gary Numan tour dates, events. See one of the founding fathers of synth pop.
Facebook
This group has been put together for fans of Gary Numan and visitors of the Numanme site, to discuses all things Numan sell/trade share stories and images from all aspects of Numan's career.
Weather Forecast
Podcast
Numanme Radio Podcast will be playing you some of the best Classic Alternative, New Wave, Dark Wave, Synth-Pop, and Punk. Also, a staple diet of Gary Numan/Tubeway Army without question. Shows will be updated here when they become available.
Photo Gallery
These galleries contain Gary Numan related photographs. ranging form the Tubeway Army days to present day. Feel free to browse and if you would like to add any of your own images please get in touch.
Poll
Vote for your favorite Gary Numan album or song.
Numan Quotes +
Statistics

Visitor Statistics

3 Online

121 Today

125 Yesterday

372 Week

4741 Month

23642 Year

223317498 Total
Record: 517 (13.11.2023)
Numanme Magazine
Numanme the Gary Numan fan site, Gary Numan Magazine

The Numanme Gary Numan Magazine is a full colour, 20 pages plus, PDF file. This publication comes out 2 to 3 times a year, time willing! The Gary Numan Magazine is packed with fascinating and thoroughly researched articles on all aspects of Gary Numan's career, past and present. We delve into the vaults of Numanme to find old articles and clippings. And give you an insight into Gary's career seen through the eyes of fans all around the world.

So you would like to get involved, if you have clippings or pictures or any articles, stories about you as a fan, or any upcoming events, just send them in and you could have them published, full credit will be given. Please give as much information as possible this will save time.

We look forward to hearing from you.
Numanme Magazine
Numanme Magazine issue 11
GARY NUMAN Electric Shadows +, this is the Numanme expanded edition A History In 81-page 'fanzine' style PDF book featuring reviews, interviews and photographs...
This is a big one so give it time to download if you have a slow internet connection.

Numanme Magazine issue 10
Cork Review...'A Genetic Opera'. 2015 By Halo Numanme forum member - page 4
Gary Numan's Pledge Campaign - page 9
The Making of: Warriors - page 10
The Mad Max Factor - page 20
Nuway Army Farwell Show - page 31

Numanme Magazine issue 9
Nash the Slash Honoured with Reissue Series - page 4
Gary Numan wins a Q Award - page 5
Worried About the Boy - page 6
2011 Interview: Gary Numan - Suzie Kidger 2011 - page 7
Classic Album Reissue - page 16
Fan Pictures - page 18
Time for Tik and Tok - Interview – No1 Magazine- page 20 .

Numanme Magazine issue 8
Numanme Magazine issue 8 - Numanme Magazine issue 8 - 22 pages. Lyric from the Past - page 4, Gary Numan Looks At Life - First published in The Face By Paul Tickell, - page 6, Numan's Listening pleasure - What's In My Bag? - page 10, The Joy Circuit - Sash Hits Gritty Documentaries Department present a day in the life of a Gary Numan tour. - page 13, Personal File - No.1 Magazine, 1984 - page 21

Numanme Magazine issue 7
31 pages. Lyric from the Past - page 4, Numanoid Sally Stokes - First published on the Numanme website, 1982 - page 6, Interviews Gary Numan: The Cream Interview - by Adam Gold on Thu, Mar 13, - page 11, Petals art - Numanme Magazine, - page 16, Numan in the Mood - By Ray Coleman - page 19, History of Nick Robson - First published on the Numanme website, - page 21, Gary's Questions - Taken from newsletters - page 25

Numanme Magazine issue 6
28 pages. Lyric from the past - page 4,
An Englishman Abroad - Smash Hits, September 2 - 15, 1982 page 5, (thanks to Jim Lester for the scan) James Freud - Breaks Silence on the Numan Case - James Freud interview - Juke Magazine (1980) page 12,
Well, would YOU go up in a plane with Gary Numan? - Daily Mirror, Mon. Feb 8th 1982 page 17, Gary's A Nu-Man Now - Interview - Patches Magazine, 1979 page 22, Numan Goes in to space - NME 29/09/79 by Glenn Gibson page 24.

Numanme Magazine issue 5
28 pages. Lyric From The Past page 4, Playing to The Aliens, John Savage finds out what success means to Gary Numan. Smash Hits November 15-28 1979 page 5,
Numanoids page 10, Electric Pioneer: An Armchair Guide to Gary Numan
page 12, Nuway Army & Ade Orange: former Gary Numan band member will be performing at BAR. page 13, Word Search page 14, Interview Gary Numan published in the eleventh issue of DrunkenWerewolf magazine! 2013 page 16, No1 magazine 1984 By Ro Newton page 24.

Numanme Magazine issue 4
2014 January- 27 pages. Contents, Lyric From The Past, Gary Numan: Rock Star 1980 An Intimate Profile.

Numanme Magazine issue 3
20 pages. Contents, Lyric From The Past, Gary Numan: Splinter (Songs from a Broken Mind) – Reviews, Live Reviews.

Numanme Magazine issue 2
20 pages. Contents, Lyric From The Past, Tony Webb: Q & A and interview taken from In The City issue 18, Dramatis..

Numanme Magazine issue 1
This, the very first issue of the Numanme Magazine 2013. I put this together for something to read on my Samsung tablet. This issue has 22 pages. Contents, Lyric From The Past, Tubeway Army The Early Years Taken from the Alien Gary Numan Magazine issue 2 June 1999, Rebellious Jukebox By Simon Price from Melody Maker 1994,Smash Hits With Beryl Webb.