Social Media
Get the lowdown on Gary Numan and follow us, join the Gary Numan community on social media. Join in the fun and have you say.
Amazon
Search for New and Used Gary Numan CDs, Vinyl, DVDs.
Tour Dates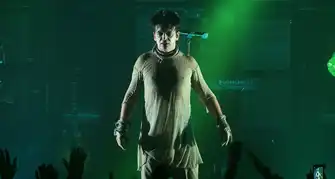 Check out the latest Gary Numan tour dates, events. See one of the founding fathers of synth pop.
Facebook
This group has been put together for fans of Gary Numan and visitors of the Numanme site, to discuses all things Numan sell/trade share stories and images from all aspects of Numan's career.
Weather Forecast
Podcast
Numanme Radio Podcast will be playing you some of the best Classic Alternative, New Wave, Dark Wave, Synth-Pop, and Punk. Also, a staple diet of Gary Numan/Tubeway Army without question. Shows will be updated here when they become available.
Photo Gallery
These galleries contain Gary Numan related photographs. ranging form the Tubeway Army days to present day. Feel free to browse and if you would like to add any of your own images please get in touch.
Poll
Vote for your favorite Gary Numan album or song.
Numan Quotes +
Statistics

Visitor Statistics

2 Online

26 Today

108 Yesterday

265 Week

719 Month

24483 Year

223318339 Total
Record: 517 (13.11.2023)
Music For Chameleons 12"
Title:

Music For Chameleons

Suggested Video

Artist:

Gary Numan

Tracklist:

A1. Music For Chameleons (Edit) 3:35
B1. Noise Noise 3:39
B2. Bridge? What Bridge? 4:27

How old:

This 12" is old!

Release Date:

March 1st 1983

Format:

12"

Record Label:

Beggars Banquet

Catalogue No:

BEG 70T

Price Guide:

£9.00

Country:

United Kingdom

Additional info:

Deleted

Highest Chart Position:

19

Credits:

Gary Numan (Vocals, Keyboards, Guitar)
Roger Mason (Keyboards)
Pino Palladino (Fretless Bass)
Chris Slade (Drums, Percussion)
John Webb (Percussion)

Produced by Gary Numan

Engineered by Nick Smith
Assisted by Sean Lynch

Recorded at Rock City Studios, Shepperton

Buy:
Additional Information
"Music for Chameleons" is a 1982 single by Gary Numan from his album, I, Assassin. The song peaked at number 19 on the UK Singles Chart.[1] The song was composed during Numan's round-the-world trip in a light aircraft, which he undertook together with another pilot.[2] Numan states in his autobiography that he kept singing it to himself so much that it got on the nerves of his co-pilot. The song is highly unusual in using fretless bass as the main melody instrument.
Music For Chameleons Lyrics


Music For Chameleons
(Single from 'I, Assassin' album, 1982)

At 4 o'clock we land
And I'll wave my flag for you
Interest in heart

We are not savage
Like children we're people
'What difference' I say

Music for chameleons
Music for chameleons

A dream of Siam
We could leave in the morning
Old friends and shy
We need to win
Like you need to breathe
I've an interest in games

Music for chameleons
Music for chameleons

Gowns for another show
Maybe no-one will come
Here take my arm
I like the pictures
And you like ghost stories
Tommorrow I'll sight

Music for chameleons
Music for chameleons
---
Noise : Noise
(B-side, 'Music For Chameleons' single, 1982)

What's it to you?
If I feel
Just a face in the wall
Crawling out of the crowd
Now look at me
You cry 'Rust'
Like a leaf in the fall
I fly in the sky, don't you?

What's it to you?
This noise noise
Like a plaque on the wall
One of these days
I'll just leave
As boys drown
You feel like young Gods
You know all young Gods must fade

What's it to you?
Going down boys
Like a screw in the wall
My lovers never leave
Play war like Marines
Just noise noise
And just roar roar
One of these days
---
Bridge? What Bridge?
(B-side, 12" 'Music for Chameleons, 1982)

(Is this a party?)

Boys, like rain,
Cries like 'this time cries
I suppose you know'

Boys, like rain,
Cries like 'this time
I suppose' like
This time rain

Boys could grieves, too
Like I could down tonight
I could die

Boys like me
Cries 'this time I suppose
You know I cried'

And I'm going into like I sing 'like me'

Boys, like rain,
Cries 'seems like I suppose
This time I rain... no'

Boys like me
Cries 'I could down' suppose
I could rain
Save me tonight

Boys like me
Seems like I could die
Scream 'like I know... you'

Boys like me
Cries 'This-- oh, no'
Cries 'I don't know'

Like I'm going into like I'm me

Boys like down
Boys like me
Seems like I suppose

Boys like me
Boys lie down
Seems like I suppose

Like I'm going into like I'm me now

Boys like me
Boys lie down, suppose
This time rain

Boys like down
Cries 'seems like boys' suppose
This time rain

Boys like me
Cry 'seems like down' suppose
This time me
Cries 'no'

Boys like me
Boys lie down
Cries 'I don't know'
Cries...

(Hey, where is this bridge, anyway?)