Social Media
Get the lowdown on Gary Numan and follow us, join the Gary Numan community on social media. Join in the fun and have you say.
Amazon
Search for New and Used Gary Numan CDs, Vinyl, DVDs.
Tour Dates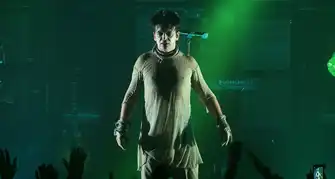 Check out the latest Gary Numan tour dates, events. See one of the founding fathers of synth pop.
Facebook
This group has been put together for fans of Gary Numan and visitors of the Numanme site, to discuses all things Numan sell/trade share stories and images from all aspects of Numan's career.
Weather Forecast
Podcast
Numanme Radio Podcast will be playing you some of the best Classic Alternative, New Wave, Dark Wave, Synth-Pop, and Punk. Also, a staple diet of Gary Numan/Tubeway Army without question. Shows will be updated here when they become available.
Photo Gallery
These galleries contain Gary Numan related photographs. ranging form the Tubeway Army days to present day. Feel free to browse and if you would like to add any of your own images please get in touch.
Poll
Vote for your favorite Gary Numan album or song.
Numan Quotes +
Statistics

Visitor Statistics

1 Online

24 Today

108 Yesterday

263 Week

717 Month

24481 Year

223318337 Total
Record: 517 (13.11.2023)
Modern Dance LP
Title:

Modern Dance

Suggested Video

Artist:

Various Artists

Tracklist:

A1. Orchestral Manoeuvres In The Dark - Joan Of Arc 3:46
A2. Japan - Quiet Life 3:15
A3. Human League, The - Love Action 3:49
A4. Heaven 17 - Penthouse And Pavement 3:12
A5. Depeche Mode - New Life 3:42
A6. Simple Minds - Sweat In Bullet 3:00
A7. John Foxx - Europe After The Rain 3:37
A8. Cure, The - Charlotte Sometimes 3:15
A9. Gary Numan - She's Got Claws 3:28
B1. Visage - Fade To Grey 3:48
B2. Landscape - Einstein A Go-Go 2:26
B3. Fashion - Move On 3:48
B4. Japan - Visions Of China 3:35
B5. News, The - A World Without Love 3:20
B6. Simple Minds - Love Song 3:20
B7. Heaven 17 - Play To Win 3:24
B8. Orchestral Manoeuvres In The Dark - Enola Gay 3:25
B9. Human League, The - Open Your Heart 3:53

How old:

This LP is old!

Release Date:

December 1st 1981

Format:

LP

Record Label:

K-Tel

Catalogue No:

NE 1156

Price Guide:

£5.00

Country:

United Kingdom

Additional info:

Deleted

Highest Chart Position:

N/A

Credits:

Compiled By – Nigel Mason
Graphic Design [Sleeve] – Acrobat Design
Lacquer Cut By – Pounda
Photography By – Rob Morgan

Buy:
Additional Information
Modern Dance was released by K-Tel in December 1981. Unlike any other compilation then or since, it totally nails the new romantic sound of that year.