Social Media
Get the lowdown on Gary Numan and follow us, join the Gary Numan community on social media. Join in the fun and have you say.
Amazon
Search for New and Used Gary Numan CDs, Vinyl, DVDs.
Tour Dates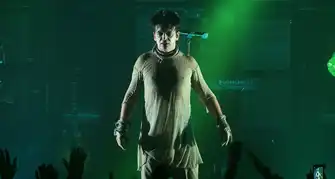 Check out the latest Gary Numan tour dates, events. See one of the founding fathers of synth pop.
Facebook
This group has been put together for fans of Gary Numan and visitors of the Numanme site, to discuses all things Numan sell/trade share stories and images from all aspects of Numan's career.
Weather Forecast
Podcast
Numanme Radio Podcast will be playing you some of the best Classic Alternative, New Wave, Dark Wave, Synth-Pop, and Punk. Also, a staple diet of Gary Numan/Tubeway Army without question. Shows will be updated here when they become available.
Photo Gallery
These galleries contain Gary Numan related photographs. ranging form the Tubeway Army days to present day. Feel free to browse and if you would like to add any of your own images please get in touch.
Poll
Vote for your favorite Gary Numan album or song.
Numan Quotes +
Statistics

Visitor Statistics

1 Online

30 Today

108 Yesterday

269 Week

723 Month

24487 Year

223318343 Total
Record: 517 (13.11.2023)
Love Needs No Disguise 7"
Title:

Love Needs No Disguise

Suggested Video

Artist:

Dramatis

Tracklist:

A1. Love Needs No Disguise 4:38
B1. Take Me Home 5:33

How old:

This 7" is old!

Release Date:

December 5th 1981

Format:

7"

Record Label:

Beggars Banquet

Catalogue No:

BEG 68

Price Guide:

£5.00

Country:

United Kingdom

Additional info:

Deleted

Highest Chart Position:

33

Credits:

Gary Numan (Vocals)
Chris Payne (Keyboards, Viola)
Rrussell Bell (Guitar)
Dennis Haines (Keyboards, Lead Vocal on "Take Me Home")
Ced Sharpley (Drums, Percussion)

Buy:
Additional Information
Dramatis was made up of Gary's backing band from 1980. Their only album, "For Future Reference" was released in the mid 80's with guest vocals by Numan on one track, "Love Needs No Disguise". Gary popped down to visit Dramatis at Ridge Farm studios and liked the track the band had just recorded called 'Love Needs No Disguise'. Ironically, the lyrics were written about the time the band had spent touring with Gary. It wasn't really a Gary Numan project but it probably wouldn't have been signed if Dramatis hadn't been his band. The single "Love Needs No Disguise" reached No 33 in the UK charts.
All in all a good Numan single from an unusual stage in his career.
Love Needs No Disguise Lyrics


Love Needs No Disguise
(Single with Dramatis, 1981)

She dances, he watches, she sighs
Remember love needs no disguise

In motion that cannot deny
She's saying love needs no disguise

And if the park gates are closed
Remember we toured the skies
And if the 'friends' all go home
You know love needs no disguise

He dances and we realised
Remember love needs no disguise

In simple embraces they lie
In darkness love needs no disguise

And we can lock all the doors
Forget the reasons and fame
There's no deceiving inside
You know we'll all be the same

And if the park gates are closed
Remember we toured the skies
And if the 'friends' all go home
You know love needs no disguise

(Written by Dramatis)

---

Take Me Home
(B-Side, 'Love Needs No Disguise', credited to Dramatis without Gary)

Take me home
Take me home
Take me home
Take me home
Take me home
(Written by Dramatis)

Face To Face
(Bonus track on 12" 'Love Needs No Disguise' [1981]
Also bonus track on 12" 'Sister Surprise' [1983], but called 'Letters')

What's it like to be face to face with me?
Playing tricks with hearts
Quite as young as yours
Do you know what the rent man
Pays for you?
Do you feel like I'm supposed to do?

I could be love
I could be your assassin

Pictures of my face disappear with time
They give boys to
Quite tasteless friends of mine
Re-arrange thoughts to
'What will be will be'
There is no God so pray to me