Social Media
Get the lowdown on Gary Numan and follow us, join the Gary Numan community on social media. Join in the fun and have you say.
Amazon
Search for New and Used Gary Numan CDs, Vinyl, DVDs.
Tour Dates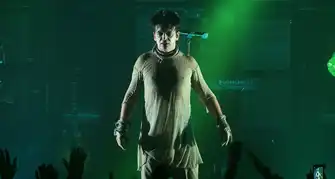 Check out the latest Gary Numan tour dates, events. See one of the founding fathers of synth pop.
Facebook
This group has been put together for fans of Gary Numan and visitors of the Numanme site, to discuses all things Numan sell/trade share stories and images from all aspects of Numan's career.
Weather Forecast
Podcast
Numanme Radio Podcast will be playing you some of the best Classic Alternative, New Wave, Dark Wave, Synth-Pop, and Punk. Also, a staple diet of Gary Numan/Tubeway Army without question. Shows will be updated here when they become available.
Photo Gallery
These galleries contain Gary Numan related photographs. ranging form the Tubeway Army days to present day. Feel free to browse and if you would like to add any of your own images please get in touch.
Poll
Vote for your favorite Gary Numan album or song.
Numan Quotes +
Statistics

Visitor Statistics

1 Online

135 Today

125 Yesterday

386 Week

4755 Month

23656 Year

223317512 Total
Record: 517 (13.11.2023)
For Future Reference LP
Title:

For Future Reference

Suggested Video

Artist:

Dramatis

Tracklist:

A1. Oh! 2025 4:27
A2. Human Sacrifice 3:46
A3. I Only Find Rewind 4:07
A4. No-one Lives Forever 3:49
A5. Love Needs No Disguise 4:37
B1. Turn 5:17
B2. Take Me Home 5:22
B3. On Reflection 3:24
B4. Ex Luna Scientia 4:55

How old:

This LP is old!

Release Date:

December 8th 1981

Format:

LP

Record Label:

Rocket

Catalogue No:

RAIN 18

Price Guide:

£10.00

Country:

United Kingdom

Additional info:

Deleted

Highest Chart Position:

0

Credits:

Chris Payne – keyboards, viola, cornamuse, recorders, backing vocals
Russell Bell – guitar, Chapman Stick, synthesizer, Vi-tar, saxophone, backing vocals
Cedric Sharpley – drums, percussion, electronic drums, backing vocals
Denis Haines – keyboards, vocal noises, backing vocals
Gary Numan – vocals ("Love Needs No Disguise")
Dramatis – producer, arrangements
Simon Heyworth – producer, engineer
Simon Smart – engineer

Recorded at Ridge Farm Studios
Engineered by Simon Heyworth and Simon Smart
Produced by Dramatis/Simon Heyworth
for the Songwriters Workshop Ltd.
All titles written and arranged by Dramatis

Buy:
Additional Information
Dramatis were a British synthpop band from the early 1980s. Chris Payne (vocals, keyboards), Rrussell Bell (guitars, keyboards), Cedric Sharpley (drums), Denis Haines (keyboards) were originally members of Gary Numan's backing band. They formed Dramatis following Numan's announced retirement in April 1981.

They released six singles and one album before disbanding in 1982. Two of their singles reached the UK Singles Chart: the 1981 single with Numan "Love Needs No Disguise" which reached number 33, and the 1982 single "I Can See Her Now" which reached number 57

Dramatis after Gary Numan quit touring his backing band got together to form Dramatis. A five piece electronic pop outfit, they tried to capture the Numan fans using techniques familiar to the Numan era. Labelled as New Romantics they embarked on a short tour of English clubs and colleges. Dramatis did have some chart success with "Love Needs No Disguise" but this was probably due to Numan singing on the single which he actually co-wrote with the band.

Although the budget and venues were very small, the challenge to put something on stage was still there.

The shows consisted of three painted drapes, 35mm slid projection and about forty par64 lanterns (36 on genie frames and 4 floor cans). The lighting, 35mm projection and painted drapes were supplied by John Copin and T.T.R Lighting of Nth London. "It had great satisfaction for me as it was my first free-lance job as a lighting designer and I was able to design the artwork for the drapes and later their single cover".
For Future Reference is the only studio album released by the British synth-pop band Dramatis. The album itself failed to reach the UK Albums Chart, however, one of the three singles released from the album, "Love Needs No Disguise" with Gary Numan providing vocals reached number 33 on the UK Singles Chart. The other singles from the album were "Ex Luna Scientia" and "Oh! Twenty Twenty Five"—titled "Oh! 2025" on the album. The album was reissued on CD in 2000 and retitled The Dramatis Project. The reissue was also credited to Tubeway Army featuring Gary Numan, despite Numan's only contribution being the vocal to "Love Needs No Disguise".