Social Media
Get the lowdown on Gary Numan and follow us, join the Gary Numan community on social media. Join in the fun and have you say.
Amazon
Search for New and Used Gary Numan CDs, Vinyl, DVDs.
Tour Dates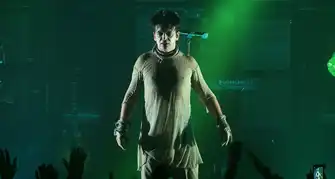 Check out the latest Gary Numan tour dates, events. See one of the founding fathers of synth pop.
Facebook
This group has been put together for fans of Gary Numan and visitors of the Numanme site, to discuses all things Numan sell/trade share stories and images from all aspects of Numan's career.
Weather Forecast
Podcast
Numanme Radio Podcast will be playing you some of the best Classic Alternative, New Wave, Dark Wave, Synth-Pop, and Punk. Also, a staple diet of Gary Numan/Tubeway Army without question. Shows will be updated here when they become available.
Photo Gallery
These galleries contain Gary Numan related photographs. ranging form the Tubeway Army days to present day. Feel free to browse and if you would like to add any of your own images please get in touch.
Poll
Vote for your favorite Gary Numan album or song.
Numan Quotes +
Statistics

Visitor Statistics

3 Online

114 Today

125 Yesterday

365 Week

4734 Month

23635 Year

223317491 Total
Record: 517 (13.11.2023)
Down In The Park 12"
Title:

Down In The Park

Suggested Video

Artist:

Tubeway Army

Tracklist:

A1. Down In The Park 4:20
B1. Do You Need The Service? 3:36
B2. I Nearly Married A Human (2) 6:40

How old:

This 12" is old!

Release Date:

March 16th 1979

Format:

12"

Record Label:

Beggars Banquet

Catalogue No:

BEG 17T

Price Guide:

£6.00

Country:

United Kingdom

Additional info:

Deleted (5000 issued)

Highest Chart Position:

0

Credits:

Gary Numan (Keyboards, Guitars, Vocals)
Paul Gardiner (Bass)
Jess Lidyard (Drums)

Produced by Gary Numan

Engineered by John Caffery
Assisted by Harvey Ishiki

Mixed by Rikki Sylvan, John Caffery, and Gary Numan

Recorded at Gooseberry Studios, London

Mixed at Marcus Music AB, London

Buy:
Additional Information
Success was just round the corner when Gary Numan ( Tubeway Army ) released the 3rd single Down In The Park .to this day Down In The Park remains a personal favourite of Gary's as he felt he had achieved the sound he was looking for from the moment he thought up the first line. The transformation complete , Gary had entered the realms of an electronic fantasy a new kind of music was born. The sales of this single tripled up from 3,000-4,000 to 10,000. Down In The Park is a favourite of the fans and still to this day is seldom left out of any of Gary's live performances. Influenced by sci-fi writers like Philip k. Dick he turned some of these into songs, one of which was Down In The Park issued in March 1979. The cover introduced one of Numans most famous poses, as a stunning android with white hair and jet black clothes. The single was also released as a 12" with an extra track, I Nearly Married A Human 2. although it did not chart it won Numan many new fans with its haunting synth-based sound.
Down In The Park Lyrics
Down In The Park
(Single from 'Replicas' album, 1979)

Down in the park
Where the machmen
Meet the machines
And play 'Kill by numbers'
Down in the park
Wit a friend called 'Five'

I was in a car crash
Or was it the war
But I've never been
Quite the same
Little white lies
Like 'I was there'

Come to 'Zom Zoms'
A place to eat
Like it was built
In one day
You can watch the humans
Trying to run

Oh look
There's a rape machine
I'd go outside
If he'd look the other way
You wouldn't believe
The things they do

Down in the park
Where the chant is
'Death, death, death'
Until the sun cries morning
Down in the park
With friends of mine

We are not lovers
We are not romantics
'We are here to serve you'
A different face
But the words never change
---

Do You Need The Service?
(B-side, 'Down In The Park' single, 1979)

Do you need the service
Do you need to call me daily
Do you have reasons for calling at all

Is something on your mind
Is something wrong I get the feeling
That you're laughing at my quiet surprise

My silhouette is changing
As I'm ageing by your window
And I focus on the light by your face

Call me the operator
Making comments 'He's so technical'
Or, 'I've absolutely nothing to do'

Recycle all my photographs
I'll leave a picture of the Queen
And no-one has to know I was there

Me I'm so ashamed
You're all connected to my number
And the conversation's only polite

I'll wear my old grey raincoat
Just in case your 'confidential'
Make up stories like 'The screen fades away'

Today it's in a taxi
By the station, and it's raining
And I wonder how they made it before
---

I Nearly Married A Human (1 & 2)
('Replicas' album, 1979 - part 2 was bonus track on 12" version of 'Down In The Park')

*Instrumental*