Social Media
Get the lowdown on Gary Numan and follow us, join the Gary Numan community on social media. Join in the fun and have you say.
Amazon
Search for New and Used Gary Numan CDs, Vinyl, DVDs.
Tour Dates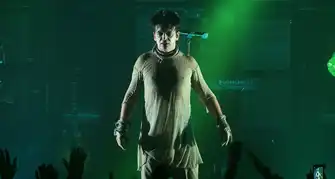 Check out the latest Gary Numan tour dates, events. See one of the founding fathers of synth pop.
Facebook
This group has been put together for fans of Gary Numan and visitors of the Numanme site, to discuses all things Numan sell/trade share stories and images from all aspects of Numan's career.
Weather Forecast
Podcast
Numanme Radio Podcast will be playing you some of the best Classic Alternative, New Wave, Dark Wave, Synth-Pop, and Punk. Also, a staple diet of Gary Numan/Tubeway Army without question. Shows will be updated here when they become available.
Photo Gallery
These galleries contain Gary Numan related photographs. ranging form the Tubeway Army days to present day. Feel free to browse and if you would like to add any of your own images please get in touch.
Poll
Vote for your favorite Gary Numan album or song.
Numan Quotes +
Statistics

Visitor Statistics

4 Online

125 Today

125 Yesterday

376 Week

4745 Month

23646 Year

223317502 Total
Record: 517 (13.11.2023)
Donovan Silver
About Donovan (a.k.a. Johnny Silver/ John Webb)

Donovan began his music career singing at the Roxy in London when he was only 12. He has played the bagpipes for the British Airways pipe band, played drums for various groups and toured as a keyboard player during the 80's. A 30 year career as an airline pilot followed..
Numanme Interview With Donovan Silver
Q-what age was you when you first started showing an interest in music?
A-not sure, but would have been around the age of 8.

Q-I remember years ago reading something about you appearing on stage as Johnny Silver singing a song called Lucky can you tell us a little about this and how it came about?
A-I walked into the front room one day singing a song and Gary said, that's good who is it? I replied its me, I just wrote it. He couldn't believe at first that I had written it. He later worked out the chords etc for me and the song "Lucky" was born. I performed the song a few times with the original Tubeway Army of Gary, my uncle Jess Lidyard and Paul Gardiner.

Q-what music inspired you as a youngster?
A-I listened to many styles of music growing up from 50's Rock n roll to country and western to glam rock.

Q-did you have any formal musical training?
A-not sure you would call it formal training, but I did have piano lessons for a couple of years when I was 12.

Q-what musical instruments can you play?
A-I have never mastered any, but over the years I have played drums, percussion, saxophone, bagpipes, guitar, bass, mandolin, and keyboards.

Q-did you have any problems being the younger brother of Gary Numan?
A-I was bullied at school which meant my parents took me out of school at 15. I had intended to go to college when I was 16 but working at Rock City and then joining Gary's band put an end to that.

Q-how long did you play for Gary?
A-I joined the band in 82 and left in 88, I went back in 91 and finally left in 94.

Q-what was your favourite Numan album?
A-wow, that's an almost impossible question to answer, so much brilliant music to choose from. I was more heavily involved in the making of Dance and I,Assassin than any album before or after, so I guess they would stand out as my favourites.

Q-is it true you play the bagpipes?
A-yes, I did play the bagpipes. I was honoured to play for the British Airways Pipe Band for a few years.

Q-what is your most prized LP in your collection?
A-Kate bush-The dreaming.

Q-did you play in any bands after leaving Gary's?
A-no I didn't.

Q-you went on to have a flying career can you tell us a little about that?
A-I learnt to fly in 1982 and spent the mid 80's working as a flying instructor when not touring with Gary. I started a wonderful 30 year career as an airline pilot in 1988 initially flying Viscounts, then BAC 1-11's, then the B737 and finally the A320.

Q-do you have any hobbies apart from music?
A-my main hobby involves anything to do with steam engines really. I have just finished building a 4.5" miniature Foden Lorry named "Beryl" after my mum.

Q-what was your first TV appearance with Gary?
A- I think it was Razzmatazz performing Music for Chameleons.

Q-did you get nervous before playing live?
A-yes I did, I was always very serious at show time, possibly too serious, but I always felt a great responsibility to get everything right for Gary.

Q-what were your highlights touring with Gary?
A-so many to choose from, playing on a Riverboat as it sailed along the Mississippi, the noise of the crowd as the fire curtain went up the first time I played Hammersmith Odeon, playing Wembley when Gary supported OMD.

Q-do you think you will play live with Gary ever again?
A-I would love the chance to share the stage with my brother just one last time, but I can't really see a situation when that might happen.

Q-in recent years you started making music again do you have a home studio?
A-to be honest, I've never stopped writing music, I just decided when I retired from flying to let people hear my music again and that was when Donovan Silver was born. I have a computer based studio which is fantastic, but I do miss the big mixing desk at times.

Q-what gear do you have in your studio?
A-I record using logic which is running on two Mac computers, I have various plug in synths and effects, my drum kit is set up in the corner, I have my bass, guitars, saxophones, a few rack mounted synths, my old OSCar, Z1 and Prophet 5 along with a Moog grandmother.

Q-what is your favourite instrument at the moment?
A-because it is new to me, it has to be the mandolin.

Q-you have released 5 EP's, Time Track, Voices of Greywood, Spirit, Sisters of the Night, Watching Ghosts. What's the story behind each song?
A-each EP represents one of the five elements. In total the 5 EP's consist of 27 tracks.
Q-what kind of reaction/feedback do you get about the new songs?

A-in General it has been positive.
Q-do you have any plans to release any of your songs on a LP?

A-my debut album "Alpha" will be released on 23rd June, it has 10 new tracks and 4 remixes of EP tracks and will be available on CD as well as download.
Q-what's it like to be back in the studio?

A-I love being in the studio, I enjoy trying out new ideas, making new sounds and experimenting.
Q-if you could play or collaborate with any artist dead or alive who would it be?
A-Buddy Holly

Q-what is the future for Donovan and what projects are you working on?
A-my focus at the moment is the release of Alpha, hopefully this might be followed by a few gigs, then it will be time to start writing my second album.
Donovan Silver Discography
The Experiment (Of Love)
by John Webb

7"
1.The Experiment (Of Love) 4:10
2.Cry Of The Sea 2:52

NUM 14

12"
1.The Experiment (Begins) 7:37
2.Cry Of The Sea 2:52
3.The Experiment (Of Love) 4:10

NUM 14

Time Track EP
by Donovan Silver

1.Tomorrow 05:26
2.Cry of the Sea 02:33
3.Time Track 03:58
4.Ice 04:28
5.Blue Bank 04:25

about
The first in a series of 5 EP's, each one representing one of the five elements. Time Track portrays Fire, Red, Inspiration, Passion, Creativity and South.

released February 26, 2018.

TBGJ EP1

Voices of Greywood EP
by Donovan Silver

1.Pannett Park 04:25
2.Masts in the Mist 04:48
3.Voices of Greywood 05:01
4.The Calling 05:17

about
The second in a series of 5 EP's, each one representing one of the five elements. Voices of Greywood depicts Water, Blue, Emotions, Balance, Peace and West.

released November 26, 2018

TBGJ EP2

Spirit EP
by Donovan Silver

1.Earth 05:40
2.Fire 04:05
3.Water 09:04
4.Air 05:36
5.Spirit 05:07

about
The third in a series of 5 EP's, each one representing one of the five elements. Spirit symbolises the core and is pivotal to the collection.

released August 30

TBGJ EP3

Sisters of the Night EP
by Donovan Silver

1.Callisto 04:40
2.Sisters of the Night 04:27
3.Room of Mirrors 04:57
4.Hole of Horcum 05:22

about
The fourth in a series of 5 EP's, each one representing one of the five elements. Sisters of the Night embodies Air, Yellow, Intellect, Communication, Swiftness and East.

released July 24, 2020

TBGJ EP4

Watching Ghosts EP
by Donovan Silver

1.Church Street 07:47
2.Ganesh 04:45
3.Merlin 06:43
4.Watching Ghosts 03:46
5.For Elizabeth 04:57

about
The fifth in a series of 5 EP's, each one representing one of the five elements. Watching Ghosts characterises Earth, Green, Stability, Nutrition, Fertility and North.

released April 30, 2021

TBGJ EP5

Alpha LP
by Donovan Silver

1.Alpha
2.Mercury
3.Android Guardian 04:46
4.Prospect Hill
5.TSR2
6.In The Beginning
7.Avocet
8.The Code War
9.Lammas
10.The White Room

about
Donovan's debut album.

released June 23, 2023
Johnny Silver
Johnny Silver
In the City 10 (April 1979):

In the early days of Tubeway Army, Gary's younger brother John used to go along to the gigs and sing a song that he had written himself. John was only twelve years of age at the time. We asked Gary to tell us something about those early days.

"Well, John wrote a song, or I should say he wrote the lyrics to a song called, 'Lucky' and I stuck some music to it, but I only put the same music to it the way that he actually sang it. I just played along to it and arranged it for him and he did it. He used to get up on stage for three or four minutes, do his song and then go off again. He always got the biggest cheer of the night. He really did. The crowd used to love him. He used to have his hair dyed silver and he had a T-shirt made with 'Johnny Silver' written on it. It wasn't done as a gimmick or anything; I just asked him to be a part of what I was doing."

We asked Gary if there was some possibility of John becoming a permanent member of Tubeway Army.

"I always wanted him to, yeah, but he never really showed that much interest in learning anything that would have enabled him to have been part of the band. He got a guitar, he got a set of drums, and he's taking private lessons at the moment but he doesn't do any one thing for long enough. Except for the bag-pipes of course, and although he plays them really well, I haven't really got a spot for them at the moment."


" L U C K Y "


You're a lucky man to be out of London.

You're a lucky man to be out of the slums.

You're a lucky man to be out of London.

You're a lucky man to be out of Helter

You're a lucky man to be out of Skelter [?]



You're a lucky man to be out of London.

You're a lucky man to be in Heaven.

You're a lucky man to be out of London.

You're a lucky man to be dead.

You're a lucky man to be dead.



[REPEAT]


Links
| | | |
| --- | --- | --- |
| | The website of Donovan Silver, as most already know, is Gary Numan's brother. aka (Johnny Silver) (John Webb).................... | |
| | Donovan Silver facebook page.... | |
| | Donovan Silver Twitter... | |