Social Media
Get the lowdown on Gary Numan and follow us, join the Gary Numan community on social media. Join in the fun and have you say.
Amazon
Search for New and Used Gary Numan CDs, Vinyl, DVDs.
Tour Dates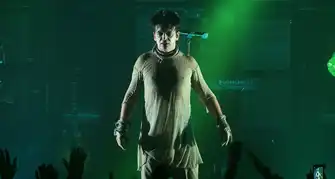 Check out the latest Gary Numan tour dates, events. See one of the founding fathers of synth pop.
Facebook
This group has been put together for fans of Gary Numan and visitors of the Numanme site, to discuses all things Numan sell/trade share stories and images from all aspects of Numan's career.
Weather Forecast
Podcast
Numanme Radio Podcast will be playing you some of the best Classic Alternative, New Wave, Dark Wave, Synth-Pop, and Punk. Also, a staple diet of Gary Numan/Tubeway Army without question. Shows will be updated here when they become available.
Photo Gallery
These galleries contain Gary Numan related photographs. ranging form the Tubeway Army days to present day. Feel free to browse and if you would like to add any of your own images please get in touch.
Poll
Vote for your favorite Gary Numan album or song.
Numan Quotes +
Statistics

Visitor Statistics

1 Online

15 Today

108 Yesterday

254 Week

708 Month

24472 Year

223318328 Total
Record: 517 (13.11.2023)
Dance LP
Title:

Dance

Suggested Video

Artist:

Gary Numan

Tracklist:

A1. Slowcar To China 9.05
A2. Night Talk 4.26
A3. A Subway Called You 4.38
A4. Cry The Clock Said 9.56
B1. She's Got Claws 4.58
B2. Crash 3.39
B3. Boys Like Me 4.16
B4. Stories 3.11
B5. My Brothers Time 4.38
B6. You Are You Are 4.03
B7. Moral 4.33

How old:

This LP is old!

Release Date:

September 4th 1981

Format:

LP

Record Label:

Beggars Banquet

Catalogue No:

BEGA 28

Price Guide:

£10.00

Country:

United Kingdom

Additional info:

Deleted Initial copies with poster

Highest Chart Position:

3

Credits:

Gary Numan (Vocals, Odyssey, Bass, LM.1 Drum Computer,
Polymoog, Roland JP4, CP30, Piano, Percussion, CR78,
Prophet 5, Claptrap, Claves, Handclaps)
Paul Gardiner (Guitar, Odysey)
Sean Lynch (LM.1 Operation)
Rob Dean (Guitars)
Cedric Sharpley (drums)
Christopher Payne (Violas)
Mick Karn (Bass, Saxophone)
Roger Taylor (Drums,Tom Toms)
Nash The Slash (Violins)
John Webb (JP4 Operator, handclaps, LM1. Computer)
Connie Filapello (Voice)
Roger Mason (Prophet 5, CP30)
Mick Prague (Bass)
Jess Lynard (Drums)

Produced by Gary Numan
Engineered by Nick Smith
Assisted by Sean Lynch, Juliet Bowen
Mastered by Steve Rooke, Strawberry Mastering, London.

Buy:
Additional Information
In September 1981 Gary Numan released his most experimental album so far, the abstract, atmospheric Dance. Sessions began during Numan's build up to his April, '81 Farewell Shows at Wembley Arena, London but in deliberate contrast to the fat, full blooded electronic boom of those performances the new LP was intimate sounding and almost oriental in its quiet minimalistic aproach. It reached Number 3 in the UK album charts.

However, Dance's off-beat direction was too weird for mainstream international markets. To some extent Dance illustrated Numan's willingness to trade in his fame for an alternative, less intrusive appeal was brave but not entirely supported by Beggars Banquet who were clearly worried by this new direction. As one journalist wrote, "Dance does prove that when judged against his proper peers he can come out well. It's a thoughtful response to the new competition."

The remastered version features many bonus tracks, including the previously unreleased title track, Dance.

Dance is a 1981 album by Gary Numan, the first he released after announcing his retirement from touring (about which he would soon change his mind). Dance's title is somewhat ironic, as virtually none of its tracks are danceable; indeed it is probably the least danceable album Numan ever recorded. With electropop music in the mainstream, Numan made a conscious effort to craft a more sombre, personal and musically experimental album, in a jazzier vein than its predecessors.

The album's sound constitutes quite a break in style from the powerful, thick analog synth arrangements of Numan's earlier hit releases. Side One of the album consists of four long, sparse, slow-tempo minimalist songs, with the rhythm tracks based largely around muted drum machine patterns. The style is not dissimilar to some of the more ambient work by Brian Eno, particularly his solo album Another Green World and collaborations with David Bowie on Low and "Heroes", and tracks by the band Japan such as '"The Tenant" and "Despair". Side Two of the album contains shorter, more conventional songs. One of these, "Moral", took the tune from Numan's 1979 song "Metal", changing its lyrics into an attack on the New Romantic movement.

Numan's commercial success by this period enabled him to enlist several guest musicians to perform on the album, including guitarist Rob Dean and (fretless) bassist / saxophonist Mick Karn of Japan, drummer Roger Taylor of Queen, keyboardist Roger Mason of Australian band Models, and Canadian alternative musician Nash the Slash.

The songs' lyrics deal largely with tragic sexual relationships, examined in a manner similar to the often bleak and alienating relationships between people and technology that informed earlier songs such as "Down in the Park" and "Are 'Friends' Electric?". The opening track "Slowcar to China" is a nine-minute opus about a prostitute. "Night Talk" is about a man dealing with a lover who is a drug addict (ironically co-written with close friend and former bass-player, Paul Gardiner, himself a heroin addict). "Cry the Clock Said" is a nearly ten-minute ballad about a breakup, widely considered one of Numan's most beautiful songs. The salsa-flavoured "She's Got Claws" is about a predatory woman, written as an embittered response to an ex-girlfriend who sold the story of their relationship to the tabloids. The melancholic "Stories" describes an accidental café reunion between a woman and her son by a failed relationship.

Reaction to the album was mixed, some critics applauding what they saw as a less commercial career move and others viewing the change of pace with cynicism. A few years after Dance's release Numan conceded, "if I was supposed to be a pop star doing music for the masses, it probably wasn't the right thing to do", but he praised the standard of playing on it.[1] "She's Got Claws" was the album's sole single release, making number 6 in the UK charts, whilst the album itself peaked at number 3. It was Numan's first album to miss the number 1 spot since Tubeway Army's debut album in 1978, dropping out of the charts after 8 weeks. Interestingly, the song titled "Dance" does not appear on the album, and was only released years later as a CD bonus track.

The cover shows Numan wearing a Trilby hat pulled low over his brow. This was to hide stitches and scar tissue from hair transplant surgery.

Numan very rarely performs any music from this album in concert. However live recordings and visual footage of "She's Got Claws", "Cry the Clock Said" and "Moral" ("Metal") appear on Numan's video Micromusic and album Living Ornaments '81, taken when they were previewed prior to the release of Dance at his Wembley 'farewell' concerts in April 1981. An early live recording of "Stories" also came to light in 2005 when Beggars Banquet released the expanded Living Ornaments '80 album on CD. Numan also performed "Crash" and "Boys Like Me" during club dates in the US in 1982 but they have not been officially released.