Social Media
Get the lowdown on Gary Numan and follow us, join the Gary Numan community on social media. Join in the fun and have you say.
Amazon
Search for New and Used Gary Numan CDs, Vinyl, DVDs.
Tour Dates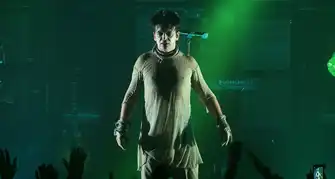 Check out the latest Gary Numan tour dates, events. See one of the founding fathers of synth pop.
Facebook
This group has been put together for fans of Gary Numan and visitors of the Numanme site, to discuses all things Numan sell/trade share stories and images from all aspects of Numan's career.
Weather Forecast
Podcast
Numanme Radio Podcast will be playing you some of the best Classic Alternative, New Wave, Dark Wave, Synth-Pop, and Punk. Also, a staple diet of Gary Numan/Tubeway Army without question. Shows will be updated here when they become available.
Photo Gallery
These galleries contain Gary Numan related photographs. ranging form the Tubeway Army days to present day. Feel free to browse and if you would like to add any of your own images please get in touch.
Poll
Vote for your favorite Gary Numan album or song.
Numan Quotes +
Statistics

Visitor Statistics

2 Online

134 Today

125 Yesterday

385 Week

4754 Month

23655 Year

223317511 Total
Record: 517 (13.11.2023)
Cookie Policy
About this Cookie policy.
Our website uses cookies. By using our website and agreeing to this policy, you consent to our use of cookies in accordance with the terms of this policy.
This Cookie policy explains what cookies are and how we use them. You should read this policy so you can understand what type of cookies we use, the information we collect using cookies and how that information is used. For further information on how we use, store and keep your personal data secure, see our Privacy policy. This Policy also tells you what your rights are in relation to the personal data you give to us. If you have any questions about this Cookie policy please contact us via email.
What are cookies?
This Cookie Policy explains what cookies are and how we use them, the types of cookies we use i.e, the information we collect using cookies and how that information is used, and how to manage the cookie settings.
Cookies are small text files that are used to store small pieces of information. They are stored on your device when the website is loaded on your browser. These cookies help us make the website function properly, make it more secure, provide better user experience, and understand how the website performs and to analyze what works and where it needs improvement.
How We Use Cookies
As most of the online services, our website uses first-party and third-party cookies for several purposes. First-party cookies are mostly necessary for the website to function the right way, and they do not collect any of your personally identifiable data.
The third-party cookies used on our website are mainly for understanding how the website performs, how you interact with our website, keeping our services secure, providing advertisements that are relevant to you, and all in all providing you with a better and improved user experience and help speed up your future interactions with our website.
Manage cookie preferences
When you visit our site some third-party service providers we use like Google, YouTube or Facebook may store cookies to provide a personalised experience to you on other sites.

Many of these services provide more information on what their cookies do, and may give the option to opt-out of their cookies.
You can change your cookie preferences in different browsers that have different methods to block and delete cookies used by websites. You can change the settings of your browser to block/delete the cookies. Listed below are the links to the support documents on how to manage and delete cookies from the major web browsers.