Social Media
Get the lowdown on Gary Numan and follow us, join the Gary Numan community on social media. Join in the fun and have you say.
Amazon
Search for New and Used Gary Numan CDs, Vinyl, DVDs.
Tour Dates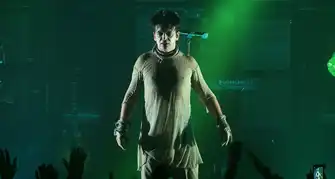 Check out the latest Gary Numan tour dates, events. See one of the founding fathers of synth pop.
Facebook
This group has been put together for fans of Gary Numan and visitors of the Numanme site, to discuses all things Numan sell/trade share stories and images from all aspects of Numan's career.
Weather Forecast
Podcast
Numanme Radio Podcast will be playing you some of the best Classic Alternative, New Wave, Dark Wave, Synth-Pop, and Punk. Also, a staple diet of Gary Numan/Tubeway Army without question. Shows will be updated here when they become available.
Photo Gallery
These galleries contain Gary Numan related photographs. ranging form the Tubeway Army days to present day. Feel free to browse and if you would like to add any of your own images please get in touch.
Poll
Vote for your favorite Gary Numan album or song.
Numan Quotes +
Statistics

Visitor Statistics

3 Online

23 Today

108 Yesterday

262 Week

716 Month

24480 Year

223318336 Total
Record: 517 (13.11.2023)
Complex 7"
Title:

Complex

Suggested Video

Artist:

Gary Numan

Tracklist:

A1. Complex 3:09
B2. Bombers (Live '79) 5:48

How old:

This 7" is old!

Release Date:

November 16th 1979

Format:

7"

Record Label:

Beggars Banquet

Catalogue No:

BEG 29

Price Guide:

£5.00

Country:

United Kingdom

Additional info:

Deleted

Highest Chart Position:

6

Credits:

Gary Numan (Vocals, Keyboards, Synthetic Percussion)
Paul Gardiner (Bass)
Christopher Payne (Keyboards, Viola)
Cedric Sharpley (Drums, Percussion)

Produced by Gary Numan

Engineered and Mixed by Rikki Sylvan and Harvey Webb

Recorded at Marcus Music AB, Londonn

Buy:
Additional Information
Complex swiftly followed the hugely successful "Cars". Taken from the album "The Pleasure Principle", it was an electronic ballad with a heavily synthesized, surreal sound it was way ahead of its time and would not sound out of place among today's electronic music offerings. Also the Radio 1 show Roundtable reviewed it as the very first electronic ballad in the history of pop music, Complex reached No 6 in the UK charts a little disappointing after such good reviews. It was also promoted with a stunning video, which used animated graphics for the first time yet another example of Gary's clever use of modern technology.

Complex Lyrics
Complex
(Single from 'The Pleasure Principle' album, 1979)

They won't come back
You know it's always the same
And they're sure to forget
Saying, 'Everyone lies'

So I'm down to this
I'm down to walking on air
And you're here by my side
With all your waving and smiles

Please keep them away
Don't let them touch me
Please don't let them lie
Don't let them see me

---

Bombers
(Single, 1978)

Look up I hear the scream of sirens on the wall
I see a policeman crying in the back seat of a dying ford
Hotel waiters leave the bedrooms of stars who are far too old
And no-one ever told me that I could be so cold

Bombers flight at zero
Feet, feet
Bombers flight at zero

I see an old man knocked to the ground and beaten by the vicar's wife
And no-one stops to help they're far too busy tring to save their own lives
A tiny girl screams for mother and wanders out into the street
I saw her go down underneath a thousand people's running feet

Bombers flight at zero
Feet, feet
Bombers flight at zero

All the junkies pulling needles from their arms and hope it lasts the night
All the soldiers curse the day they joined the army and prepare to fight
In silent bars, in silent rooms, in silent cars, you hide where you can
And me I know just where you are, you see, I'm a bomber man

Bombers flight at zero
Feet, feet
Bombers flight at zero