Social Media
Get the lowdown on Gary Numan and follow us, join the Gary Numan community on social media. Join in the fun and have you say.
Amazon
Search for New and Used Gary Numan CDs, Vinyl, DVDs.
Tour Dates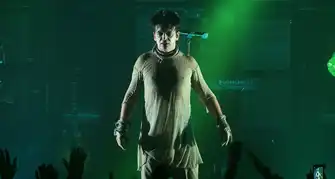 Check out the latest Gary Numan tour dates, events. See one of the founding fathers of synth pop.
Facebook
This group has been put together for fans of Gary Numan and visitors of the Numanme site, to discuses all things Numan sell/trade share stories and images from all aspects of Numan's career.
Weather Forecast
Podcast
Numanme Radio Podcast will be playing you some of the best Classic Alternative, New Wave, Dark Wave, Synth-Pop, and Punk. Also, a staple diet of Gary Numan/Tubeway Army without question. Shows will be updated here when they become available.
Photo Gallery
These galleries contain Gary Numan related photographs. ranging form the Tubeway Army days to present day. Feel free to browse and if you would like to add any of your own images please get in touch.
Poll
Vote for your favorite Gary Numan album or song.
Numan Quotes +
Statistics

Visitor Statistics

4 Online

125 Today

125 Yesterday

376 Week

4745 Month

23646 Year

223317502 Total
Record: 517 (13.11.2023)
Clues LP
Title:

Clues

Suggested Video

Artist:

Robert Palmer

Tracklist:

1. Looking for Clues 4:52
2. Sulky Girl 4:07
3. Johnny and Mary 3:59
4. What Do You Care 2:44
5. I Dream of Wires (Gary Numan) 4:34
6. Woke up Laughing 3:36
7. Not a Second Time 2:48
8. Found You Now (Gary Numan, Robert Palmer) 4:37


How old:

This LP is old!

Release Date:

August 7th 1980

Format:

LP

Record Label:

Island Records inc

Catalogue No:

ILPS 9595

Price Guide:

£10.00

Country:

United Kingdom

Additional info:

---

Highest Chart Position:

Deleted

Credits:

Gary Numan: Keyboards
Robert Palmer: Bass, Guitar, Percussion, Keyboards, Vocals
Andy Fraser: Bass
Chris Frantz: Percussion, Drums
Paul Gardiner: Bass
Alan Mansfield: Guitar
Kenny Mazur: Guitar
Jack Waldman: Keyboards
Donny Wynn: Drums

Robert Palmer: Producer
Greg Calbi: Mastering
Alex Sadkin: Engineer, Mixing
David Harper: Executive Producer
Graham Hughes: Cover Art

Buy:
Additional Information
Recorded in the Bahamas for Island Records, Clues has a dual personality: part straight rock and part New Wave, which by 1980 was beginning to break through the pop charts. Palmer kept the band he used in Secrets, dividing guitar work with Kenny Mazur and playing alongside two underappreciated side men, Jack Waldman on keyboards and Dony Wynn on drums, all of whom make their mark. But the largest presence on the album was Gary Numan's.

Numan arrived in the late 1970s with an eerie persona, robotic vocals, and sci-fi lyrics that suggested a dark future ruled by machines. In the liner notes to Addictions Vol. 2, Palmer recalled that Numan was actually "a painfully shy person" who concealed his insecurities behind a mask of bravado. On Clues Numan's influence is unmistakable: he played keyboards, co-wrote one of the songs, and may have inspired Palmer to feature synthesizers more prominently. Even the cover of The Beatles' "Not a Second Time," which probably surpasses the original, features a Numanesque synth in its chorus. "Johnny and Mary," a hit in the U.K., is the sort of goth-romantic ballad that could have appeared on one of Numan's albums.

Despite the incongruity between Palmer's Caribbean world and Numan's metal one, their combination yields surprising and impressive results. Palmer's persistent cheerfulness removes some of the monotonous melancholy from Numan's "I Dream of Wires," a song in which "the last electrician alive" laments "new ways" - in Palmer's hands, it was nearly a club hit. Funk proves a common interest in "Found You Now." If you listen to Numan's "Films," you'll understand why the hip-hop world has been stealing ("sampling") his riffs.

"Looking for Clues" gives us something a bit different: a lighthearted, Police-type danceable reggae, with humorous lyrics and what too many rock songs lack-a xylophone solo. If you remember the video, this is the part where the skeleton dances. "Sulky Girl" continues the AOR of Secrets and foreshadows the Power Station production techniques which would later send Palmer up the charts. "What Do You Care" combines the album's two personalities into a hybrid of Devoesque chorus and Pleasure Principle rhythms. "Woke Up Laughing" is the album's gem: a hypnotic tune with enigmatic lyrics and toy organ which conjure up a beachside mirage. According to the liner notes for Woke Up Laughing: Adventures in Tropical Music, the song uses an mbira rhythm popular in Zimbabwe. Palmer revised the song for that compilation but I much prefer the original.
.