Social Media
Get the lowdown on Gary Numan and follow us, join the Gary Numan community on social media. Join in the fun and have you say.
Amazon
Search for New and Used Gary Numan CDs, Vinyl, DVDs.
Tour Dates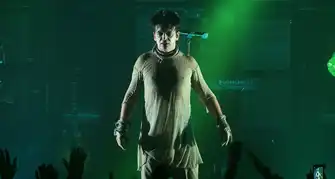 Check out the latest Gary Numan tour dates, events. See one of the founding fathers of synth pop.
Facebook
This group has been put together for fans of Gary Numan and visitors of the Numanme site, to discuses all things Numan sell/trade share stories and images from all aspects of Numan's career.
Weather Forecast
Podcast
Numanme Radio Podcast will be playing you some of the best Classic Alternative, New Wave, Dark Wave, Synth-Pop, and Punk. Also, a staple diet of Gary Numan/Tubeway Army without question. Shows will be updated here when they become available.
Photo Gallery
These galleries contain Gary Numan related photographs. ranging form the Tubeway Army days to present day. Feel free to browse and if you would like to add any of your own images please get in touch.
Poll
Vote for your favorite Gary Numan album or song.
Numan Quotes +
Statistics

Visitor Statistics

1 Online

16 Today

108 Yesterday

255 Week

709 Month

24473 Year

223318329 Total
Record: 517 (13.11.2023)
Chart Explosion LP
Title:

Chart Explosion

Suggested Video

Artist:

Various

Tracklist:

A1 Ottawan - D.I.S.C.O.
A2 Blondie - Call Me
A3 Roxy Music - The Same Old Scene
A4 Madness - Baggy Trousers
A5 Dexys Midnight Runners - Geno
A6 Ian Dury And The Blockheads - I Want To Be Straight
A7 Gary Numan - I Die You Die
A8 Tourists, The - Don't Say I Told You So
A9 Shalamar - I Owe You One
A10 Village People - Can't Stop The Music
B1 Cliff Richard - We Don't Talk Anymore
B2 Kelly Marie - Loving Just For Fun
B3 Odyssey - If You're Lookin' For A Way Out
B4 Matchbox - When You Ask About Love
B5 Leo Sayer - More Than I Can Say
B6 Bob Marley & The Wailers - Three Little Birds
B7 Bad Manners - Special Brew
B8 Change - Searching
B9 Pat Benatar - Hit Me With Your Best Shot
B10 Orchestral Manoeuvres In The Dark - Enola Gay

How old:

This LP is old!

Release Date:

November 15th 1980

Format:

LP

Record Label:

K-Tel

Catalogue No:

NE 1103

Price Guide:

£9.00

Country:

United Kingdom

Additional info:

Deleted To ensure the highest quality reproduction, the running times of some of the titles as originally released have been changed.

Highest Chart Position:

6

Credits:

Unknown Artist

Buy:
Additional Information
On November 15, 1980, K-Tel's Chart Explosion (NE 1103) entered the UK Albums Chart at #15. On December 6, 1980 it peaked at #6 and remained on the chart for 12 weeks.

All tracks in this collection were hits in 1980, except "We Don't Talk Anymore" by Cliff Richard, which had left the chart in October, 1979, and "Hit Me With Your Best Shot" by Pat Benatar, which did not chart in the UK.
The Tourists had a bigger hit in 1980 with "So Good To Be Back Again" [UK #8], or they could have even chosen "I Only Want To Be With You", which charted in 1979 but peaked at #4 in January, 1980.
Kelly Marie and Odyssey both had bigger hits in 1980: "Feels Like I'm In Love" and "Use It Up and Wear It Out", respectively. They were both #1 hits and both appear on Ronco's Radio Active, which charted the very same day as Chart Explosion.
"D.I.S.C.O." by Ottawan also appears on Radio Active. However, the label on the cover claimed it had gone to #1. Only in the Netherlands and Norway. They could only manage #7 in their native France.
"I Die: You Die" by Gary Numan, and "Enola Gay" by Orchestral Manoeuvres in the Dark also appear on Radio Active..