Social Media
Get the lowdown on Gary Numan and follow us, join the Gary Numan community on social media. Join in the fun and have you say.
Amazon
Search for New and Used Gary Numan CDs, Vinyl, DVDs.
Tour Dates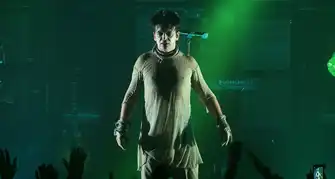 Check out the latest Gary Numan tour dates, events. See one of the founding fathers of synth pop.
Facebook
This group has been put together for fans of Gary Numan and visitors of the Numanme site, to discuses all things Numan sell/trade share stories and images from all aspects of Numan's career.
Weather Forecast
Podcast
Numanme Radio Podcast will be playing you some of the best Classic Alternative, New Wave, Dark Wave, Synth-Pop, and Punk. Also, a staple diet of Gary Numan/Tubeway Army without question. Shows will be updated here when they become available.
Photo Gallery
These galleries contain Gary Numan related photographs. ranging form the Tubeway Army days to present day. Feel free to browse and if you would like to add any of your own images please get in touch.
Poll
Vote for your favorite Gary Numan album or song.
Numan Quotes +
Statistics

Visitor Statistics

2 Online

18 Today

108 Yesterday

257 Week

711 Month

24475 Year

223318331 Total
Record: 517 (13.11.2023)
Bustin' Out 1982: New Wave to New Beat volume 2 CD
Title:

Bustin' Out 1982: New Wave to New Beat volume 2

Suggested Video

Artist:

Various

Tracklist:

01. Goldfinger
02. Moody (Cut Down)
03. Dirty Talk (Radio Version)
04. Hip Hop Be Bop (Dub)
05. Music For Chameleons (Album Version)
06. U-Men
07. Liberty City
08. Pounding System
09. Dans Les Jardins
10. My Spine Is The Bassline
11. Breakdown
12. Planet Rock
13. Impulse
14. Fiends
15. Four Minutes

How old:

This CD is old!

Release Date:

May 31st 2010

Format:

CD

Record Label:

Out Of Line

Catalogue No:

YZLCD004

Price Guide:

£7.00

Country:

United Kingdom

Additional info:

Music For Chameleons (Album Version)

Highest Chart Position:

N/A

Credits:

01. Die Krupps
02. ESG
03. Klein & MBO
04. Man Parrish
05. Gary Numan
06. Front 242
07. Mark Stewart & The Maffia
08. The Dub Syndicate
09. Benjamin Lew & Steven Brown
10. Shriekback
11. Colourbox
12. Afrika Bambaataa & The Soul Sonic Force
13. Chris & Cosey
14. Portion Control
15. Pylon
Buy:
Additional Information
'Bustin' Out 1982: New Wave To New Beat #2' is the second installment in veteran DJ Mike Maguire's fascinating new mission aimed at charting the groundbreaking developments in electronic-based music through the 80s. Bustin' Out: New Wave To New Beat: The Post Punk Era 1979-1981 was both declaration of intent and launch-pad, brilliantly capturing the early stirrings, breadth and excitement of the post-punk aftershock. The latest haul is similarly panoramic in style and country of origin while uncannily portraying the rampant barrier-crumbling going on as new technological developments seemed to emerge every week.

The set kicks off in Germany with Dusseldorf's proto-industrial Electronic Body Music exponents Die Krupps and the 12-inch version of 'Goldfinger', before 'Moody' by the Bronx sisters E.S.G. whose stripped-down ultra cool street-funk influenced anything from hip hop to house. Klein & M.B.O.'s unadulterated dancefloor classic 'Dirty Talk' is followed by 'Hip Hop Be Bop' by Man Parrish, whose ingenious welding of Kraftwerk robo-sonics and European synth-pop sounds were a crossover club sensation. Gary Numan's 'Music For Chameleons' displays a mature, haunted city style from post-punk's first teen idol while Belgium new-beat pioneers Front 242 have possibly the rarest item here, with 'U-Men' currently fetching around £300.

Mark Stewart originally of Bristol's avant-funk social agitators The Pop Group later found a home with Adrian Sherwood's On-U Sound, and his 'Jerusalem' EP closed with the bleak alien dub-funk of 'Welcome To Liberty City'. This is neatly followed by Dub Syndicate's 'Pounding System', which evolved after Sherwood hit it off with Jamaican super-drummer Style Scott. A more avant-jazz flavoured other-worldliness, foreshadowing dubstep, continues with Benjamin Lew and Tuxedomoon's Steve Brown teaming up on 'Dans Le Jardin'.

Shriekback were formed in 1981 by former XTC keyboards-player Barry Andrews and Gang Of Four bassist Dave Allen, represented here with the rousing funk chant of 'My Spine Is My Bassline'. 'Breakdown' marked the 4AD debut of Colourbox - their biggest success came in 1987 when they hooked up with indie band A.R. Kane for a one-off single under the name M.A.R.R.S. called 'Pump Up The Volume'. 'Planet Rock' by Afrika Bambaataa and Soulsonic Force, created by the legendary South Bronx DJ figurehead with a team headed by up-and-coming producer Arthur Baker, was the first hip hop record to use a drum machine, setting the electronic rhythm beast loose and providing the blueprint for electro.

Chris and Cosey had already embarked on their own advanced electronic mission when their first recordings started appearing in the early 80s after they splintered from industrial antagonists Throbbing Gristle. The duo's 1981 debut album, 'Heartbeat', was followed by 'Trance', from which comes the simmering, popping proto-electro of 'Impulse.' Another serious master-stroke is the inclusion of South London's Portion Control, whose fearsome brand of [what they called] 'electro punk' or 'hard rhythmic electronics' is represented by 'Fiends' from their 1982 debut album, 'I Staggered Mentally'. The set ends with Pylon, from Athens, Georgia, much championed by R.E.M. and the B-52's. 'Four Minutes' was the b-side of the 12-inch version of their 'Beep' single, its crashing, alien dronescape making a suitably unorthodox finale for this fine summation of a year when blips on the musical radar often assumed depth charge proportions.