Social Media
Get the lowdown on Gary Numan and follow us, join the Gary Numan community on social media. Join in the fun and have you say.
Amazon
Search for New and Used Gary Numan CDs, Vinyl, DVDs.
Tour Dates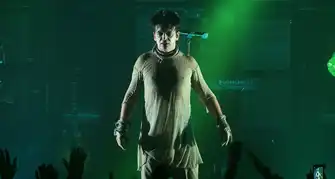 Check out the latest Gary Numan tour dates, events. See one of the founding fathers of synth pop.
Facebook
This group has been put together for fans of Gary Numan and visitors of the Numanme site, to discuses all things Numan sell/trade share stories and images from all aspects of Numan's career.
Weather Forecast
Podcast
Numanme Radio Podcast will be playing you some of the best Classic Alternative, New Wave, Dark Wave, Synth-Pop, and Punk. Also, a staple diet of Gary Numan/Tubeway Army without question. Shows will be updated here when they become available.
Photo Gallery
These galleries contain Gary Numan related photographs. ranging form the Tubeway Army days to present day. Feel free to browse and if you would like to add any of your own images please get in touch.
Poll
Vote for your favorite Gary Numan album or song.
Numan Quotes +
Statistics

Visitor Statistics

3 Online

115 Today

125 Yesterday

366 Week

4735 Month

23636 Year

223317492 Total
Record: 517 (13.11.2023)
Breaking Silence LP
Title:

Breaking Silence

Suggested Video

Artist:

James Freud

Tracklist:

A1. Modern Girl 3:19
A2.The Television's Hungry 4:01
A3. The Saviors 3:18
A4. Enemy Lines 3:35
A5. Butane Babies 2:47
B1. Automatic Crazy 3:40 *
B2. 19 Again 2:28
B3. No More Telephone 3:11
B4. Mean Modulator 3:34
B5. Blue Moon 3:23

How old:

This LP is old!

Release Date:

June 18th 1980

Format:

LP

Record Label:

Solid Gold Records

Catalogue No:

SGR 1004

Price Guide:

£27.00

Country:

Australia

Additional info:

Deleted James Freud and Berlin released the single "Automatic Crazy," produced by Gary Numan. The singel was released in Australia by Mushroom Records Catalog#: K 8236

Highest Chart Position:

0

Credits:

Composed By – James Freud
Design Concept [Cover Concept] – Barrie Earl, James Freud
Drums – Tommy Hosie
Engineer – Tony Cohen
Guitar, Vocals – Peter Cook (9)
Keyboards, Synthesizer, Vocals – Roger Mason
Lead Vocals – James Freud
Management [Personal Representation] – Barrie Earl
Photography – Greg Noakes
Photography By – Greg Noakes
Producer – Barrie Earl (tracks: A1, A4 to B2, B4), James Freud
Promotion [Publicity] – Michelle Higgins (2)
Written-By – James Freud

Buy:
Additional Information
From Teenage Radio Stars to James Freud and The Radio Stars, to Models and later solo albums, James Freud had a celebrated and successful career that spanned over 25 years. Breaking Silence was his first album and it featured the hit singles 'Modern Girl' and 'Enemy Lines'.

Freud impressed none other than Gary Numan during his Australian tour and took up his offer to travel to the UK to work on his follow-up album. Freud's unusual, and often hilarious adventures with Numan, were recounted in his first autobiography "I Am The Voice Left From Drinking". The demos they recorded together remained unreleased until this reissue.