Social Media
Get the lowdown on Gary Numan and follow us, join the Gary Numan community on social media. Join in the fun and have you say.
Amazon
Search for New and Used Gary Numan CDs, Vinyl, DVDs.
Tour Dates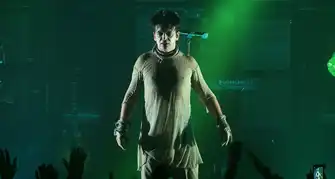 Check out the latest Gary Numan tour dates, events. See one of the founding fathers of synth pop.
Facebook
This group has been put together for fans of Gary Numan and visitors of the Numanme site, to discuses all things Numan sell/trade share stories and images from all aspects of Numan's career.
Weather Forecast
Podcast
Numanme Radio Podcast will be playing you some of the best Classic Alternative, New Wave, Dark Wave, Synth-Pop, and Punk. Also, a staple diet of Gary Numan/Tubeway Army without question. Shows will be updated here when they become available.
Photo Gallery
These galleries contain Gary Numan related photographs. ranging form the Tubeway Army days to present day. Feel free to browse and if you would like to add any of your own images please get in touch.
Poll
Vote for your favorite Gary Numan album or song.
Numan Quotes +
Statistics

Visitor Statistics

1 Online

31 Today

108 Yesterday

270 Week

724 Month

24488 Year

223318344 Total
Record: 517 (13.11.2023)
Are 'Friends' Electric? 7"
Title:

Are 'Friends' Electric?

Suggested Video

Artist:

Tubeway Army

Tracklist:

A1. Are 'Friends' Electric? 5:19
B2. Replicas 3:50

How old:

This 7" is old!

Release Date:

May 4th 1979

Format:

7"

Record Label:

Teal Records

Catalogue No:

WBS 323

Price Guide:

£15.00

Country:

Zimbabwe

Additional info:

Deleted

Highest Chart Position:

1

Credits:

Gary Numan (Keyboards, Guitars, Vocals)
Paul Gardiner (Bass)
Jess Lidyard (Drums)

Produced by Gary Numan

Engineered by John Caffery
Assisted by Harvey Ishiki

Mixed by Rikki Sylvan, John Caffery, and Gary Numan

Recorded at Gooseberry Studios, London

Mixed at Marcus Music AB, London

Buy:
Additional Information
Are 'Friends' Electric? Came out on the 4 May Gary never expected it to become such a mammoth hit. Are 'Friends' Electric? was actually two songs put together and over five minutes long, it was also decided to release it as a picture disc. Picture disc were a very new thing back in them days and serious record collectors were buying anything that came out in Picture disc format, over 20.000 picture disc where pressed but Gary did not get any royalties on the picture disc. The release of the picture disc helped propel 'Friends' Electric? Into the top75 the rise to fame was on its way. Gary and the band were asked to appear on Top Of The Pops.Top Of The Pops had been running a feature called Bubbling Under featuring bands whose single was outside the main chart but showed significant movement yet another stroke of luck, after this performance Are 'Friends' Electric? Was selling 40,000 copies a day. After several appearances on Top Of The Pops Are 'Friends' Electric? Progressively climbed the chart in at 48 then 27 then 20, 13, 7, then at last number 1 and spent an amazing four weeks at the top and a total of 16 weeks in the top 75 listings. Are Friends Electric? the quintessential Gary Numan record and surely a template for any of today's aspiring synth-rock wannabes, Numan's fractured, disembodied vocals sit perfectly against a wall of analogue trickery, a timeless classic which captured the hearts and minds of many disillusioned youngsters back in 1979, the charts had at last given birth to a 'proper' solo star unlike any other.
Are 'Friends' Electric? Lyrics
Are 'Friends' Electric?
(1979 single, from "Replicas" album)

It's cold outside
And the paint's peeling off of my walls
There's a man outside
In a long coat, grey hat, smoking a cigarette

Now the light fades out
And I wonder what I'm doing
In a room like this
There's a knock on the door
And just for a second I thought
I remembered you

(7.4)
So now I'm alone
Now I can think for myself
About little deals
And S.U's
And things I just don't understand
A white lie that night
Or a sly touch at times
I don't think it meant anything to you

So I open the door
It's the 'friend' that I'd left in the hallway
'Please sit down'
A candlelit shadow on a wall near the bed

You know I hate to ask
But are 'friends' electric?
Only mine's broke down
And now I've no-one to love

(7.4)
So I found out your reasons
For the phone calls and smiles
And it hurts
And I'm lonely
And I should never have tried
And I missed you tonight
It must be time to leave
You see it meant everything to me
---

Replicas
('Replicas' album, 1979)

It was hard to avoid
I suppose it was a shame
But they didn't even try

You see we'd never met
And they didn't have names
There was nothing I could do

So I turned on the crowd
And I screamed 'you and you'
'It could have been you'

And they seemed to think
That I looked that way
Or maybe I was wrong

So I said
Do you know Mr. Wall
And they looked the other way
And then they smiled at me

But the police came
And I said it was me
And I just walked away