Social Media
Get the lowdown on Gary Numan and follow us, join the Gary Numan community on social media. Join in the fun and have you say.
Amazon
Search for New and Used Gary Numan CDs, Vinyl, DVDs.
Tour Dates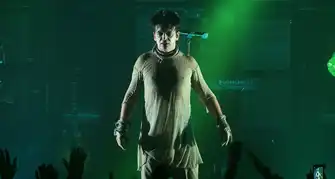 Check out the latest Gary Numan tour dates, events. See one of the founding fathers of synth pop.
Facebook
This group has been put together for fans of Gary Numan and visitors of the Numanme site, to discuses all things Numan sell/trade share stories and images from all aspects of Numan's career.
Weather Forecast
Podcast
Numanme Radio Podcast will be playing you some of the best Classic Alternative, New Wave, Dark Wave, Synth-Pop, and Punk. Also, a staple diet of Gary Numan/Tubeway Army without question. Shows will be updated here when they become available.
Photo Gallery
These galleries contain Gary Numan related photographs. ranging form the Tubeway Army days to present day. Feel free to browse and if you would like to add any of your own images please get in touch.
Poll
Vote for your favorite Gary Numan album or song.
Numan Quotes +
Statistics

Visitor Statistics

1 Online

15 Today

108 Yesterday

254 Week

708 Month

24472 Year

223318328 Total
Record: 517 (13.11.2023)
We Take Mystery (To Bed) 12"
Title:

We Take Mystery (To Bed)

Suggested Video

Artist:

Gary Numan

Tracklist:

A1. We Take Mystery (To Bed) (Extended Version) 7:42
B1. The Image Is 5:59
B2. We Take Mystery (To Bed) (Early Version) 5:58

How old:

This 12" is old!

Release Date:

June 11th 1982

Format:

12"

Record Label:

Beggars Banquet

Catalogue No:

BEG 77T

Price Guide:

£5.00

Country:

United Kingdom

Additional info:

Deleted

Highest Chart Position:

9

Credits:

Gary Numan (Vocals, Keyboards, Guitar)
Roger Mason (Keyboards)
Pino Palladino (Fretless Bass)
Chris Slade (Drums, Percussion)
John Webb (Percussion)

Produced by Gary Numan

Engineered by Nick Smith
Assisted by Sean Lynch

Recorded at Rock City Studios, Shepperton

Buy:
Additional Information
"We Take Mystery to Bed was a very dance-oriented number a very upbeat synthetic funk number with plenty of fretless bass, almost a homage to 70s funk. The break on the 12" mix was pure disco! Sadly, mastering conventions at the time prevented Numan from using the full-length mix on the album. Lyrically, another kick at Debbie Doran.

This track became a live favorite for nearly a decade. Strangely when it made it's live debut in the U.K the following year, it was Pino Palladino's tutor, Joe Hubbard who played bass! We Take Mystery to Bed made it to impressive No 9 in the UK charts.
We Take Mystery (To Bed) Lyrics


We Take Mystery (To Bed)
(Single from 'I, Assassin' album, 1982)

Confiscate letters like D.E.B.
No natural course of things
For her to expect
Withdraw the feelings 'You can, you can't'
I called your number as you told the world

Something is wrong

There is no longer any normal to me
You're my assassin but you can't see the crime
Pointless possessions
Of me and you and greed
I looked at you mistaking needles for eyes

Something is wrong

---
The Image Is
(B-side, 'We Take Mystery (To Bed)' single, 1982)

I intrude on patience
I intrude on young hearts
I intrude on all such things
That can take you by surpise
Time and time again
So?

I've no welcome for you
I've no welcome for talk
I've no welcome in my house
I've tried too long you know
Time and time again

Oh look there's a man inside
But it's not the museum it's supposed to be
We sleep with machines that breathe
And some even have names
The executive dream

We're all so sincere
I'll sing a song of nothing
That broke your heart
Oh look at the smile that cracked
Tomorrow we'll be civilised
And pull the whole world down

We don't believe in you
We're specialised mechanics
In repairing the bitch
You dance around my head
You say it's illegal
But I'm sure it's okay

We Take Mystery (Early Version)
(B-Side, 12" version of We Take Mystery single, 1982)

Confiscate letters like D.E.B.
No natural course of things
For her to expect
Withdraw the feelings 'You can, you can't'
I called your number as you told the world

Someone is wrong

I'll find the answer
You'll take mystery to bed
My sister Coma she was always too shy
You told the story crying
'Darling, too good to last'
You taste of love just like the sex smell of me

Someone is wrong

There is no longer any normal to me
You're my assassin but you can't see the crime
Pointless possessions
Of me and you and greed
I looked at you mistaking needles for eyes

Someone is wrong

You are slow poison that glows in the dark
Such isolation is good for the heart
We will take mystery to bed for the night

---
We Take Mystery (Early Version)
(B-Side, 12" version of We Take Mystery single, 1982)

Confiscate letters like D.E.B.
No natural course of things
For her to expect
Withdraw the feelings 'You can, you can't'
I called your number as you told the world

Someone is wrong

I'll find the answer
You'll take mystery to bed
My sister Coma she was always too shy
You told the story crying
'Darling, too good to last'
You taste of love just like the sex smell of me

Someone is wrong

There is no longer any normal to me
You're my assassin but you can't see the crime
Pointless possessions
Of me and you and greed
I looked at you mistaking needles for eyes

Someone is wrong

You are slow poison that glows in the dark
Such isolation is good for the heart
We will take mystery to bed for the night