Social Media
Get the lowdown on Gary Numan and follow us, join the Gary Numan community on social media. Join in the fun and have you say.
Amazon
Search for New and Used Gary Numan CDs, Vinyl, DVDs.
Tour Dates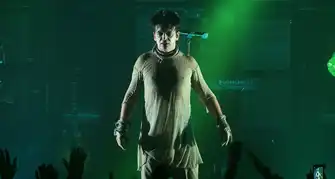 Check out the latest Gary Numan tour dates, events. See one of the founding fathers of synth pop.
Facebook
This group has been put together for fans of Gary Numan and visitors of the Numanme site, to discuses all things Numan sell/trade share stories and images from all aspects of Numan's career.
Weather Forecast
Podcast
Numanme Radio Podcast will be playing you some of the best Classic Alternative, New Wave, Dark Wave, Synth-Pop, and Punk. Also, a staple diet of Gary Numan/Tubeway Army without question. Shows will be updated here when they become available.
Photo Gallery
These galleries contain Gary Numan related photographs. ranging form the Tubeway Army days to present day. Feel free to browse and if you would like to add any of your own images please get in touch.
Poll
Vote for your favorite Gary Numan album or song.
Numan Quotes +
Statistics

Visitor Statistics

2 Online

18 Today

108 Yesterday

257 Week

711 Month

24475 Year

223318331 Total
Record: 517 (13.11.2023)
Some Guys Have All The Luck 12"
Title:

Some Guys Have All The Luck

Suggested Video

Artist:

Robert Palmer

Tracklist:

A1. Some Guys Have All The Luck 3:07 *
A3. Style Kills 4:15 
B2. Si Chatouillieux 4:28 *
B2. What Do You Care? 2:10 *

How old:

This 12" is old!

Release Date:

October 13th 1982

Format:

12"

Record Label:

Island Records

Catalogue No:

12WIP 6754

Price Guide:

£10.00

Country:

United Kingdom

Additional info:

Deleted * This track does NOT feature Gary Numan

Highest Chart Position:

20

Credits:

Producer, Associated Performer, Recording Arranger: Robert Palmer
Studio Personnel, Mixer: Jack Nuber
Associated Performer, Drums: Dony Wynn
Associated Performer, Keyboards: Jack Waldman
Associated Performer, Keyboards: Gary Numan
Composer Lyricist: Robert Palmer
Composer Lyricist: Gary Numan

Buy:
Additional Information
Robert Palmer's version of "I Dream Of Wires" with Gary Numan and Paul Gardiner playing on the track appears on Robert Palmer's "Clues" LP along with "Found You Now" "Style Kills" also appears on Robert Palmer's "Addictions Vol. 1" LP.
Style Kills Lyrics

I see you got yourself a brand new bag
You had enough of the imitation drag
Although you're leaping to the latest thing
You can't ignore the suspicion of a hallow ring

Big bills
Cheap thrills
Style kills

You say you set your standards way too high
So you convincingly effect a compromise
Some unsuspecting body's gonna pay
When you discover that you can't always
Have your way

Big pain
Big pills
Style kills
Oh, oh
If he won't
You will
Style kills

You say your lover's gotta a lot of nerve
'Cause he won't keep you in the style
That you deserve
You kid yourself you're only marking time
Till you fulfil the revenge in the back
Of your mind

Clear cut
No frills
Style kills

If he won't
You will
Style kills
Woh, oh, oh, oh
Woh, oh

You never take the blame
For your mistakes
Why should you give
Anyone an even break?

If he won't
You will
Style kills

Style kills
Style kills