Social Media
Get the lowdown on Gary Numan and follow us, join the Gary Numan community on social media. Join in the fun and have you say.
Amazon
Search for New and Used Gary Numan CDs, Vinyl, DVDs.
Tour Dates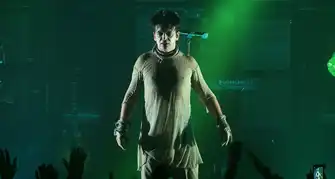 Check out the latest Gary Numan tour dates, events. See one of the founding fathers of synth pop.
Facebook
This group has been put together for fans of Gary Numan and visitors of the Numanme site, to discuses all things Numan sell/trade share stories and images from all aspects of Numan's career.
Weather Forecast
Podcast
Numanme Radio Podcast will be playing you some of the best Classic Alternative, New Wave, Dark Wave, Synth-Pop, and Punk. Also, a staple diet of Gary Numan/Tubeway Army without question. Shows will be updated here when they become available.
Photo Gallery
These galleries contain Gary Numan related photographs. ranging form the Tubeway Army days to present day. Feel free to browse and if you would like to add any of your own images please get in touch.
Poll
Vote for your favorite Gary Numan album or song.
Numan Quotes +
Statistics

Visitor Statistics

1 Online

24 Today

108 Yesterday

263 Week

717 Month

24481 Year

223318337 Total
Record: 517 (13.11.2023)
She's Got Claws 12"
Title:

She's Got Claws

Suggested Video

Artist:

Gary Numan

Tracklist:

A1. She's Got Claws 4:43 
B1. I Sing Rain 2:34
B2. Exhibition 4:30

How old:

This 12" is old!

Release Date:

August 21st 1981

Format:

12"

Record Label:

Beggars Banquet

Catalogue No:

BEG 62T

Price Guide:

£10.00

Country:

United Kingdom

Additional info:

Deleted

Highest Chart Position:

49

Credits:

Gary Numan (Vocals, Odyssey, Roland JP4, Piano, CR78, Prophet 5)
Cedric Sharpley (drums)
Christopher Payne (Violas)
Mick Karn (Bass, Saxophone)
John Webb ( handclaps)

Produced by Gary Numan
Engineered by Nick Smith
Assisted by Sean Lynch, Juliet Bowen
Mastered by Steve Rooke, Strawberry Mastering, London.

Buy:
Additional Information
One of Gary's many unusual choices of single coming from the reappraised album "Dance". To be fair,Dance is probably now thaught of as a lost classic amongst Numan fans,but there are not too many tracks off of it that you would choose as single material,because it works better as an album as a whole.That said,She's Got Claws is as good a track to cull from it as any.It starts off with an analogue synth not too disimilar to the intro to "Cars" coming to a crescendo with a Numan "whhooaaah".Then we get the fantastic rolling bass of Mick Karn nicely intertwined with the tight drumming from stalwart Ced Sharpley.All this is accompanied by the "eastern" sounding viola and sax playing by Chris Payne and Mick Karn again respectively.

Lyrically it's one of Gary's finest moments on the frailties of the human condition when it comes to relationships.I guess everyone has had times of betrayal and let downs,but when you're in the public eye as Gary was in 1981,those situations are likely to get magnified by the gold diggers and the glory hunters.One of the ways to unburden yourself of these feelings,is to spit out the lyrics in songs such as She's Got Claws."You say you love me,I don't believe you","Here on the ground like some whore","You'll just suck in the boys"and the title of the track itself,are all prime examples of what Gary Numan was going through this time in his life.

All in all a good Numan single from an unusual stage in his career..

She's Got Claws Lyrics
She's Got Claws
(Single from 'Dance' album, 1981)

You are distraction
Like pictures on the wall
I don't like eyes

You are attraction
It gets to be routine
You're up, I'm down

She's got claws
But the factory knows
We're dreams in cold storage
We could dance the night away

You say you love me
Maybe you do
A patience I can't steal
I don't believe you
You said 'Straight'
It's like giving up hope

Here on the ground
On the floor
Screaming nothing at all
Here on the ground
Like some whore
Looking down on you all
Too much advice
I'm not sure

Laughing hyaenas
With pens for charm
You'll just suck in the boys
We have to leave soon
Shudder. 'The Door'
This house is far too cool

She's got claws
But the factory knows
We're dreams in cold storage
We could dance the night away



---
I Sing Rain
(B-Side, 'She's Got Claws' single, 1981)

Oh - ho
Like rain and I say

Whoa - whoa - whoa
Like rain you are
Like rain

Rain rain rain rain rain rain rain
Whoa-ho
I sing 'rain'

But I've never been down before

Rain rain rain rain rain

Whoa
---
Exhibition
(B-side 12" 'She's got Claws' single, 1981)

Applicant, I am
Clean young flesh
Cubicles, we merge
And me so decent

Lock up my vehicle
Crack my walls
I'm stealing your words
And me so honest

Someone took pictures
Just look at her go
Her presence exhausting me
Like spectators we are

I have no address
Who are you
Kiss my arse goodbye
The show grows rusty

Simulate phone call
Face to face
Newspaper loose talk
You wreck my dreams

Exhibit 'A' God
So few of us left
Exhibit 'B'God
The problems of death

Old sex, unclean
Do you need the moon?
Recall no names
Don't ask 'How are you?'

Where's my attendant?
And where is my wife?
Wait in the doorway
While I say goodnight

He looks like me