Social Media
Get the lowdown on Gary Numan and follow us, join the Gary Numan community on social media. Join in the fun and have you say.
Amazon
Search for New and Used Gary Numan CDs, Vinyl, DVDs.
Tour Dates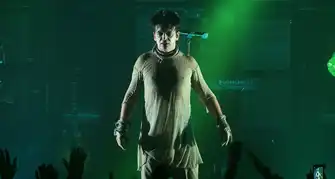 Check out the latest Gary Numan tour dates, events. See one of the founding fathers of synth pop.
Facebook
This group has been put together for fans of Gary Numan and visitors of the Numanme site, to discuses all things Numan sell/trade share stories and images from all aspects of Numan's career.
Weather Forecast
Podcast
Numanme Radio Podcast will be playing you some of the best Classic Alternative, New Wave, Dark Wave, Synth-Pop, and Punk. Also, a staple diet of Gary Numan/Tubeway Army without question. Shows will be updated here when they become available.
Photo Gallery
These galleries contain Gary Numan related photographs. ranging form the Tubeway Army days to present day. Feel free to browse and if you would like to add any of your own images please get in touch.
Poll
Vote for your favorite Gary Numan album or song.
Numan Quotes +
Statistics

Visitor Statistics

1 Online

30 Today

108 Yesterday

269 Week

723 Month

24487 Year

223318343 Total
Record: 517 (13.11.2023)
Punk and its Aftershocks VHS
Title:

Punk and its Aftershocks

Suggested Video

Artist:

Various Artists

Tracklist:

01. God Save The Queen - Sex Pistols
02. London Calling - The Clash
03. Police & Theives - The Clash
04. Complete Control - The Clash
05. Someone Is Looking At You - Boomtown Rats
06. Where Is Captain Kirk - Spizzenergi
07. Virginia Plane - Spizzenergi
08. Eton Rifles - The Jam
09. David Watts - The Jam
10. Time For Action - Secret Affair
11. Regatta De Blanc - The Police
12. Bed's Too Big Without You - The Police
13. Too Much Too Young - The Specials
14. Murder - The Selecter
15. Gangster - The Specials
16. Too Much Pressure - The Selecter
17. Guns Of Navarone - The Specials
18. The Prince - Madness
19. Swan Lake - Madness
20. My Girl - Madness
21. Sweet Gene Vincent - Ian Dury
22. Hit Me - Ian Dury
23. Brass In Pocket - The Pretenders
24. Down In The Park - Gary Numan
25. Stop Your Sobbing - The Pretenders
26. Attitude - The Kinks
27. Superman - The Kinks

How old:

This VHS is old!

Release Date:

October 17th 1980

Format:

Format: VHS

Record Label:

Stud!o K7

Catalogue No:

K7 010

Price Guide:

£15.00

Country:

United Kingdom

Additional info:

Deleted

Highest Chart Position:

N/A

Credits:

N/A

Buy:
Additional Information
1980 Punk and its Aftershocks Video

Punk and its Aftershocks (1980). 85 min., color, West Germany; written and directed by Wolfgang Buld. Also known as British Rock and British Rock - Ready for the 80s . Features footage of and interviews with the Specials, the Selecter, Madness, the Pretenders, Sex Pistols, the Jam, the Kinks, the Clash and the Boomtown Rats plus Gary Numan.

This insightful documentary by filmmaker Wolfgang Buld attempts to uncover the origins of the punk rock at the very point where it was about to explode onto the American music scene. Digging deeper than the average documentarian to interview such artists as Spizzenergi Jam and Secret Affair, Punk and Its Aftershocks offers a rare glimpse into a musical revolution..