Social Media
Get the lowdown on Gary Numan and follow us, join the Gary Numan community on social media. Join in the fun and have you say.
Amazon
Search for New and Used Gary Numan CDs, Vinyl, DVDs.
Tour Dates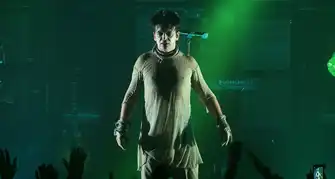 Check out the latest Gary Numan tour dates, events. See one of the founding fathers of synth pop.
Facebook
This group has been put together for fans of Gary Numan and visitors of the Numanme site, to discuses all things Numan sell/trade share stories and images from all aspects of Numan's career.
Weather Forecast
Podcast
Numanme Radio Podcast will be playing you some of the best Classic Alternative, New Wave, Dark Wave, Synth-Pop, and Punk. Also, a staple diet of Gary Numan/Tubeway Army without question. Shows will be updated here when they become available.
Photo Gallery
These galleries contain Gary Numan related photographs. ranging form the Tubeway Army days to present day. Feel free to browse and if you would like to add any of your own images please get in touch.
Poll
Vote for your favorite Gary Numan album or song.
Numan Quotes +
Statistics

Visitor Statistics

3 Online

114 Today

125 Yesterday

365 Week

4734 Month

23635 Year

223317491 Total
Record: 517 (13.11.2023)
Parade of Pops LP
Title:

Parade of Pops

Suggested Video

Artist:

Various Artists

Tracklist:

A1. When You're In Love With A Beautiful
A2. Diamond Smiles Originally
A3. Eton Rifles
A4. Complex
A5. Nights In White Satin
A6. Spacer
A7. Union City Blue
A8. Que Sera Mi Vida
B1. No More Tears
B2. Off The Wall
B3. Confusion
B4. A Night At Daddy Gees
B5. Still
B6. Is It Love Youre After
B7. One Step Beyond
B8. It's A Disco Night

How old:

This LP is old!

Release Date:

December 1st 1979

Format:

LP

Record Label:

Chevron

Catalogue No:

CHVPL 15

Price Guide:

£10.00

Country:

United Kingdom

Additional info:

Deleted Are Friends Electric - also included on Top of the Pops vol. 74

Highest Chart Position:

Unknown

Credits:

Unknown

Buy:
Additional Information
Possibly the last breath of those copycat budget LP's like the Top Of The Pops series. By 1979 people were becoming more PC, so no half naked woman on the cover to sell it now. It is unusual to hear copycats of the new wave songs from the chart of that time, such as The Jam, Gary Numan, Blondie and the Boomtown Rats. Unfortunately, Nights In White Satin, isn't a copy of the Dickies version. Of course a few years later, Now That's what I Call Music started up. Selling people the real versions of the chart songs whilst they were still on the chart and killed it all dead.