Social Media
Get the lowdown on Gary Numan and follow us, join the Gary Numan community on social media. Join in the fun and have you say.
Amazon
Search for New and Used Gary Numan CDs, Vinyl, DVDs.
Tour Dates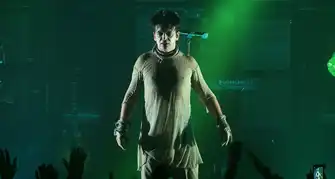 Check out the latest Gary Numan tour dates, events. See one of the founding fathers of synth pop.
Facebook
This group has been put together for fans of Gary Numan and visitors of the Numanme site, to discuses all things Numan sell/trade share stories and images from all aspects of Numan's career.
Weather Forecast
Podcast
Numanme Radio Podcast will be playing you some of the best Classic Alternative, New Wave, Dark Wave, Synth-Pop, and Punk. Also, a staple diet of Gary Numan/Tubeway Army without question. Shows will be updated here when they become available.
Photo Gallery
These galleries contain Gary Numan related photographs. ranging form the Tubeway Army days to present day. Feel free to browse and if you would like to add any of your own images please get in touch.
Poll
Vote for your favorite Gary Numan album or song.
Numan Quotes +
Statistics

Visitor Statistics

1 Online

13 Today

108 Yesterday

252 Week

706 Month

24470 Year

223318326 Total
Record: 517 (13.11.2023)
20 Of Another Kind Volume Two LP
Title:

20 Of Another Kind Volume Two

Suggested Video

Artist:

Various Artists

Tracklist:

A01. Strange Town
A02. Down In The Park
A03. Boys Don't Cry
A04. Ads
A05. Now It's Gone
A06. No Entry
A07. All Sewn Up
A08. I Can't Cope
A09. Best Thing I Ever Did (New Future)
A10. Millions Like Us
B01. Hersham Boys
B02. Out In The Dark
B03. This Is Your Life
B04. The Shape Of Things To Come
B05. The Butterfly Collector
B06. Improve Myself
B07. Girls In Action
B08. Lost Love
B09. Bad News
B10. Tracks

How old:

This LP is old!

Release Date:

January 1st 1979

Format:

LP

Record Label:

Polydor

Catalogue No:

POLX 1

Price Guide:

£5.00

Country:

United Kingdom

Additional info:

Deleted

Highest Chart Position:

Unknown

Credits:

Compiled By – Jim Cook
Design – Rob O'Connor
Photography – Martyn Goddard
This compilation ℗ 1979 Polydor Ltd (U.K.) © 1979 Polydor Ltd
Made in England

Gary Numan and Tubeway Army, Carpettes and Lurkers courtesy of Beggars Banquet Records/WEA Records Ltd.
Headboys courtesy of RSO Records Ltd.
The Cure and The Purple Hearts courtesy of Fiction Records Ltd.
The Invadors courtesy of J.P. Productions.
Patrick Fitzgerald courtesy of Small Wonder Records.

A01. The Jam
A02. Tubeway Army
A03. The Cure
A04. Twist
A05. The Chords
A06. Sham 69
A07. Patrik Fitzgerald
A08. Protex
A09. The Invaders
A10. Purple Hearts
B01. Sham 69
B02. The Lurkers
B03. Twist
B04. The Headboys
B05. The Jam
B06. Patrik Fitzgerald
B07. The Invaders
B08. The Carpettes
B09. Xdreamysts
B10. Gary Numan

Buy:

b Official Store Ebay Amazon Discogs 4 Apple 5 Spotify 2 Bandcamp ± Archive Beggars
Additional Information
Volume two of the 1979 decent punk / new wave compilation series from Polydor. Includes The Jam, The Cure, Sham 69, The Lurkers, Gary Numan etc.