Go Back
13/10/22
A flash from the past Tik and Tok
---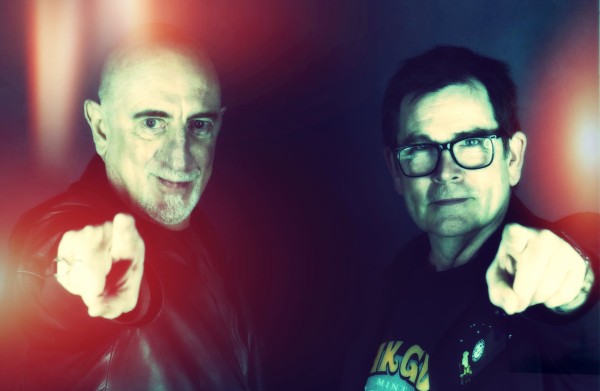 Tik and Tok firm favourites of the Numanoids have just shared some pictures from October 11th, 1984. On this date 38 years ago Tik & Tok played the very last show of their brief but memorable '80s career. It was at The Hippodrome, London. That was it until 2006 when they decided to do a guest spot at Elektrofest at Koko in Camden. Here's a handful of pics from The Hippodrome.

Also, if you would like a T-shirt head over to the Tik & Tok - Redbubble shop! At present there is only one design. Tik & Tok will be adding more products to the shop over the next few weeks.
Check out the interview with Tim Dry (Tik) and Terry Top Cat It is very amusing!!
Also check out Tim Dry (Tik) new album of Unreleased recording 1985 - 2020
Limited edition jewel case double CD.
12-page booklet with liner notes and photos.
Remastered and limited to 300 copies.
Track listing -
CD1
1 - Give Them Love
2 - Smash The Mirror
3 - Dream Time
4 - Waiting For Heaven
5 - If A Chill Wind Blows
6 - Conquistador
7 - Eat This Space
8 - Edge City Limits
9 - Etrange!
10 - Kingdom
11 - Poor Darling
12 - The Master
13 - Nada
14 - If You Knew Corrida
CD2
1 - If I Do Not Go Within, I Go Without
2 - It's All Too Much
3 - Hark!
4 - Develop Me
5- Albion
6 - Beauty
7 - What Dreams May Come
8 - The Dancing Serpent
9 - Aime-Moi
10 - The Heart Of The Wishing Well
11 - Winterbird
12 - High 80s
13 - Home
14 - The Self-Punisher
15 - The Vampire
16 - Black Venus
17 - My Days Of Dying
18 - Sleepwalkers
19 - My Dark Heart
Written by: numanme