Social Media
Get the lowdown on Gary Numan and follow us, join the Gary Numan community on social media. Join in the fun and have you say.
Amazon
Search for New and Used Gary Numan CDs, Vinyl, DVDs.
Tour Dates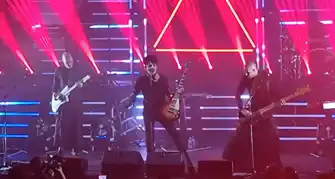 Check out the latest Gary Numan tour dates, events. See one of the founding fathers of synth pop.
Forum
To all Gary Numan fans the Numanme Forum is the forum for you a place for you to be completely Numanized. You can apply for free membership NOW!.
Facebook
This group has been put together for fans of Gary Numan and visitors of the Numanme site, to discuses all things Numan sell/trade share stories and images from all aspects of Numan's career.
Weather Forecast
Podcast
Numanme Radio Podcast will be playing you some of the best Classic Alternative, New Wave, Dark Wave, Synth-Pop, and Punk. Also, a staple diet of Gary Numan/Tubeway Army without question. Shows will be updated here when they become available.
Photo Gallery
These galleries contain Gary Numan related photographs. ranging form the Tubeway Army days to present day. Feel free to browse and if you would like to add any of your own images please get in touch.
Poll
Vote for your favorite Gary Numan album or song.
Numan Quotes +
When The Sky Came Down CD
Title:

When The Sky Came Down

Suggested Video

Artist:

Gary Numan and The Skaparis Orchestra

Tracklist:

Disc: 1

01. Replicas
02. Ghost Nation
03. Metal
04. Bed of Thorns
05. Films
06. Everything Comes Down to This
07. Pray for the Pain You Serve
08. Down in the Park
09. Broken
10. Splinter
11. Here in the Black

Disc: 2

01. My Name Is Ruin
02. Jagged
03. Mercy
04. My Breathing
05. Are 'Friends' Electric?
06. This Wreckage
07. The End of Things
08. A Prayer for the Unborn
09. It Will End Here

Disc: 3 (DVD)

01. Replicas
02. Ghost Nation
03. Metal
04. Bed of Thorns
05. Films
06. Everything Comes Down to This
07. Pray for the Pain You Serve
08. Down in the Park
09. Broken
10. Splinter
11. Here in the Black
12. My Name Is Ruin
13. Jagged
14. Mercy
15. My Breathing
16. Are 'Friends' Electric?
17. This Wreckage
18. The End of Things
19. A Prayer for the Unborn
20. It Will End Here

How old:

This CD'S & DVD is old!

Release Date:

December 13th 2019

Format:

2xCD & DVD

Record Label:

BMG Rights Management (UK) Ltd

Catalogue No:

538554830

Price Guide:

£17.00

Country:

United Kingdom

Additional info:

2xCD and DVD

Highest Chart Position:

Deleted

Credits:

Gary Numan - Guitar, Keyboards, Vocals
Steve Harris - Guitar, Vocals
Richard Beasley - Drums
Tim Muddiman - Bass Guitar, Vocals
David Brooks - Keyboards
Persia Numan - Vocals

Simon Robertshaw - Musical Director, Conductor

The Skaparis Orchestra:

Madeleine Fitzgerald - Leader
Cleo Annandale - 1st Violin
William Chadwick - 1st Violin
Heather MacLeod - 1st Violin
Katie Foster - 1st Violin
Oliver Baily - 2nd Violin
Craig Stratton - 2nd Violin
Rebecca Perry - 2nd Violin
Ben Kearsley - Viola
Beth Woodford - Viola
James Heathcote - Cello
Cara Janes - Cello
Anita Santinelli - Double Bass
Mathew Clarkson - Double Bass
Stephanie Halsey - Harp
Jan Bradley - Percussion
Ellie Slorack - Musical Director
Freya Parry - Soprano
Emma Doherty - Soprano
Lornia Day - Alto
Lucy Vallis - Alto
Benoit Andre - Tenor
Tomothy Peters - Tenor
Gary Allen - Bass Vocals
Max Thomas - Bass Vocals

Produced By - Gary Numan and Ade Fenton
Mixed By - Nathan Boddy and Ade Fenton
Recorded By - Martin Knight
Mastered By - Chris McCormack at Blacklisted Mastering
Video Produced and Directed By - Paul Green
Photography By - Mark Dobson and Micah Smith
Styling and Makeup By - Gemma Numan
Artowrk By - Steve Parnell at North Six Graphic Design

Buy:
Additional Information
This set of 3 consists of two CDs and a concert DVD of Gary Numan's sold-out show with the Skaparis Orchestra at Bridgewater Hall, Manchester. The setlist includes songs from his highly successful 'Savage' album and classics such as the No. 1 single 'Are Friends Electric', with the DVD capturing the entire breathtaking concert. Gary Numan's previous studio album 'Savage: Songs From A Broken World' was released on BMG in September 2017 and received the best reviews in Gary's career. He entered the UK charts at number 2, a fantastic achievement for the legendary and very influential artist. Gary Numan's music has always had a cinematic quality, but with the Skaparis Orchestra, this mix of hard electronics and rising cinema atmosphere was first really brought to life in his spectacular live shows.