Social Media
Get the lowdown on Gary Numan and follow us, join the Gary Numan community on social media. Join in the fun and have you say.
Amazon
Search for New and Used Gary Numan CDs, Vinyl, DVDs.
Tour Dates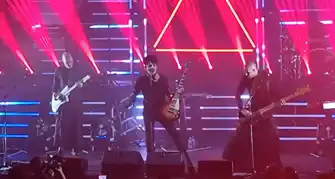 Check out the latest Gary Numan tour dates, events. See one of the founding fathers of synth pop.
Forum
To all Gary Numan fans the Numanme Forum is the forum for you a place for you to be completely Numanized. You can apply for free membership NOW!.
Facebook
This group has been put together for fans of Gary Numan and visitors of the Numanme site, to discuses all things Numan sell/trade share stories and images from all aspects of Numan's career.
Weather Forecast
Podcast
Numanme Radio Podcast will be playing you some of the best Classic Alternative, New Wave, Dark Wave, Synth-Pop, and Punk. Also, a staple diet of Gary Numan/Tubeway Army without question. Shows will be updated here when they become available.
Photo Gallery
These galleries contain Gary Numan related photographs. ranging form the Tubeway Army days to present day. Feel free to browse and if you would like to add any of your own images please get in touch.
Poll
Vote for your favorite Gary Numan album or song.
Numan Quotes +
We Are Electric: Gary Numan Revisited
Title:

We Are Electric: Gary Numan Revisited

Suggested Video

Artist:

Various Artists

Tracklist:

1.I'm An Agent 03:18
2.Down In The Park 03:57
3.Metal 03:47
4.Complex 03:28
5.Cars 05:45
6.Are Friends Electric 03:38
7.My Name Is Ruin 05:29

How old:

This LP is old!

Release Date:

December 15th 2018

Format:

LP

Record Label:

Wave Tension Records

Catalogue No:

BBQLP 40

Price Guide:

£15.00

Country:

Netherlands

Additional info:

Black 12" vinyl - limited to 250 copies, Gold 12" vinyl - limited to 16 copies, 2nd press Clear 12" vinyl - limited to 150 copies.

Highest Chart Position:

N/A

Credits:

1.Agent Side Grinder
2.Ash Code
3.Shad Shadows
4.Box & The Twins
5.SUIR
6.Synths Versus Me
7.Then Comes Silence

Mastered by Eric van Wonterghem
Artwork by Abdelkader Ouchène

Lyrics and music: Gary Anthony James Webb
Track 1,7: Publishing: Numan Music USA LLC / Kobal Music Publishing Ltd
Track 2-6: Publishing: Universal Music Publishing Ltd / Universal Music Publishing B.V.
Includes unlimited streaming of We Are Electric: Gary Numan Revisited via the free Bandcamp app, plus high-quality download in MP3, FLAC and more.

Buy:
Additional Information
The electronic pioneer and founding father of synthpop, Gary Numan, celebrates his 40th anniversary as recording artist. During these 40 years, Numan's impact made itself felt; his dark, paranoid vision, theatrically icy alien persona, and clinical, robotic sound were echoed strongly in the work of many goth rock, wave and industrial artists.

Twenty-one years after the "Random" tribute album on Beggar's Banquet, Wave Tension Records releases a Gary Numan tribute album by contemporary dark wave, gothic and dream pop artists. The release will be a limited edition of 250 copies on black vinyl.

The album opens with Agent Side Grinder's nostalgic analogue rendition of 'I'm An Agent', followed by Ash Code's fresh sounding fast paced post-punk/dark wave version of 'Down In The Park'. Shad Shadows turn 'Metal' into a heated witchy darkwave track. On the last track of Side A, Box & The Twins create dreamy soundscapes in their version of 'complex'. SUIR opens Side B with a hypnotic psychedelic slowed down art-punk version of 'Cars'. Synths Versus Me turns Numan's monster hit 'Are Friends Electric?' into a fresh synthpop & EBM take with Art of Noise-esque vocals. The album's closing track is a gothic rock rendition of 'My Name Is Ruin' by Swedish rockers Then Comes Silence which encourages you to sing along.