Social Media
Get the lowdown on Gary Numan and follow us, join the Gary Numan community on social media. Join in the fun and have you say.
Amazon
Search for New and Used Gary Numan CDs, Vinyl, DVDs.
Tour Dates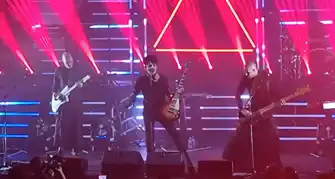 Check out the latest Gary Numan tour dates, events. See one of the founding fathers of synth pop.
Forum
To all Gary Numan fans the Numanme Forum is the forum for you a place for you to be completely Numanized. You can apply for free membership NOW!.
Facebook
This group has been put together for fans of Gary Numan and visitors of the Numanme site, to discuses all things Numan sell/trade share stories and images from all aspects of Numan's career.
Weather Forecast
Podcast
Numanme Radio Podcast will be playing you some of the best Classic Alternative, New Wave, Dark Wave, Synth-Pop, and Punk. Also, a staple diet of Gary Numan/Tubeway Army without question. Shows will be updated here when they become available.
Photo Gallery
These galleries contain Gary Numan related photographs. ranging form the Tubeway Army days to present day. Feel free to browse and if you would like to add any of your own images please get in touch.
Poll
Vote for your favorite Gary Numan album or song.
Numan Quotes +
Warriors 2013 Gary Numan 30 Years Fan Tribute
Title:

Warriors 2013 Gary Numan 30 Years Fan Tribute

Suggested Video

Artist:

Various Artists

Tracklist:

DISC 1

01 - Warriors - Tim Eiler
02 - I Am Render - Richard Church
03 - Iceman Comes - Evil Alter Ego
04 - This Prison Moon - The DMB & A.J.W Experiment
05 - My Centurion - Bri Challis
06 - Sister Surprise - Jon Heath feat images@random
07 - The Tick Tock - Geared
08 - Love Is Like Clock Law - Geoff Martin
09 - The Rhythm Of The Evening - images@random
10 - My Car Slides 1 - Stephen Waldron
11 - My Car Slides 2013 - Numanme & V Church
12 - Love Is Like Clock Law - Morbious
13 - The Tick Tock Man (JazzyGB1 Remix) Geared v Geoff Martin
14 - This Prison Moon - Synthsound1

DISC 2

01 - Warriors - Paul K Hurst
02 - I Am Render - Subway Switch
03 - This Prison Moon full - Synthsound1
04 - The Tick Tock Man - The A.J.W Experiment
05 - Rhythm of the Evening FUSED - Mark Kendrick
06 - Warriors - Jon The Beloved
07 - Love Is Like Clock Law - Geoff Martin (Geared Remix)
08 - Warriors vs Track (ambient chillout version) - Matt Jessup
09 - The Tick Tock Man - The Manitou featuring Jimmy Aaron
10 - The Tick Tock Man - Carbonish
11 - Warriors - Subway Switch
12 - Prison Moon (Replicated) - images@random
13 - Sister Surprise (NumanMe Multi-21 Mix) - Jon Heath
14 - Iceman Comes Demo - Evil Alter Ego
15 - Love Is Like Clock Law (stripped bare mix)1 - Geoff Martin (JazzyGB1)


How old:

This CD is old!

Release Date:

November 8th 2013

Format:

CD

Record Label:

Numanme Records

Catalogue No:

NUME5-1 & NUME5-2

Price Guide:

£00.00 Free distribution

Country:

United Kingdom

Additional info:

Limited to 50 copies

Highest Chart Position:

N/A

Credits:

-----

Buy:
Additional Information
Following the success of the fans' tribute 'Dance' CD-R we decided to throw caution to the wind and do it again! This time with 'Warriors' we asked for musical contributions from fans and non fans. The album features a very diverse and accomplished collection of covers of Numan's classics album ' Warriors'.

'Warriors' originally released in 1983, Gary Numan was never one to shy away from change, this record continues Numan's ambient-funk experimentations & has aged surprisingly well.

Gary Numan has influenced fans and creators of electronic music for decades. Many of these individuals are now members of the Numanme Forum, a site where they continue to forge friendships and display their talents. The fruits of these influences now come to the fore, Numanme presents ' Warriors 2013 Gary Numan 30 Years Fan Tribute' this collection from members of the Numan community is a warm tribute to the album and to the man himself.

Warriors 2013 was a 2 disc release, with printed CD and Printed cardboard wallets, all printing and copying was done by a professional company so printing and copying was to a high standard. Warriors 30 years fan tribute was limited to 50 copies and numbered by hand, all artists that contributed receive a free copy. The other copies were given away to fans and friends of Numanme for the price of P&P.

Many thanks to everyone for sending in their music, we were pleasantly surprised at the quality of the songs, so everybody's contributions has gone on the album, making it a double CD with a staggering 29 songs.