Social Media
Get the lowdown on Gary Numan and follow us, join the Gary Numan community on social media. Join in the fun and have you say.
Amazon
Search for New and Used Gary Numan CDs, Vinyl, DVDs.
Tour Dates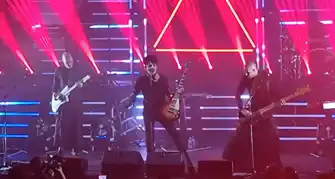 Check out the latest Gary Numan tour dates, events. See one of the founding fathers of synth pop.
Forum
To all Gary Numan fans the Numanme Forum is the forum for you a place for you to be completely Numanized. You can apply for free membership NOW!.
Facebook
This group has been put together for fans of Gary Numan and visitors of the Numanme site, to discuses all things Numan sell/trade share stories and images from all aspects of Numan's career.
Weather Forecast
Podcast
Numanme Radio Podcast will be playing you some of the best Classic Alternative, New Wave, Dark Wave, Synth-Pop, and Punk. Also, a staple diet of Gary Numan/Tubeway Army without question. Shows will be updated here when they become available.
Photo Gallery
These galleries contain Gary Numan related photographs. ranging form the Tubeway Army days to present day. Feel free to browse and if you would like to add any of your own images please get in touch.
Poll
Vote for your favorite Gary Numan album or song.
Numan Quotes +
Understanding Gary Numan The Machine Quartet 1978-1981 Paperback
Title:

Understanding Gary Numan The Machine Quartet 1978-1981 Paperback

Artist:

Gary Numan

Auther

Paul Sutton

Publisher

Buffalo Books

How old:

This Book is old!

Release Date:

October 7th 2016

Format:

Paperback Book 62 pages

ISBN:

978-0993177095

Price Guide:

£5.99

Country:

United Kingdom

Additional info:

Paperback book

Buy:
Additional Information
The first analytical study of the pioneering English musician. The historian, Paul Sutton begins by taking the reader through an entertaining potted history of rock music pioneers, tracing them all back to "a delta of Mississippi mud from where howled the first harmonica, and from where was heard the first blue plucking finger on string", to show that popular music was strictly The Imitation Game until Gary Numan came along with his Machine Quartet, four albums that completely re-invigorated rock and roll."Numan's music added so many new strands of DNA to the gene pool of what hitherto had been dead Mississippi mud that the transformative effect was immediate and everlasting."Artists major, from Frank Zappa, Neil Young and Alice Cooper, and bands then minor, including Tears for Fears and Depeche Mode, all stopped what they were doing and added lessons learned from Numan to their art.Sutton looks at the influence on Numan of David Bowie, Brian Eno, Kraftwerk and John Foxx, and deconstructs Numan's cryptic lyrics from the first single to the fourth album in order to unlock the art and mind of the world's first Asperger's pop star.