Social Media
Get the lowdown on Gary Numan and follow us, join the Gary Numan community on social media. Join in the fun and have you say.
Amazon
Search for New and Used Gary Numan CDs, Vinyl, DVDs.
Tour Dates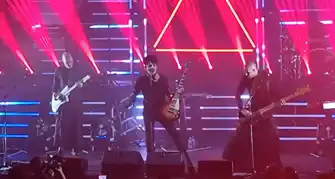 Check out the latest Gary Numan tour dates, events. See one of the founding fathers of synth pop.
Forum
To all Gary Numan fans the Numanme Forum is the forum for you a place for you to be completely Numanized. You can apply for free membership NOW!.
Facebook
This group has been put together for fans of Gary Numan and visitors of the Numanme site, to discuses all things Numan sell/trade share stories and images from all aspects of Numan's career.
Weather Forecast
Podcast
Numanme Radio Podcast will be playing you some of the best Classic Alternative, New Wave, Dark Wave, Synth-Pop, and Punk. Also, a staple diet of Gary Numan/Tubeway Army without question. Shows will be updated here when they become available.
Photo Gallery
These galleries contain Gary Numan related photographs. ranging form the Tubeway Army days to present day. Feel free to browse and if you would like to add any of your own images please get in touch.
Poll
Vote for your favorite Gary Numan album or song.
Numan Quotes +
Tubeway Daze: The Untold Story Of Tubeway Army
Title:

Tubeway Daze: The Untold Story Of Tubeway Army

Artist:

Tubeway Army/Gary Numan

Auther

Paul Goodwin

Publisher

Independently published (22 Jan. 2020)

How old:

This Book is old!

Release Date:

January 22nd 2020

Format:

Paperback book 147 pages

ISBN:

979-8602705454

Price Guide:

£20.00

Country:

United Kingdom

Additional info:

Paperback Edition 2020 expanded edition: full cover revised edition.

Buy:
Additional Information
2020 full colour revised and expanded edition Before Gary Numan there was Tubeway Army, and before Tubeway Army there was Gary Webb, a determined and ambitious 16 year old singer/songwriter from West London, who in the punk-assaulted summer of1976, dispensed with full time education to pursue his long held dream of fame and stardom. To assist him in this quest came talented bassist, Paul Gardiner with whom Gary first founded Tubeway Army. Together with Gary's uncle, drummer Gerald Lidyard, they gigged sporadically around central London as the band eventually drew the attention of a small independent record label, Beggars Banquet. No-one could have predicted back then that in just a few short months, music history was about to be made as Gary Numan and Tubeway Army burst onto the music scene in the early summer of 1979 with the futuristic anthem "Are 'Friends' Electric?', a song that ushered in a fresh and exciting new era in popular music. 2020 expanded edition includesAn exclusive chapter written by Paul Gardiner's widow Annette Gardiner.A never before seen colour photo of Gary fronting the band he formed that would later become Mean StreetAn alternative Replicas album cover that was completed and never used.Many archive photos, magazine covers and memorabilia.An up to date list of Tubeway Army gigs 1977 to 1978.Additional information and commentary.