Social Media
Get the lowdown on Gary Numan and follow us, join the Gary Numan community on social media. Join in the fun and have you say.
Amazon
Search for New and Used Gary Numan CDs, Vinyl, DVDs.
Tour Dates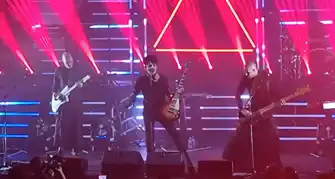 Check out the latest Gary Numan tour dates, events. See one of the founding fathers of synth pop.
Forum
To all Gary Numan fans the Numanme Forum is the forum for you a place for you to be completely Numanized. You can apply for free membership NOW!.
Facebook
This group has been put together for fans of Gary Numan and visitors of the Numanme site, to discuses all things Numan sell/trade share stories and images from all aspects of Numan's career.
Weather Forecast
Podcast
Numanme Radio Podcast will be playing you some of the best Classic Alternative, New Wave, Dark Wave, Synth-Pop, and Punk. Also, a staple diet of Gary Numan/Tubeway Army without question. Shows will be updated here when they become available.
Photo Gallery
These galleries contain Gary Numan related photographs. ranging form the Tubeway Army days to present day. Feel free to browse and if you would like to add any of your own images please get in touch.
Poll
Vote for your favorite Gary Numan album or song.
Numan Quotes +
Tour History 2014
GIGS PLAYED THIS YEAR

70

GIGS PLAYED TO DATE

763


COUNTRIES VISITED 

13


TOUR POSTER 


IMAGE

Israel & European Tour 2014
DATES

FEBRUARY

10 - Tel Aviv, Israel Barby Club

11 - Tel Aviv, Israel Barby Club

13 - Leuven, Belgium Het Depot

14 - Amsterdam, Netherlands Melkweg

15 - Frankfurt, Germany Das Bett

16 - Koln, Germany Luxor

17 - Hamburg, Germany Grunspan

18- Berlin, Germany Imperial Club

20 - Warsaw, Poland Palladium Club

22 Feb 2014 Vienna, Austria Szene

23 - St. Gallen, Switzerland Grabenhalle

BAND LINEUP

Gary Numan - Vocals & Guitar

Ade Fenton - Keyboards

Tim Muddiman - Bass

Steve Harris - Guitar

Frank Zummo - Drums

TOUR ROGRAMME

BEST QUALITY LIVE RECORDING

???????

SETLIST

01 - Resurrection

02 - I Am Dust

03 - Metal

04 - Everything Comes Down To This

05 - Films

06 - Here In The Black

07 - The Fall

08 - The Calling

09 - Down In The Park

10 - Lost

11 - Cars

12 - Pure

13 - Splinter

14 - When The Sky Bleeds, He Will Come

15 - Love Hurt Bleed

16 - A Prayer For The Unborn

Encore:

17 - I Die: You Die

18 - Are 'Friends' Electric ?

19 - My Last Day


TOUR POSTER

IMAGE

MORE SETLIST INFO

TICKET

SUPPORT ACT

?????
North America Splinter Tour 2014
DATES

MARCH

5 - Belly Up, Solana Beach, California

6 - Mayan Theatre, Los Angeles, California

7 - Hard Rock Cafe, Las Vegas, Nevada

8 - Marquee, Phoenix, Arizona

9 - Rialto Theatre, Tucson

11 - Grand Theatre, Dallas

12 - Fitzgeralds, Houston

13 - SXSW Interactive, Waterloo Records, Austin

13 - SXSW Interactive, Brazos Hall, Austin

14 - SXSW Interactive, Ingrooves, Buffalo Billiards, Austin

15 - SXSW Interactive

15, Palm Door, Austin

15 - SXSW Interactive, Hype Hotel, Austin

15 - SXSW Interactive, Moog, Elysium, Austin

17 - Mercy Lounge, Nashville, Tennessee

19 - Beachland Ballroom, Cleveland, Ohio

20 - Altar Bar, Pittsburgh, Pennsylvania

22 - Webster Hall, New York, USA

23 - Trocadero, Philadelphia, Pennsylvania

24 - Paradise, Boston, Masachusetts

25 - Cafe Campus, Montreal, Quebec

27 - Phoenix Theatre, Toronto, Ontario, Canada

28 - Crofoot Ballroom, Detroit, Illinois

29 - Metro, Chicago, Illinois

29 - JBTV Studios, Chicago

30 - Mill City Nights, Minneapolis

APRIL

1 - Turner Hall, Milwaukee, Wisconsin

2 - Firebird, St. Louis, Missouri

3 - Ernie Biggs, Kansas City, Missouri

4 - Gothic, Denver, Colorado

6 - The Fillmore, San Francisco, California

BAND LINEUP

Gary Numan - Vocals & Guitar

Ade Fenton - Keyboards

Tim Muddiman - Bass

Steve Harris - Guitar

Richard Beasley - Drums

TOUR ROGRAMME

BEST QUALITY LIVE RECORDING

???????

SETLIST

01 - Resurrection

02 - I Am Dust

03 - Metal

04 - Everything Comes Down To This

05 - Films

06 - Here In The Black

07 - The Fall

08 - The Calling

09 - Down In The Park

10 - Lost

11 - Cars

12 - Pure

13 - Splinter

14 - We're The Unforgiven

15 - Love Hurt Bleed

16 - A Prayer For The Unborn

Encore:

17 - I Die: You Die

18 - Are 'Friends' Electric ?

19 - My Last Day

TOUR POSTER

IMAGE

MORE SETLIST INFO

TICKET

SUPPORT ACT

Big Black Delta

Roman Remain
Australia & New Zealand Tour 2014
DATES

MAY

23 - Auckland, New Zealand The Studio

25 - Perth, Australia Astor Theatre Perth

28 - Brisbane, Australia The Tivoli

29 - Adelaide, Australia HQ

30 - Melbourne, Australia Hi Fi

31 - Sydney, Australia The Metro Theatre

BAND LINEUP

Gary Numan - Vocals & Guitar

Josh Giroux - Keyboards

Tim Slade - Bass

Steve Harris - Guitar

Frank Zummo - Drums

TOUR ROGRAMME

BEST QUALITY LIVE RECORDING

???????

SETLIST

01 - Resurrection

02 - I Am Dust

03 - Metal

04 - Everything Comes Down To This

05 - Films

06 - Here In The Black

07 - The Fall

08 - The Calling

09 - Down In The Park

10 - Lost

11 - Cars

12 - Pure

13 - Splinter

14 - We're The Unforgiven

15 - Love Hurt Bleed

16 - A Prayer For The Unborn

Encore:

17 - I Die: You Die

18 - Are 'Friends' Electric ?

19 - My Last Day

TOUR POSTER

IMAGE

MORE SETLIST INFO

TICKET

SUPPORT ACT

Little Phnx
UK & Ireland Tour 2014
DATES

JUNE

21 - Body And Soul Festival

23 - The Chester Live Rooms

24 - Cambridge Junction

25 - The Waterfront, Norwich

26 - Sub 89, Reading

28 - Phoenix Centre Exeter

30 - 02 Academy, Bournemouth

JULY

1 - 53 Degrees, Preston

2 - Assembly Halls, Leamington Spa

3 - The Picturedrome, Holmfirth

4 - Sonisphere Festival Knebworth Park,

BAND LINEUP

Gary Numan - Vocals & Guitar

Josh Giroux - Keyboards

Tim Muddiman - Bass

Steve Harris - Guitar

Richard Beasley - Drums

TOUR ROGRAMME

BEST QUALITY LIVE RECORDING

???????

SETLIST

01 - Resurrection

02 - I Am Dust

03 - Metal

04 - Everything Comes Down To This

05 - Films

06 - Here In The Black

07 - The Fall

08 - The Calling

09 - Down In The Park

10 - Lost

11 - Absolution

12 - Cars

13 - Pure

14 - Splinter

15 - We're The Unforgiven

16 - Love Hurt Bleed

17 - A Prayer For The Unborn

Encore:

18 - I Die: You Die

19 - Are 'Friends' Electric ?

20 - My Last Day

TOUR POSTER

IMAGE

MORE SETLIST INFO

TICKET

SUPPORT ACT

Roman Remains
North America Fall Tour 2014
DATES

OCTOBER

23 - Pomona, The Glass House, California

24 - Petaluma, McNear's Mystic Theatre, California

26 - Portland, Rose Theatre, Orlando

28 - Seattle, Neptune Theatre, Washington

29 - Vancouver, Rickshaw Theatre

30 - Calgary, Flames Central

31 - Edmonton Union Hall

NOVEMBER

1 - Saskatoon O'Brians Event Centre

3 - Winnipeg Garrick Centre

5 - Iowa City, Blue Moose Tap House, Iowa

8 - Fun Fun FunFest, Auditorium Shores, Austin, Texas

BAND LINEUP

Gary Numan - Vocals & Guitar

Josh Giroux - Keyboards

Tim Muddiman - Bass

Steve Harris - Guitar

Frank Zummo - Drums

TOUR ROGRAMME

BEST QUALITY LIVE RECORDING

???????

SETLIST

01 - Resurrection

02 - I Am Dust

03 - Metal

04 - Everything Comes Down To This

05 - Films

06 - Here In The Black

07 - The Fall

08 - The Calling

09 - Down In The Park

10 - Lost

11 - Cars

12 - Pure

13 - Splinter

14 - We're The Unforgiven

15 - Love Hurt Bleed

16 - A Prayer For The Unborn

Encore:

17 - I Die: You Die

18 - Are 'Friends' Electric ?

19 - My Last Day

TOUR POSTER

IMAGE

MORE SETLIST INFO

TICKET

SUPPORT ACT

IAMX
UK 2014
DATES

NOVEMBER

28 - Hammersmith Apollo, London

BAND LINEUP

Gary Numan - Vocals & Guitar

Josh Giroux - Keyboards

Tim Muddiman - Bass

Steve Harris - Guitar

Richard Beasley - Drums

TOUR ROGRAMME

BEST QUALITY LIVE RECORDING

???????

SETLIST

01 - Resurrection

02 - Everything Comes Down To This

03 - Me! I Disconnect From You

04 - I Am Dust

05 - Metal

06 - Berserker

07 - The Calling

08 - Films

09 - Here In The Black

10 - We Are So Fragile

11 - The Fall

12 - Dead Sun Rising

13 - Down In The Park

14 - Pure

15 - Cars

16 - Splinter

17 - I Die: You Die

18 - We're The Unforgiven

19 - We Are Glass

20 - Love Hurt Bleed

21 - My Last Day

Encore:

22 - Jo The Waiter

23 - A Prayer For The Unborn

TOUR POSTER

IMAGE

MORE SETLIST INFO

TICKET

SUPPORT ACT

Gang Of Four