Social Media
Get the lowdown on Gary Numan and follow us, join the Gary Numan community on social media. Join in the fun and have you say.
Amazon
Search for New and Used Gary Numan CDs, Vinyl, DVDs.
Tour Dates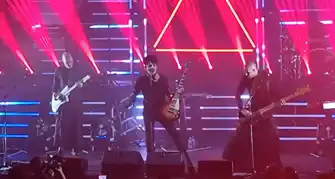 Check out the latest Gary Numan tour dates, events. See one of the founding fathers of synth pop.
Forum
To all Gary Numan fans the Numanme Forum is the forum for you a place for you to be completely Numanized. You can apply for free membership NOW!.
Facebook
This group has been put together for fans of Gary Numan and visitors of the Numanme site, to discuses all things Numan sell/trade share stories and images from all aspects of Numan's career.
Weather Forecast
Podcast
Numanme Radio Podcast will be playing you some of the best Classic Alternative, New Wave, Dark Wave, Synth-Pop, and Punk. Also, a staple diet of Gary Numan/Tubeway Army without question. Shows will be updated here when they become available.
Photo Gallery
These galleries contain Gary Numan related photographs. ranging form the Tubeway Army days to present day. Feel free to browse and if you would like to add any of your own images please get in touch.
Poll
Vote for your favorite Gary Numan album or song.
Numan Quotes +
About Tik & Tok
Robotic mime and music duo Tik and Tok (Tim Dry and Sean Crawford) began performing together with SHOCK in the early 1980's with Barbie Wilde, Robert Pereno, LA Richards and Carole Caplin.
Shock was a music/mime/dance/pop group that was notable in the early 1980's for supporting English pop groups such as Gary Numan, Adam and the Ants, Depeche Mode.

In 1979, mime artists Tim Dry and Barbie Wilde united with disco champion dancers Robert Pereno, LA Richards and Karen Sparks to produce Shock. In April 1980, they recruited another mime, Sean Crawford, who had a unique robotic act called Plastic Joe. The line-up changed with the departure of Karen and the introduction of Carole Caplin.

Shock's first record 'Angel Face', a modest dance floor hit. In 1981, Shock co-starred with Ultravox at the legendary 'People's Palace Valentine's Ball' at the Rainbow Theatre. This was the moment when the New Romantic scene exploded and went from being an obscure cult to a global trend.

Shock went on to support Gary Numan at his Wembley Arena shows in April, 1981. They eventually broke up and reformed as a foursome with Barbie, Tim, Sean and Carole and released the single, 'Dynamo Beat', on RCA Records. However, soon Tim and Sean as Tik and Tok broke away to form their own successful double act.

Tik and Tok went on to appear on innumerable TV shows (including The Royal Variety Show, 1983), supported Duran Duran at Birmingham Odeon in '82, worked with Vangelis at his home studio, were themselves supported by a fledgling Depeche Mode, got a huge amount of press coverage and released 5 singles and a well-received album on the Survival label in the UK, Germany and Japan. They went to Tokyo for a while and had featured roles in the third Star Wars movie 'Return Of The Jedi' and the cult sci-fi film, 'Xtro'. Last, but by no means least, they were the support act on Gary Numan's comeback 'Warriors' tour in 1983.

2007 Update

The boys of pleasure are back to entertain. 2005 Tik and Tok released the "Slightly Deranged" 4 track EP this was a start of a wonderful comeback, Tik and Tok are now about to release a new album 'Dream Orphans' what can we expect god only knows I think we should always expect the unexpected when it comes down to this duo, welcome back boys..
Numanme Questions to Tik and Tok
When did you both first meet?

Tikky – Mime class in Chelsea 1979.
Tokky – Well that covers that one then!

How would you best describe your act?

Tikky – Then: Visually adventurous and shamelessly tarty. Now: Visually adventurous.
Tokky - 4D music with grotesque visuals.

What do your parents think of you shows and your appearance on stage?

Tikky – Mine are unfortunately both deceased so apart from having a séance it's kind of hard to tell. I know that they were pleased that I was doing something rewarding with my life back then.
Tokky – 'amused' I think the word is. My father (retired General) always respected my means to pay for the cat food. They have never seen us live and I'm not sure if they have seen us on TV. I have never really talked about it.

And did you think the partnership would have lasted this long?

Tikky – We knew that Tik & Tok had a finite lifespan and when we split up in 1984 we thought:"OK, we did what we came here to do." We never thought that 20 plus years later we'd be making some new music and appearing at Star Wars Conventions all over the world. We still are the best mates it's possible to have and we've weathered many different storms. We're like brothers.
Tokky - They say when your having fun, time passes quickly, I suppose that's happening.

When did you leave Shock, and what was the main reason?

Tikky -We split in early 1982 because after Robert & LA left in the summer of '81 we guessed that the writing was on the wall. Plus we'd already established Tik & Tok as a workable entity and had plans for our first single 'Summer In The City'. In truth we always wanted 'Vile Bodies' to be the 1st T&T single, but we bowed to the wishes of a Record Company.
Tokky- When Robert wanted out it came as a real blow to me. I loved 'Shock' and the madness of it all. Shock was a unique entity with six very strong individuals. I count myself very lucky I was involved.

How did you come up with the name Tik & Tok?

Tikky -Tokky suggested it in a customary moment of brilliance one evening. It seemed to convey what we were about at that moment. My contribution was the spelling of it.
Tokky – Simple really, Tik and Tok rhymed with 'Shock' and described the act at the time.

We all know you are famed for your robotic dance, how much time do you have to set aside for rehearsal before a show?

Tikky – Oh, about 20 minutes or so. That's just so we could tip a large Southern Comfort down our necks before we stepped out on stage. But we haven't actually done the Robot for 23 years now, and there's no possibility of us doing it again.
Tokky – When you say rehearsal we just talk through things then go for it (it keeps things live then).

When was your first live performance?

Tikky – At a Sanrizz hair show believe it or not in front of 2000 crimpers and stylists at Wembley Arena in September 1980.
Tokky – actually we started busking on the street, outside San Lorenzo's Restaurant.


How did you go down with the crowds in the early days?

Tikky – Brilliantly! No-one had ever seen anything like it.

You performed at Wembley Arena supporting Gary Numan as Shock April '81 can you tell us how this came about?

Tikky – Gary found himself at The Embassy club in Bond Street, London one night in early '81 and caught our act. And apart from having the hots for at least one of the Shock girls, thought we'd be a cool support act for his 'farewell' shows. No messy equipment you see and we weren't in competition musically. He was exceedingly generous to us. The shows he put on were totally stunning – visually and musically.
Tokky – and guess what, I have found the missing tape of the show that I am uploading on 'You tube'
http://www.youtube.com/watch?v=AExkNM14eII Enjoy!

What other bands have you supported?

Tikky – Ultravox, Duran Duran, Depeche Mode. Plus as Shock we worked with Theatre Of Hate, Blancmange, Classix Nouveaux etc on various tours.

What were your most embarrassing moments in you career?

Tikky – Oh, how long have you got? I don't think we need to dredge them up again. Sorry!

Can you tell us a little about your roles in the move Star Wars Return Of The Jedi?

Tikky – Basically we were furry alien baddies in the employ of the evil Jabba The Hut. Namely: Yak Face (Tokky) and Whiphid (Tikky). We also played Good Guys as 'Mon Calamari Officers' piloting a Rebel spaceship under the command of Admiral Ackbar. So, we were goodies and baddies in the same movie. That's unusual!

Do you ever do Star Wars Conventions and do you enjoy them?

Tikky – Yes, we've done them all over the world now, and we love every strange moment of them!


You supported Gary Numan on his comeback tour "Warriors" in 1983. Did you enjoy the experience and how did you get along with Gary and the rest of the band?

Tikky – The experience of that tour was, in every way, the high point of Tik & Tok 1. Gary was generous, real, honest, open and very good company for 6 or 7 weeks. The stage set, sound and lighting was to die for, and he always made sure that we got what we needed to make our act work to its best. Also I think he enjoyed our little cameos on stage in his own set later in the evening. We got on well with everybody in Gary's band throughout the whole tour.
Tokky – I'll echo that.

Why do you think the Numan fans have always loved your act?

Tikky – That's hard to answer really isn't it? I think that maybe it was because we didn't have anything to prove. We just seemed to slot right in to Gary's needs for a support act at the time. The thing about T&T is that we're not out to assert ourselves over anybody else so therefore we're non-threatening. We're a mime act who make electronica music, we haven't come into town to create havoc and steal your wife and pets, sing better or play guitar louder than others. We just strut our stuff for a short while, give people something that they haven't seen before and then move on.
Tokky – you tell us!

Would you ever do a Numan show again?

Tikky – Yes. Absolutely. If he'd have us.
Tokky – and if he didn't want us there is always Derv and Del, Larry and Harry or those galactic skinheads Ronnie and Reggie Dome or not forgetting the monkey boys.

If I can remember rightly you did all your own artwork on the Intolerance album, who is the most artistic?

Tikky – Everything that is created within Tik & Tok is done by the two of us. It's always been equal. Jane Kahn, who designed and made all of our stage and street clothing, provided the cover image for 'Intolerance'.
Tokky – me!…. (Great now you have got us into a domestic).

Intolerance was your first album what was it like to finally release an album and have Gary appear on it?

Tikky – As good as you can imagine! Very pleased with it in every way, and still proud of it today as an eclectic selection of music by two artists that sadly a lot of people dismissed at the time as being merely mime artistes. Gary was a gem who snuck into the studio, laid down about 3 synth lines, sang backing vocals on 'Show Me Something Real' and then disappeared back into the night. How cool is that?


With the release of your SLIGHTLY DERANGED EP and your second album Dream Orphans on its way, what can we expect from the new album and Tik & Tok in the future?

Tikky – The new album is a strange mix of ambient and danceable electronica that rocks sometimes and ultimately gives you some cool pictures to cut out and stick on the front of your brain. If we hadn't made it ourselves we'd definitely buy it and play it to death!
What does the future hold for Tik & Tok? All we can say about the future is – expect the unexpected….
Tokky – me losing my hair!
Tik & Tok Discography
TIK & TOK As : Shock

Singles:

Dynamo Beat

Angel Face

---------------------------------------------------------------------------

As : Tik and Tok

Singles:


Summer in the City 12" SUR 12 007 1982

1. (Long Hot) Summer In The City (4:38)
2. Crisis (3:40)

---------------------------------------------------------------------------

Cool Running 12" SUR12016 1983

1. Cool Running (Gargantuan Mix)
2. Vile Bodies
3. Soulless Synthetic Heart-steps Of Unconcerned Androids

Cool Running 7" picture disc SURP016 1983

1. Cool Running
2. Cool Running (Original TNT Mix)
3. Vile Bodies

---------------------------------------------------------------------------

Screen Me, I'm Yours 12" 1984 SUR 12 020

1. Screen Me I'm Yours (4:07)
2. Dangerous And Unaffraid (3:40)
3. The Garden (3:30)

Screen Me, I'm Yours 7" SURP 020 7"picture disc

1. Screen Me I'm Yours (4:07)
2. Dangerous And Unaffraid (3:40)

Screen Me, I'm Yours 7" 1984 SUR 020

1. Screen Me I'm Yours (4:07)
2. Dangerous And Unaffraid (3:40)

---------------------------------------------------------------------------

Everything Will Change 12" 1984 SUP12-024

1. Everything Will Change
2. Cracking Up
3. Theme From The Dome Brothers

Everything Will Change 7"picture disc

1. Everything Will Change
2. Cracking Up

Everything Will Change 7"

1. Everything Will Change
2. Cracking Up

---------------------------------------------------------------------------

Higher Ground 7" SUR 027

1. Higher Ground (3:27)
2. Down From The Sky (3:39)

Higher Ground 12" SUR 12 027

1. Higher Ground (4:51)
2. Down From The Sky (4:24)
3. Psych-Out At The Dunheadin Masked Ball (2:40)

---------------------------------------------------------------------------

AlbumS:

Intolerance LP 1984 LP SUR LP 008/picture disc LP

Survival Records

A SIDE
1. Screen Me, I'm Yours
2. A Date with the Palm Sisters
3. Show Me Something Real
4. I Know That You Know
5. Everything Will Change

B SIDE
6. Intolerance
7. Vile Bodies
8. Intolerance 3&4
9. A Child with the Ghost
10. Holding On
11. Higher Ground

---------------------------------------------------------------------------

Various:

Survival... Dance Report SUR LP 007 1983

A SIDE
1. Tik & Tok Summer In The City (4:33) Producer - Peter Godwin
2. Eddie & Sunshine Perfect Stranger (4:31)
3. Thirteen At Midnight Other Passengers (3:47)
4. Faith Global Forgotten Man (4:40)

B SIDE
5. Tik & Tok Cool Running (4:31)
6. Play (2) You Don't Look The Same (3:58)
7. Richard Bone Joy Of Radiation (4:27)
8. Eddie & Sunshine Somewhere Else In Europe (4:33)

---------------------------------------------------------------------------

The Art Of Survival LP SUR LP OO9 1984

A SIDE
1. Hard Corps Respirer (To Breathe)
2. Thirteen At Midnight Time Is Tight
3. Eddie & Sunshine All I See Is You
4. Tik & Tok Screen Me (I'm Yours)
5. Play (2) In My Mind
6. Furniture Dancing The Hard Bargain

B SIDE
7. Tik & Tok Higher Ground
8. Eddie & Sunshine There's Someone Following Me
9. Faith Global Earth Report
10. Jeanette (2) In The Morning
11. Richard Bone Living In Party Town
12. Thirteen At Midnight Skin Deep

---------------------------------------------------------------------------

Intolerance - The Very Be@st Of 1982 To 1984
Released: 2000

Tracklisting:
1 Screen Me, I'm Yours
2 Show Me Something Real
3 I Know That You Know
4 Everything Will Change
5 Intolerance 1
6 Vile Bodies
7 Intolerance 3 & 4
8 A Child With The Ghost
9 Holding On
10 Higher Ground
11 (Long Hot) Summer In The City
12 Cool Running (12" Edit)
13 Soulless Synthetic Heartsteps Of Unconcerned Androids
14 Cracking Up
15 Theme From "The Dome Bros."
16 Down From The Sky
17 Psych-Out At The Dunheadin Masked Ball
18 Days Of Glass


---------------------------------------------------------------------------
Jet Set - Sounds Of Lust & Luxury CD 0927 454422 2002

Tracklisting:
1 Miss Kittin & The Hacker Frank Sinatra
2 Playgroup Number One (Thee Electroretro Remix) Remix - Felix Da Housecat
3 Japanese Telecom The Making Of Ultraman (Album Version)
4 Yello No More Words
5 Felix Da Housecat Madame Hollywood
6 Malaria! Kaltes Klares Wasser (The Modernist - Modernes Wasser Mix)Remix - Modernist, The Vocals - Autobianchi
7 Märtini Brös. Flash
8 Ladytron Playgirl (Felix Da Housecat Glitz Clubhead Mix)Remix - Felix Da Housecat
9 Gina X Performance No G.D.M. (Dedicated To Quentin Crisp)
10 Beroshima W.W.W.World_Wide_Whore (Vocal Mix)
11 Dopplereffekt Pornoactress
12 Tik & Tok Crisis
13 Christian Morgenstern Sexy World 2
14 Toktok vs. Soffy O. Missy Queen's Gonna Die
15 TGV Fools Gold
16 Dark Matrix We Are Matrix

---------------------------------------------------------------------------

DJ-Kicks: Chicken Lips CD K7155CD 2003

Tracklisting:
01. Brainticket Places Of Light (3:46)
02. Karin Krog Meaning Of Love (Herbert's Disappearing Dub) (3:10) Remix - Herbert
03. Jimmy Spicer The Bubble Bunch (Original Jellybean 12" Mix) (3:29) Remix - John "Jellybean" Benitez
04. Colourbox Shotgun (2:09)
05. Nina Hagen African Reggae (4:01)
06. Hans-Peter Lindstrøm Limitations (4:25)
07. Lola Wax The Van (Kenny's Club Version) (2:47)
08. Congos, The Congo Man (2:22) Remix - Carl Craig
09. Chicken Lips You're Not Ready Yet (3:33)
10. Gwen Guthrie Seventh Heaven (4:35) Remix - Larry Levan
11. Paul Simpson Connection Treat Me (Dubmental) (3:29) Remix - Pablovia Raban
12. Rhythm & Sound Music A Fe Rule (0:22) Vocals - Paul St. Hilaire
13. Tik & Tok Crisis (2:20)
14. Warp 9 Light Years Away (Dub) (1:14)
15. Sharon Redd Beat The Street (Instrumental) (0:18)
16. Chicken Lips Wind Ya Neck In (5:26)
17. Big Two Hundred Suckee (5:02)
18. Raincoats, The Animal Rhapsody (4:42) Remix - Dennis Bovell
19. George Duke Brazilian Love Affair (4:37)
20. Wish (3) Nice And Soft (3:47) Featuring - La-Rita Gaskin
21. Chicken Lips Bad Skin (4:14)

---------------------------------------------------------------------------
Tik & Tok E.P. 12" CAT 148 EP 2004

1. Robot Music (Edit) (1:38)
2. Cool Running (Extended Version) (7:18)
3. Soulless Synthetic Heart Steps (Best Of Mix) (4:16)
4. Crisis (3:08)
5. We Are The Lizard! (Instrumental) (2:26)
6. The Tube (Previously Unreleased) (2:13)

---------------------------------------------------------------------------

Intergalactic Sunrise (XL Version) PR-009 2006

Notes: This complete mix shows up as just one individual track. Recorded August 2004.

Tracklisting:
1-1 Angelo Badalamenti Mulholland Drive
1-2 Freak Electrique P.H.A.S.E.R.
1-3 Azoto Exalt-Exalt
1-4 Matzo & Pauli Untitled A1
1-5 Jonzun Crew, The Space Is The Place
1-6 Peter Benisch Faster Than Light
1-7 Klein & M.B.O. MBO Theme
1-8 Jungle Wonz Jungle Mix
1-9 Gentry Ice Utilize The Beat
1-10 John Carpenter The End
1-11 Dharma (3) Plastic Doll
1-12 Alexander Robotnick Dance Boy Dance (Paul Raymond Re-Edit)Edited By - Paul Raymond
1-13 Magick Edit Allstars More Space To The Bass
1-14 Tik & Tok Cool Running
1-15 Elektrik Funk On A Journey
1-16 Matzo & Pauli Untitled B1
1-17 Conservatives, The Lonelyness
1-18 Unit 4 (2) Body Dub

---------------------------------------------------------------------------

Intolerance Xtras 2006

Tracklisting:
1 A Date With The Palm Sisters (6:19)
2 Screen Me, I'm Yours (12" Version) (4:25)
3 Higher Ground (12" Version) (4:57)
4 Dangerous & Unafraid (12" Version) (3:09)
5 If You Really Want Me (4:50)

---------------------------------------------------------------------------

Slightly Deranged EP 2006

Tracklisting:
1 Gone Sparky
2 Bad Girl
3 Stimula
4 Worm In The Head

---------------------------------------------------------------------------

Vintage LO-FI 2006

All tracks recorded on 4 track cassette in 1982.Sold direct through the TIK & TOK web site 2006.

Tracklisting:
1 Gone (3:16)
2 Herbie Spliffington (2:27)
3 Crisis (3:22)
4 The Garden (3:41)
5 Tube (2:36)

---------------------------------------------------------------------------.
Shock DVD
"SHOCK DVD available now for the first time ever! This collection contains a CD of the 7" and 12" audio mixes of "ANGEL FACE", "RERB", "DYNAMO BEAT" and "DREAM GAMES" and also includes Shock's original, unreleased version of "Screen Me, I'm Yours". On the DVD is Shock's full 40 min. live show from Wembley Arena when they supported Gary Numan in 1981 (never released), the promo videos for "ANGEL FACE" and "DYNAMO BEAT", an edited live set at The Venue in London from 1980 (featuring Plastic Joe, Pereno and Carole Caplin performing the legendary routine to Fad Gadget's "Ricky's Hand") and TV performances of "Screen Me, I'm Yours", "Angel Face", "Dynamo Beat" and "Doll's House".This is seriously collectable. Prepare yourselves! Go to http://www.timdry.co.uk for ordering details.
Links
| | | |
| --- | --- | --- |
| | Robotic mime and music duo Tik and Tok ................ | |