Social Media
Get the lowdown on Gary Numan and follow us, join the Gary Numan community on social media. Join in the fun and have you say.
Amazon
Search for New and Used Gary Numan CDs, Vinyl, DVDs.
Tour Dates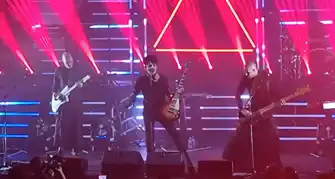 Check out the latest Gary Numan tour dates, events. See one of the founding fathers of synth pop.
Forum
To all Gary Numan fans the Numanme Forum is the forum for you a place for you to be completely Numanized. You can apply for free membership NOW!.
Facebook
This group has been put together for fans of Gary Numan and visitors of the Numanme site, to discuses all things Numan sell/trade share stories and images from all aspects of Numan's career.
Weather Forecast
Podcast
Numanme Radio Podcast will be playing you some of the best Classic Alternative, New Wave, Dark Wave, Synth-Pop, and Punk. Also, a staple diet of Gary Numan/Tubeway Army without question. Shows will be updated here when they become available.
Photo Gallery
These galleries contain Gary Numan related photographs. ranging form the Tubeway Army days to present day. Feel free to browse and if you would like to add any of your own images please get in touch.
Poll
Vote for your favorite Gary Numan album or song.
Numan Quotes +
Tik & Tok Definitive CD
Title:

Tik & Tok Definitive

Suggested Video

Artist:

Tik & Tok

Tracklist:

Disc: 1



01. Screen Me, I'm Yours (12" Version)
02. A Date With The Palm Sisters
03. Show Me Something Real
04. I Know That You Know
05. Everything Will Change
06. Intolerance 1
07. Vile Bodies
08. Intolerance 3 & 4
09. A Child With The Ghost
10. Holding On
11. Higher Ground

Bonus Tracks

12. (Long Hot) Summer In The City
13. Crisis
14. Cool Running (12" Edit)
15. Soulless Synthetic Heart-Steps Of Unconcerned Androids
16. Higher Ground (12" Version)
17. Down From The Sky
18. Psych-Out At The Dunheadin Masqued Ball

Disc: 2

Singles & Rarities

01. Theme From 'The Dome Brothers'
02. Gone (Demo)
03. Herbie Spliffington (Demo)
04. The Garden (Demo)
05. Robot Music
06. Tube (Demo)
07. Cool Running (Demo)
08. Sons Of War (Demo)
09. Dangerous And Unafraid (Demo)
10. Screen Me, I'm Yours (Studio Demo)
11. Cracking Up
12. Days Of Glass
13. Cool Running (Original T&T Mix)
14. Summer In The City (7" Version)
15. Screen Me, I'm Yours (7" Version)
16. Higher Ground (7" Version)
17. Dangerous And Unafraid (12" Version)
18.Cracking Up (Dance Mix)
19. Cool Running (Gargantuan Mix)
20. If You Really Want Me

How old:

This CD is old!

Release Date:

December 10th 2019

Format:

2xCD

Record Label:

Not On Label (Tik & Tok Self-released)

Catalogue No:

TND019

Price Guide:

£17.00

Country:

United Kingdom

Additional info:

Limited Edition of 500. Reissue

Highest Chart Position:

N/A

Credits:

Vocals - Tik , Tok
Synthesizer - Tik , Tok
Synthesizer - Gary Numan
Drums - Peter Boita
Engineer - Richard Austen
Keyboards - Joe Cavanagh
Mixed By - Tik & Tok
Photography - P.K. Edgley
Producer, Guitar - Tik.

Buy:
Additional Information
Double CD collection featuring the debut album 'Intolerance', together with every b-side, demo, single and version released during the years 1982 to 1984. All remastered. Incredibly, every single track appears here for the first time ever on real glass mastered, factory pressed CD! Featuring Gary Numan on 2 tracks, and packaged in a jewel case together with a detailed 12-page booklet. A Child With The Ghost was written by – Gary Numan he also played the synthesizer and played synthesizer on Show Me Something Real.