Social Media
Get the lowdown on Gary Numan and follow us, join the Gary Numan community on social media. Join in the fun and have you say.
Amazon
Search for New and Used Gary Numan CDs, Vinyl, DVDs.
Tour Dates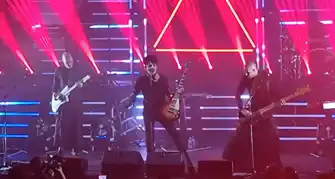 Check out the latest Gary Numan tour dates, events. See one of the founding fathers of synth pop.
Forum
To all Gary Numan fans the Numanme Forum is the forum for you a place for you to be completely Numanized. You can apply for free membership NOW!.
Facebook
This group has been put together for fans of Gary Numan and visitors of the Numanme site, to discuses all things Numan sell/trade share stories and images from all aspects of Numan's career.
Weather Forecast
Podcast
Numanme Radio Podcast will be playing you some of the best Classic Alternative, New Wave, Dark Wave, Synth-Pop, and Punk. Also, a staple diet of Gary Numan/Tubeway Army without question. Shows will be updated here when they become available.
Photo Gallery
These galleries contain Gary Numan related photographs. ranging form the Tubeway Army days to present day. Feel free to browse and if you would like to add any of your own images please get in touch.
Poll
Vote for your favorite Gary Numan album or song.
Numan Quotes +
The Singles Collection 1978–1983 Ltd Edition Boxset
Title:

The Singles Collection 1978–1983 Ltd Edition Boxset

Suggested Video

Artist:

Tubeway Army/Gary Numan

Tracklist:

ON RED 7-VINYL:1978:
BEG 05 That's Too Bad/Oh! Didn't I Say (Tubeway Army)
BEG 08 Bombers/Blue Eyes/O.D. Receiver (Tubeway Army)

ON BLUE 7-VINYL: 1978-1980
BEG 17 Down In The Park/Do You Need The Service (Tubeway Army)
BEG 18 Are 'Friends' Electric/We Are So Fragile (Tubeway Army)
BEG 23 Cars/Asylum
BEG 29 Complex/Bombers
BEG 35 We Are Glass/Trois Gymnopedies (First Movement)
BEG 46 I Die: You Die/Down In The Park
BEG 50 This Wreckage/Photograph

ON GREEN 7-VINYL: 1981-1983
BEG 62 She's Got Claws/I Sing Rain
BEG 70 Music For Chameleons/Noise Noise
BEG 77 We Take Mystery (To Bed)/The Image Is
BEG 81 White Boys And Heroes/War Games
BEG 95 Warriors/My Car Slides (1)
BEG 101 Sister Surprise/Poetry And Power

How old:

This 7" Boxset is old!

Release Date:

September 11th 2021

Format:

7" Boxset

Record Label:

Beggars Banquet

Catalogue No:

N/A

Price Guide:

£150.00

Country:

United Kingdom

Additional info:

The Singles Collection 1978–1983 Ltd Edition Boxset (Signed, Numbered).

Highest Chart Position:

N/A

Credits:

N/A

Buy:
Additional Information
For years, Gary Numan fans have been asking for a singles collection, and we have truly delivered. On November 5th, a stunning bespoke box set will be released, containing 15 7-inch singles from 1978-1983 celebrating the works of Gary Numan. Each on translucent colored vinyl, the singles are boxed in a glorious bespoke, white vinyl wrapped DJ case, complete with laser foiled details, chrome corner caps, latch and handle.An extensive 64-page tri-color booklet completes the set and contains front and back sleeve images, notes, recording and original release information for each single plus and archival images. The box set is limited to 2000 numbered copies worldwide, and is only available from the Beggars Arkive webstore and Gary Numan's webstore.

Gary Numan is a pioneer, and his achievements over his four decade career (and counting) are remarkable for someone who never made any concessions to mainstream success. Seven Top 10 singles, including 'Are 'Friends' Electric?' and the debut solo hit 'Cars'; seven Top 10 albums, three of which topped the charts; and huge critical acclaim, most notably with the Inspiration Award at the prestigious Ivor Novello Awards.

In a career that spans over forty years, the music evolves and the themes change. But fans remain fascinated by Numan for the very fact that he's so uncompromising. Gary recently released his twenty first album Intruder in May 2021.