Social Media
Get the lowdown on Gary Numan and follow us, join the Gary Numan community on social media. Join in the fun and have you say.
Amazon
Search for New and Used Gary Numan CDs, Vinyl, DVDs.
Tour Dates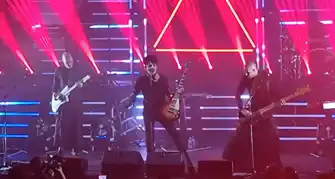 Check out the latest Gary Numan tour dates, events. See one of the founding fathers of synth pop.
Forum
To all Gary Numan fans the Numanme Forum is the forum for you a place for you to be completely Numanized. You can apply for free membership NOW!.
Facebook
This group has been put together for fans of Gary Numan and visitors of the Numanme site, to discuses all things Numan sell/trade share stories and images from all aspects of Numan's career.
Weather Forecast
Podcast
Numanme Radio Podcast will be playing you some of the best Classic Alternative, New Wave, Dark Wave, Synth-Pop, and Punk. Also, a staple diet of Gary Numan/Tubeway Army without question. Shows will be updated here when they become available.
Photo Gallery
These galleries contain Gary Numan related photographs. ranging form the Tubeway Army days to present day. Feel free to browse and if you would like to add any of your own images please get in touch.
Poll
Vote for your favorite Gary Numan album or song.
Numan Quotes +
The Replican
Title:

The Replican

Artist:

N/A

Auther

Joseph McCann

Publisher

Lemon Kid Publishing

How old:

This Book is old!

Release Date:

July 1st 2018

Format:

Hardcover Book 213 pages

ISBN:

978-1999685805

Price Guide:

£14.99

Country:

United Kingdom

Additional info:

Standard Edition

Buy:
Additional Information
When The Replican finds himself in 'The Park' he doesn't know what he is doing outside.

He doesn't know who he is. What he does know is that he has to get away from the killing machines.

As a mysterious man in a long coat, grey hat, smoking a cigarette pursues him across the city, The Replican searches for the truth of who he is.
As his memories start to return, he is left with decisions to make and the question, If you were me what would you do?

Set in a new world, one where humans are hunted for food and on the brink of extinction.

The Replican is a dark tale of how far people will go to protect their future.

Joseph McCann

I was asked the other day to try and describe the story line of the novel without giving anything away. One of the reasons why I released the free audio teaser of Chapter 1 on You Tube was to allow Gary Numan fan's to realise that it's more than just a Sci-fi horror novel.


From the first chapter you feel that almost every character that you come across is in some way, Gary Numan. I wanted fans to feel as if they had just picked "Replicas" up for the first time ever and allow themselves to stroll carefully through all of Gary Numan's images and characters over the following years, all built around this very dark Sci-fi world.


I read books where I found the description of people and places went on far too long, the beauty of the mind of the Gary Numan fan means that in their own heads they already know the scene that I am trying to describe. They already feel the atmosphere of each setting for they have had 40 years of imagining this for themselves.
"There stood on the sidewalk amongst the clearing of dust and fog was a man in a long coat, grey hat, smoking a cigarette. Ahead of the Machman, the sharp shadow of a lamppost had faded into the darkness of the street he stood on"


I love Sci-fi, horror and Gary Numan, a combination which works well together. I prefer a story line that's moderately pacey so that no-one loses interest. Lyrics are cleverly interwoven to keep you smiling throughout rather than spoil the story line.

I also see things more visually which is why most people have subsequently told me that this novel would make a fantastic movie or TV series. You would need lots of Gary Numan lookalikes for this, so please form an orderly queue!


There is a Waterstone's signing coming up shortly and the master plan is to get this novel in all the book stores, Gary Numan everywhere you turn!


After meeting Gary Numan, he told me that he was very impressed with this novel and that he will be reading "The Replican". I do feel extremely honoured by this. He told me that his brother John also wanted a copy of it. Gary then asked me for the link so that he could listen to the free audio of Chapter 1.


I am eternally grateful for all of your support, this novel is for those of you who want to become 'The Replican'. .