Social Media
Get the lowdown on Gary Numan and follow us, join the Gary Numan community on social media. Join in the fun and have you say.
Amazon
Search for New and Used Gary Numan CDs, Vinyl, DVDs.
Tour Dates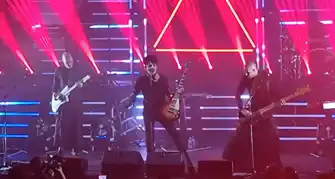 Check out the latest Gary Numan tour dates, events. See one of the founding fathers of synth pop.
Forum
To all Gary Numan fans the Numanme Forum is the forum for you a place for you to be completely Numanized. You can apply for free membership NOW!.
Facebook
This group has been put together for fans of Gary Numan and visitors of the Numanme site, to discuses all things Numan sell/trade share stories and images from all aspects of Numan's career.
Weather Forecast
Podcast
Numanme Radio Podcast will be playing you some of the best Classic Alternative, New Wave, Dark Wave, Synth-Pop, and Punk. Also, a staple diet of Gary Numan/Tubeway Army without question. Shows will be updated here when they become available.
Photo Gallery
These galleries contain Gary Numan related photographs. ranging form the Tubeway Army days to present day. Feel free to browse and if you would like to add any of your own images please get in touch.
Poll
Vote for your favorite Gary Numan album or song.
Numan Quotes +
The Pleasure Principle – The First Recordings LP
Title:

The Pleasure Principle – The First Recordings

Suggested Video

Artist:

Gary Numan

Tracklist:

A1. Cars (Demo Version)
A2. Films (Demo Version)
A3. Complex (Demo Version)
A4. Random (remastered 2009)
A5. M.E. (demo version)
B1. Conversation (Demo Version 2)
B2. Tracks (Demo Version 1)*
B3. Cars (Demo Version 1)*
B4. Metal (Demo Version)
B5. Airlane (Demo Version)
C1. Trois Gymnopédies No.1 (Remastered 2009)
C2. Observer (Demo Version)
C3. Conversation (Demo Version 1)
C4. Engineers (Demo Version)
C5. Asylum (Remastered 2009
C6. Oceans (Remastered 2009)
C7. Photograph (Remastered 2009)
D1. Airlane (BBC Peel Session)
D2. Cars (BBC Peel Session)
D3. Films (BBC Peel Session)
D4. Conversation (BBC Peel Session)

How old:

This 2xLP is old!

Release Date:

October 11th 2019

Format:

2xLP

Record Label:

Beggars Banquet

Catalogue No:

BBQ2158LP

Price Guide:

£22.00

Country:

United Kingdom

Additional info:

Orange Coloured Double Vinyl

Highest Chart Position:

Deleted

Credits:

Gary Numan (Vocals, Keyboards, Synthetic Percussion)
Paul Gardiner (Bass)
Christopher Payne (Keyboards, Viola)
Cedric Sharpley (Drums, Percussion)
Billy Currie (Fadeout Violin on "Tracks")
Garry Robson (Backing Vocal on "Conversation")

Produced by Gary Numan

Engineered and Mixed by Rikki Sylvan and Harvey Webb

Recorded at Marcus Music AB, London.

Buy:
Additional Information
Even before the single "Are 'Friends' Electric?" was released, Numan had recruited a permanent drummer and keyboard player and demoed an album's worth of new material between April 9-12, 1979 at Freerange Studio in London's Covent Garden. This was supplemented by a second session, probably the following June, that yielded four further songs and two re-recordings. Following the hectic schedule of promoting "AFE?", Numan recorded a new session for John Peel the day after the single hit #1 on the UK charts. Rather than record as Tubeway Army, the session was credited to Gary Numan and the group name abandoned at the peak of it's success. As before, rather than promote the current album, Numan chose to record four new songs. While the album Replicas hit #1, Numan was busy recording a follow up in Marcus Music Studio. From the surviving tapes there are six mixes marked as out-takes and these have been included in the CD package. The discs have been sequenced with the stronger, second Freerange demo preceding the first session but all tracks are in the order of the tapes.