Social Media
Get the lowdown on Gary Numan and follow us, join the Gary Numan community on social media. Join in the fun and have you say.
Amazon
Search for New and Used Gary Numan CDs, Vinyl, DVDs.
Tour Dates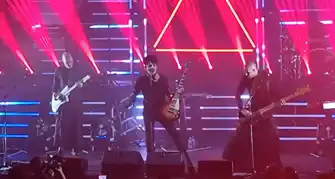 Check out the latest Gary Numan tour dates, events. See one of the founding fathers of synth pop.
Forum
To all Gary Numan fans the Numanme Forum is the forum for you a place for you to be completely Numanized. You can apply for free membership NOW!.
Facebook
This group has been put together for fans of Gary Numan and visitors of the Numanme site, to discuses all things Numan sell/trade share stories and images from all aspects of Numan's career.
Weather Forecast
Podcast
Numanme Radio Podcast will be playing you some of the best Classic Alternative, New Wave, Dark Wave, Synth-Pop, and Punk. Also, a staple diet of Gary Numan/Tubeway Army without question. Shows will be updated here when they become available.
Photo Gallery
These galleries contain Gary Numan related photographs. ranging form the Tubeway Army days to present day. Feel free to browse and if you would like to add any of your own images please get in touch.
Poll
Vote for your favorite Gary Numan album or song.
Numan Quotes +
The Pleasure Principle 2015 Remastered Grey Vinyl
Title:

The Pleasure Principle 2015 Remastered Grey Vinyl

Suggested Video

Artist:

Gary Numan

Tracklist:

A1. Airlane
A2. Metal
A3. Complex
A4. Films
A5. M.E.
B1. Tracks
B2. Observer
B3. Conversation
B4. Cars
B5. Engineers

How old:

This LP is old!

Release Date:

October 16th 2015

Format:

LP

Record Label:

Beggars Banquet

Catalogue No:

BBQLP 10

Price Guide:

£40.00

Country:

United Kingdom

Additional info:

2015 Remastered Grey Vinyl.

Highest Chart Position:

N/A

Credits:

Gary Numan (Vocals, Keyboards, Synthetic Percussion)
Paul Gardiner (Bass)
Christopher Payne (Keyboards, Viola)
Cedric Sharpley (Drums, Percussion)
Billy Currie (Fadeout Violin on "Tracks")
Garry Robson (Backing Vocal on "Conversation")

Produced by Gary Numan

Engineered and Mixed by Rikki Sylvan and Harvey Webb
Recorded at Marcus Music AB, London

Buy:
Additional Information
THE PLEASURE PRINCIPLE is Gary Numan's third studio album (and debut under his own name) and marked the point where he became a huge international solo star, reaching the Top 10 in the US with "Cars" and Top 20 with the album itself. Given the conservative nature of the music scene in America at that time and the fact that the LP didn't even feature any guitars, let alone conventional song structures ("Cars" doesn't even have a chorus), this is one of those special moments in pop music when a new idea breaks through all the boundaries. The Pleasure Principle pioneered electronic pop music on a new scale, becoming a much bigger hit worldwide than Kraftwerk or anything from the Bowie/Eno Berlin trilogy. And the fact that it was so different and had such a major impact in America (crystallized when Numan performed "Cars" and "Praying To The Aliens" in front of 40 million people on Saturday Night Live) meant that there was a direct link from The Pleasure Principle to the new musical forms that were born in the USA over the next decade - namely hip hop, industrial and techno.