Social Media
Get the lowdown on Gary Numan and follow us, join the Gary Numan community on social media. Join in the fun and have you say.
Amazon
Search for New and Used Gary Numan CDs, Vinyl, DVDs.
Tour Date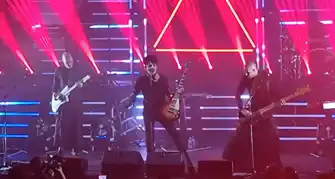 Check out the latest Gary Numan tour dates, events. See one of the founding fathers of synth pop.
Forum
To all Gary Numan fans the Numanme Forum is the forum for you a place for you to be completely Numanized. You can apply for free membership NOW!.
Facebook
This group has been put together for fans of Gary Numan and visitors of the Numanme site, to discuses all things Numan sell/trade share stories and images from all aspects of Numan's career.
Weather Forecast
Podcast
Numanmes Living Ornaments Podcast will be playing you some of the best Classic Alternative, New Wave, Dark Wave, Synth-Pop, and Punk. Also, a staple diet of Gary Numan/Tubeway Army without question. Shows will be updated here when they become available.
Photo Gallery
These galleries contain Gary Numan related photographs. ranging form the Tubeway Army days to present day. Feel free to browse and if you would like to add any of your own images please get in touch.
Poll
Vote for your favorite Gary Numan album or song.
Numan Quotes +
The History of Numanme intro
Numanme is old, years of service to Gary Numan (Numanoids) fans worldwide. When the domain was first registered on June-1-1999, I didn't have the slightest idea that it would grow to become the site it is today, reporting all things Numan-related. It's a shocking realization that I've been doing this now for a decade. For those unfamiliar with the history of the site, I started it as a hobby back in early 1999 as a place to consolidate my record collection and interesting news of Mr Numan. I never envisioned it would become the site it is today. Back when it started we were happy with our 28.8kbps modems, but the internet has moved on, we now have a fast number of tools and codes to enhance your experience at Numanme.
Below you will find a brief History about Numanme.
The History of Numanme
Numanme was a project started 1980, before even starting the Numanme web site. Back in the old days when we had to put pen to paper I used to keep a list on lined A4 paper just for my own reference I also would staple flyers, clippings almost anything to do with Numan. The whole point of this list was when I went to record fairs I could see what I had and what I didn't, a very useful tool when in the hustle and bustle of a record faire you had to be quick especially if you found a bargain, so it was a quick glance at the list then in for the kill. One thing I learnt very quickly was never to be seen in a Numan T-shirt at record fairs, or you would pay the cost, sometimes prices would be doubled. In those days it was harder to find a Numan rarity we didn't have the luxury of eBay.
The next best thing to a record fair was the good old Record Collector, a handy thing for any collector, I used to spend hours flicking through the pages hunting for any Numan records I didn't have. I also used to sell Numan and kraftwerk imports in the Record Collector, I used to find this very enjoyable but due to the changes in my life I had to abandon collecting for a while, many a good memory anyone collecting will always remember the buzz tracking down the old vinyl.
So some years passed collecting the odd Numan records then one day my son asked if he could have a computer, I didn't know anything about computers/ my wife (Vanessa) ordered one for the kids. I always remember it being delivered the kids where excited, Vanessa and I were scared shitless of it, my first experience of a techno-phobia. Also the computer cost an arm and a leg compared to computers today.
After a day or so the computer crashed it cost me £40.00 pounds to put right, over the next month or two it crashed several times so I decided to find out as much as I could about these computers so I started building my own, after a year or so I could pretty much solve any computer problem myself. Then I started playing with many art tools after many months I quickly became very interested in building a web site.
My first project was to be called Dead Heaven, I started to build the site using Microsoft Publisher, I found this very easy to use but at the same time very restrictive, but never less this was a good starting tool. The site soon become a little bit of a monster I uploaded the site to the internet in the spring of 1999 I kept the site private so I could test and add to it. The idea was simple, add as many pictures as possible and make it interesting to look at, it soon started to look like a good Numan discography site, and I actually was proud of it the graphics look as good as any other sites. I was very new to the net and very naïve I should have purchased the domain name Dead Heaven. But I didn't I soon discovered someone else did much to my horror, so I had to look for a new name for the site and change a lot of the artwork on the site.
| | | |
| --- | --- | --- |
| | | |
| Old list on lined A4 | | Revised list |
The Birth of Numanme
I started looking for a new name I could not do anything to the site until I had one, I looked at all possible LP tracks also looked at the lyrics to see if anything would catch my eye. For some reason I kept coming back to The Pleasure Principle album for titles, it was a tossup between Engineers and Observer but soon discovered the domain names had gone then I thought how about using Numan with the track M.E. after all M.E was my favourite track from the album, so Numanme was borne. And to be honest I could not imagine it being called anything else the name serves its purpose well.
The site was officially opened on June-1-1999, it was not complete in any way it still had a lot of work to be done to it, I found myself rearranging the look and the style many times almost on a weekly basis and I don't think there has been a week go by without a tweak of some kind of update, I also found myself delving into java and flash programs which I found very hard to get into, Java I still find challenging but there are plenty of tools that make it easier. You don't realize when starting a project like this how much you have to learn. People often ask what are my tools of choice, I use Microsoft FrontPage for majority of the work and for the artwork Adobe Fireworks and Adobe Flash + Swish there are more but the ones I have listed are what I use for the bulk of the work. I decided to add a forum and a chat room to the site NOT in competition with any others around at the time but just so I could learn how it was done to be honest that is what kept me changing things.
The Numanme Forum
I decided to add a forum and a chat room to the site NOT in competition with any others around at the time but just so I could learn how it was done to be honest that is what kept me changing things.
The first forum was very basic I think I used ProBoards a Free Message Boards but the ads and the fact I was more interested in the code side of the forum lead me to look for a forum script that I could mess around with my first choice was Snitz I recommend this a good place to start also it has a good forum with plenty of members willing to help a novice. Snitz one of the best ASP based bulletin board systems on the net but at this time I used the Microsoft Access database as it was the only one I could afford, and soon found the forum was running very slow and needed a lot of time spent just keeping the dam thing running after many complaints I ditched that forum for Web Wiz Forums and to be honest I still use it to this day you can get a fee download of Web Wiz Forums but by this time I realised it would need the full version and a better database I opted for mySQL Database a bit costly at the time but things run very smooth.
Anyone that runs a site will tell you that when you add a forum to the site it enhances the hole experience especially if it happens to be a fan based forum, The one thing you realize you can make some good friends at the forum a most important thing is you have years of information stories and knowledge to tap into.
The forum named simply the Gary Numan forum Numanme, as been a pleasant experience; it is a credit to all its members. I remember Gary Numan having a rant about forums saying something like shit em! I hate forums. Well I'm not saying things are always perfect you always get your attention seeker bent on disruption like some five year old, but they soon get despatched by the moderators. But I think that if Gary popped in from time to time he would be pleasantly surprised.
The Birth of Facebook
The birth of "Facebook" and other social media sites.
Today, social networking sites are fulfilling the potential of the Web: connecting people across the globe.
Somebody once said to me that fan sits and Official Websites, had had their day and had become a thing of the past and a distant memory to most users.
It's true to say nothing has changed the Web more than the rise of social networking sites. Before social networking, the World Wide Web was full of interesting information, but there was little opportunity to contribute unless you joined a fan forum.
The birth of such sites like Facebook and Twitter have changed all of that making it easy to post your experiences and thoughts to share to all that want to read it.
But in my humble opinion they have one floor, with the fast pace of such social networking sites like Facebook information can get lost in the sear volumes of posts made in just one day. So a fan visiting a Fan site like Numanme or Gary Numan's Official Website or if you like a static site can find out very easily what is going on catch up on all the latest news and gossip.
Numanme still gets the same number of hits per day, well more if Numan is on tour.
Numanme has embraced Facebook and Twitter and other networking sites like YouTube, with Facebook having the ability to create Groups this was a plus so we created the Numanme - The Gary Numan Fan Site Group, and we haven't looked back this has been very successful Click Here.
So it seems for now there is a place for Numanme for now anyway..............
The Future of Numanme
The site and forum will continue to grow and change over the years only in 2015 the site had a complete overhaul and of the Discography page. This site will continue just as long as I can press a play button to listen to Mr Gary Numan.
Thanks to our readers, forum members and moderators that have made possible.
| | | |
| --- | --- | --- |
| | | |
| | Early days screen capture of Numanme 2001 | |